Our must-do list of Singapore's sights, local cuisine and cultural treasures to enjoy is the perfect guide for families who have just arrived in Singapore, or (say it ain't so) those who are moving abroad. This is how to live it up in the Lion City!
Has it come time to farewell sunny Singapore for good? Can not lah! It's time to tick off that bucket list of must-do family-friendly activities before you jet off. Whether you're a born-and-bred local or a long-in-the-tooth Expat, we all need a little reminding sometimes of just how many awesome treasures this city has in store for us! If you're a die-hard foodie, an outdoorsy type, an animal lover or a culture buff we've got you covered. You'll also be in need of some Singapore keepsakes, so check out our recent guide to unique gifts with Singapore style.
Quick sticks – get cracking on our list of 10 things not to miss before you leave Singapore.
1. Feast on local fare
Eating is the No. 1 national pastime of Singaporeans (closely followed by shopping), and it's little wonder why when there's fresh, delish local delicacies to be found on almost every street corner. You owe it to yourself and your brood to sample as much culinary deliciousness as humanly possible before leaving this land of plenty. Here's a few of our wallet-friendly personal faves:
Chilli Crab (pictured top) at Jumbos Seafood or Long Beach Seafood.
Yum Cha in Chinatown or at one of Singapore's dim sum stalwarts Hai Tien Lo  or Din Tai Fung.
Hainanese Chicken Rice at one of Singapore's best hawkers centres.
Golden, crisp potato and egg-filled curry puffs from Epok Epok Centralat Eunos Crescent Market & Food Centre, Polar Puffs and Cakes or Old Chang Kee (voted by Sunday lifestyle Straits Times July 2015 as the top three curry puff spots on the Little Red Dot).
Rainbow dumplings (Xiao Long Bao) at Paradise Dynasty at ION Orchard. Kids luurve them (and we do too)!
Fried dough fritters with soya dipping sauce at Rochor Original Bean Curd on Short Street, which specialises in soya bean curd and soya bean milk.
Durian: like a dog, its smell is worse than its bite. Block your nose and savour creamy custardy goodness.
Rojak (sweet asian salad of sliced cucumber, chopped fruit, roasted peanuts, fried dough fritters and beancurd) at one of Honeycomber's top 5 hawkers for Rojak.
Carrot cake (not the sweet kind with a cream cheese frosting, but the local dish made of fried white radish served with a sweet black sauce. Try both the white and the black variety at Bee Bee Carrot Cake, #01-275, Marine Parade Food Centre, 50A Marine Terrace, Singapore, 441050.
Laksa – mention of its name alone is enough to induce drooling. Top spots to slurp this creamy, spicy soup are 328 Katong Laksa (there's also a branch at #01-60 Queensway Shopping Centre), and long-time rival The Original Katong Laksa @ Roxy Square (#01-64, 50 East Coast Rd). Katong laksa should only be eaten with a spoon, so don't make the cultural faux pas of asking for chopsticks. Do, however, ask for the prawn and cockle laksa with chopped curry leaves sprinkled on top. Yum!
Satay – what's Singapore without satay? Indulge in a skewer (or 10) of marinated char-grilled chicken, beef or pork skewers with moreish peanut sauce. Head to the famous 'Satay Street' at Lau Pa Sat festival market, or Satay by the Bay for finger food with a stunning view.

2. Indulge in Sunday bubbly brunch
While we're on the topic of gastronomic indulgence, Singapore can't be beat when it comes to a free-flow Champagne brunch feast at a five-star hotel. Check out our wrap-up of family-friendly Sunday brunch venues for inspiration. Shhh, we've road tested them all at least once. And while you're at it, you may as well go out with a bang, so pop in to few of our kid-friendly restaurants and bars that welcome rug rats. There'll be a festival of goodbye parties to attend after all…
3. Tour Little India
Little India is a veritable feast for the senses, and represents an important contingent of the cultural melting pot of Singapore.
Mustafa Shopping Centre must be seen to be believed. Where else can you buy a garbage bag and a car under one roof? Avoid the plastic fantastic and scoop up cute little Indian outfits for your kids. Mustafa Centre, 145 Syed Alwi Road, Singapore, 207704, open 24 hours.
For an insider's view of Little India, join one of Dehli-ite Pooja Kamath Manohar's guided trips. Simply join her closed FB group Road to India  Little India/Tekka Tours and Indian Cooking Lessons and hop along on her next outing. Families are welcome and the trips can be tailored. Usual stop offs are the Tekka Wet Market (including stalls to buy Indian lentils, spices, vegies, seafood, and sweets), sari shopping, eyebrow threading, temples (north and south Indian) and lunch (think dosas, paneer, kabobs and masala tea). She also runs authentic Indian cooking classes and specialist shopping trips. Road to India Trip, Cost $30 per adult, kids under 8 free, kids 8-12 $15. Bargain.
4. Go botanical
Given the abundance of lush green spaces in Singapore, you'd be forgiven for not realising that it's a teeming metropolis of over 5.5 million people. And this month the Singapore Botanical Gardens has achieved international recognition by being named Singapore's first UNESCO World Heritage Site. Head there for a wander through the lush tropical rainforests and immaculately manicured gardens, a gander at the swans and turtles and a splash at the Jacob Ballas children's garden (closed Mondays). Singapore Botanic Gardens, 1 Cluny Road, Singapore 259569, open daily 5am – midnight.
We're also blessed with the snazzy little sister garden, Gardens By the Bay, where you can happily spend a day (or two) with the family exploring the Cloud Forest, Flower Dome, FEO Children's Garden and Satay by the Bay. And we're back on the topic of food again, satay and ice cold beer anyone?
Gardens By The Bay, 18 Marina Gardens Drive, Singapore 018953, outdoor gardens open daily 5am – 2am, hours for individual attractions vary.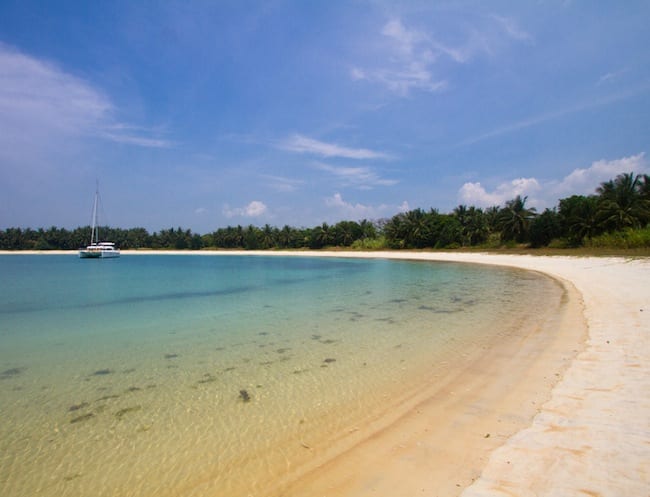 5. Go island hopping
Venture a little further afield, with an island escape or two. There are a few noteworthy Singaporean islets within throwing distance that you should give a whirl.
Take a day trip to Palau Ubin via bumboat and you'll feel like you've stepped back in time to Singapore pre-independence. It's home to Singapore's last surviving kampong (village), and is an untouched isle crisscrossed with nature trails, local eateries in old wooden huts, and hundreds of rental bicycles. Kid's paradise.
Lazarus Island, best known for its pristine white sands and crystal blue waters is a gorgeous place to spend the day pottering on the beach with the fam. Be prepared with food and drink as it's a deserted island sans shops.
Definitely take a day trip to Sisters' Islands Singapore's first Marine Park, comprising St John's Island and Pulau Tekukor. There are rustic bungalows to bed down for the night, but like Lazarus Island you'll need to carry all you intend to consume.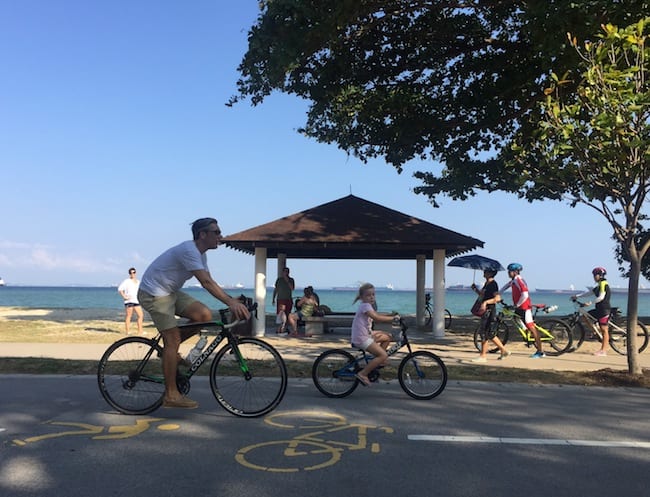 6. Stretch your legs with a nature escape
We're spoilt for choice when it comes to parks and reserves for kids in Singapore, so we've hand selected a few:
 7. Explore local neighbourhoods
There are many little nooks and crannies of Singapore that can easily pass you by in your hustling everyday life. Here are a few little gems you must explore:
The home of Peranakan culture, Joo Chiat – Peranakan culture, certainly deserves more than a cursory drive by. You'll be richly rewarded for your efforts – our faves are the painted pastel houses and the vintage and scandi furniture shops.
Tiong Bahru is arguably the hippest hood on the Little Red Dot, with its art deco walk up apartments, design driven boutiques (Bloesem, Strangelets to name a few), achingly on-trend restaurants and arty vibe. Pop into Woods in the Books and get lost in a picture book with the kids. Go. Now.
The Malay district of Geylang, once the red-light district of Singapore, is still an edgy, interesting part of town (KTV lounges and seedy hotels remain). The lorongs (lanes) are well worth an explore on foot where you'll stumble across hole in the wall cheap local eats. 
8. Chillax at Robertson Quay
For a slow-paced morning by the river, start out with breakfast and a coffee at one of the many restos along breezy Robertson Quay (our picks are Boomarang, and Kith). Then jump aboard a Singapore River Cruise for a bumboat guided tour. The 40-minute journey will float you past the lively restaurant district of Clarke Quay, alongside the colourful shop houses of Boat Quay, past the Merlion and to dazzling Marina Bay Sands.
Singapore River Cruise, Jetties from Robertson Quay to Marina Barrage. Cost $24 (adult), $15 (child).
9. Enjoy Sentosa – the state of fun
What's not to love about the tropical island paradise that is Sentosa? It's jam-packed with amazing kid-friendly attractions. We're particularly partial to the Port of Lost Wonder as it's $10 all you can play, splash and slide, and adults are free! Post-POLW, head armed with scooters to Quayside Isle for a drink or a bite overlooking the Monaco-esque marina. There's also a great playground there for kids with energy in reserve. POLW, 54 Palawan Beach Walk, Sentosa 098233.
They say moving country is one of the most stressful events you will face in your life; why not take a mini-break from it all and enjoy a staycation on the isle of fun for a last hurrah?
10. Feast with the beasts
Chances are you've probably been to the awesome Singapore Zoo, so you'll need little introduction. Experience the zoo anew by joining the resident orangutans for breakfast at Ah Meng Restaurant. From there, zip around the zoo and marvel at over 2,800 animals, making sure to catch the elephant and seal shows. Cool off pre-home time with a splash at the smile-inducing wet play area.
Singapore Zoo, 80 Mandai Lake Road, Singapore 729826, p. 6269 3411. Buy tickets here.