Weekly Recipe Planner: Thanksgiving
Some of us at HoneyKids are Americans and the rest of us get a bit of food envy at this time of the year. Talk of pumpkin pie, roast turkey and stuffing has us salivating for most of November. This year, instead of lingering around colleagues for leftovers we're taking matters into our own hands and preparing our own Thanksgiving feast. But why go by the book when you can up the ante? We recently practiced with these recipes to make the classics our own and the kids loved it! Here's what we'll be cooking again:
This recipe's great if you want to do without the sometimes overwhelmingly sweet flavours of a butternut squash soup. Onions and sweet potato are good enough, plus they add that addictive earthiness to your bowl of goodness.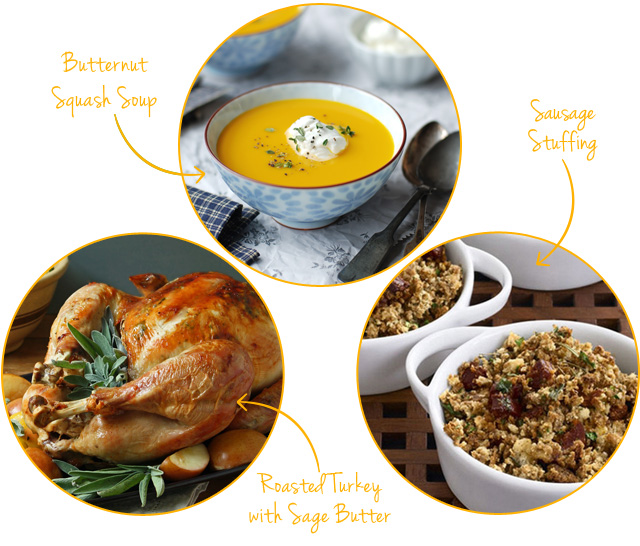 Cook the centrepiece of your Thanksgiving feast the no-frills way. All you need is some sage butter (pretty Italian-inspired, we must say) to rub under the skin, and a bunch of lemons and apples to flavour the juices in the pan…Some regular basting is key to preventing the turkey from becoming dry. Also, let it rest for at least 30 minutes before cutting into it. Otherwise, the juices will flow from the cooked bird to the cutting board. Nobody wants that.
What's a turkey without stuffing? Welcome the meat-on-meat concept with open arms with this sausage stuffing recipe. Best of all, it's nut-free – perfect for kids and those with nut allergies. Buy heaps of bread and sausages and you're all set. Leftovers are safe to take to school too!
We thought we'd provide an alternative turkey dish for those that don't have time to prepare an entire turkey. Easy eating begins with drumsticks (perfect for messy little eaters) and in place of stuffing, go for added flavour with the Chinese-inspired sticky ginger glaze. If you wish, skip the salted roasted peanuts and adjust the amount of hot sauce, depending on the gang's tolerance for spice.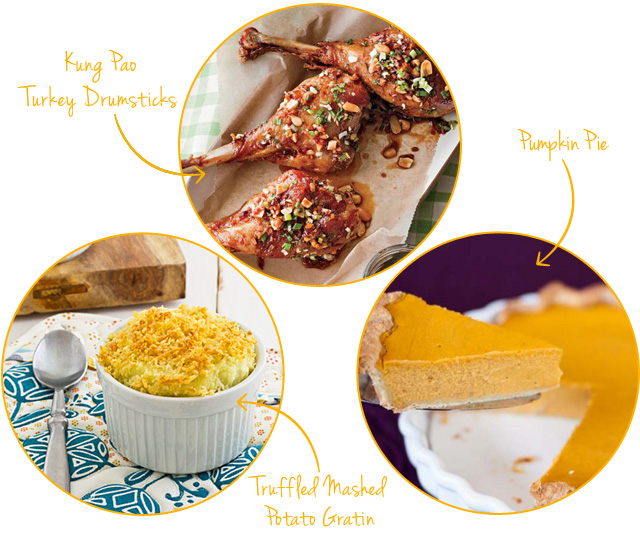 We're not sure about you, but the word "truffle" makes us go weak at the knees. And siple dish of mashed potato outdoes itself with the addition of such an epicurean ingredient. Use a high starch potato, like Russets, as these make for a creamier mash. Then just add a little milk, butter (if you like) and the truffle oil. It might take you a little longer to complete your dish because of the extra 20 minutes in the oven (for that panko-crusted top) but it's so worth it.
The secret's out: the only way to make a pumpkin pie extra smooth is to add cream cheese. It's a smart move, especially since the tanginess of the cream cheese can help cut through the richness of a pumpkin pie. Also, if your pi-baking skills tend to produce a soggy bottom crust, you're in luck because this recipe doesn't call for a lot of liquid in the filling, making it possible to achieve a lovely, golden crust.
Happy Thanksgiving!