HoneyKids and Seed Heritage threw a pool party to remember at Singapore's loveliest swimming school, SWISH! Here are just some of the highlights…
Thank you to everyone who joined our mega-fun pool party at SWISH! From floating around on pink donuts, to slurping popsicles, hanging out with a mermaid and a sneaky shopping sesh with Seed Heritage, we had way too much fun. Who's ready for the next one?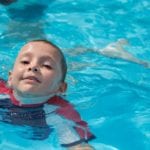 It was an afternoon of cute craft, cupcake eating and underwater antics – and who can forget those underwater selfies? The divine Syrena the mermaid, who swam with the little ones, made the afternoon magic. We want to say a big congratulations to all our little winners who dove for treasure and impressed us with their underwater handstands.
And thanks to so many lovely people who helped make the day such a blast:
To Kristen Romain and the amazing team at SWISH!, thank you for being such gracious hosts, keeping everybody safe in the pool and showing us such a great time.
Thank you, Seed Heritage, for the fab summer pop-up and all the prizes and goodies for our guests!
And Syrena the Mermaid for making the day magical…
To The Pantry, Momolato, Vita Coco and FIJI Water, we loved the party treats and drinks on the day!
Thank you to The Party Elves for getting crafty with the kiddos – we were super impressed with all the cute glittery mermaids and seahorses!
High five to Nihola for lending us such a swish bike for everyone to try out on the day.
And, last but not least, to our photographer Waki Yaneoka of Memom, thank you for capturing all of the fun!
Don't forget to check the HoneyKids Facebook page to see more photos, download your underwater selfies, and share your pics from the day with us! Remember to hashtag #honeykidsSPLASH.
Want to get the scoop on more fab parties with HoneyKids? Sign up for our newsletter to get the buzz on what's happening in Singapore for families!
See you at the next party!