Need to get the teens out of bed during the school holidays? Toss them this list!
Being a teenager in Singapore can be kinda tricky, even more so when it's school holidays. They've clearly outgrown indoor jungle gyms and trips to the zoo, but it's still hard not to take their endless sighs of boredom personally. So, if they've exhausted their extensive list of teen hangouts, and need more fun and affordable ideas to keep them busy this Xmas, you've come to the right place…
Head to an alternative cinema
Teens want to catch a flick? Skip mainstream cinemas! ArtScience Museum doesn't just have awesome kid-friendly exhibits, it hosts regular free screenings of local and international films at its Expression Gallery. Or get them to pack the picnic basket and mat and set off for Botanic Gardens which holds monthly film screenings at the Eco Lake Lawn. If your teen is a fan of indie, local and cult films, The Projector screens an impressive selection of alternative flicks; or watch a stage performance, live or recorded, at The Esplanade.
Tour around hipster Tiong Bahru
Pack them off to spend the entire day at Tiong Bahru. Get them to kick-start the day with brunch at rustic-chic The Butcher's Wife (did we mention it's gluten-free?). Next up: browse the indie magazines and the amazing back room of vintage treasures at independent bookstore, Books Actually. And remind them to stop by Plain Vanilla for some Earl Grey Lavender cupcakes, then to wander around the pre-war flats taking arty Insta shots perfect for posting.
Visit a cat cafe
Yes cat cafes are still going strong in Singapore, and there's nothing like a little pet therapy to keep the teens happy. Our favourite cat café in town is Neko No Niwa nestled in Boat Quay. Besides the obvious appeal of cuddling the resident cats, the cosy cafe also has a great view of the Singapore River and the residents are not shiny pedigrees brought in to admire, but rescue cats in all shapes, colours and sizes. Oh, and they stock awesome ice cream sandwiches from The Ice Cream & Cookie and Co. too.
Grab an ice cream cone
Talking of ice cream, we have it on good authority that teenagers love a frosty dessert – anything to escape Singapore's sweltering heat! Send them for a cone and chill out at one of these ice cream joints.
Head to Haji Lane
Up your teen's cool factor with a trip to Haji Lane. Peppered with quirky independent shops, vibrant cafes and striking murals decorating the walls, it's as gritty as it gets in Singapore (apart from maybe Geylang). It also has the National Library nearby to stock up on reading fodder for the school break. And don't forget to tell them to duck into Bras Basah Complex to scour the indie bookstores.
Book it
And speaking of books, library hopping is also pretty cool. There are a fair few awesome libraries around Singapore including the [email protected] which has a wealth of books, CDs and DVDs and Jurong Regional Library which has a dedicated teens library service with a library created for teens by teens. It also hosts open-mic gigs and performances for young talents. Or just pick up a book, we know just the coming of age novels they should start with…
Race like Lewis Hamilton
Teenagers are constantly obsessed with the notion of driving, but since getting a license is still a few more years away, the next best thing is karting, so let them tear up the tracks at The Karting Arena. This electric kart circuit Singapore boasts a 545-metre long track with 11 sweeping corners and hairpin turns. Wannabe F1 racers can live out their fantasies in (relative!) safety.
The Karting Arena, 200 Turf Club Road, #01-01B, The Grandstand, South Car Park, Singapore 287994; www.thekartingarena.com
Explore Queenstown
This up-and-coming hipster spot is definitely a winner for teens. They'll love grabbing a bite at colonial bar Colbar and experience Singapore back in the '60s. Art lovers: an art walk around Wessex Estate to visit the numerous art studios is a must. Or if your kid is more of the sporty type, they'll be more than happy to pick up some new kicks at Queensway Shopping Centre – the unofficial sporting mall of Singapore offers really sweet deals. Read all about the ins and outs of Queenstown over on our sister site, The Honeycombers.
See the real side of Singapore
Teens studying at an international school may not have the opportunity to make friends with locals, so why not expose your kid to different cultures and traditions by getting them to explore the city with Tribe Tours? Run by Singapore locals who know the city inside and out. Otherwise, send them on a self-guided heritage tour through Singapore's history-rich neighbourhoods using our handy guide.
Shop at *SCAPE
*SCAPE is the teenage mall: from skate parks to fleas (markets, not bugs) and games rooms, this place has no shortage of teen hangouts. Teens can work on their assignments at the free study area at HubQuarters, practice their dance moves at the wall mirrors on level 5, play video games at Playnation, or belt out a tune or two at the karaoke.
*Scape, 2 Orchard Link, Singapore 237978, p. 6735 4144; www.scape.sg
Give back to society
Have an idea that benefits the local community, and society? The National Youth Council's Young Change Makers Scheme aims to provide seed funding for up to 80% of the total project cost. So, get your teen to gather some pals and start turning community-changing ideas into reality!
Get into the great outdoors with Outward Bound
Helping young people learn how to rough it in the great outdoors for 50 years, Outward Bound offers the chance to get away from it all in an adventure-learning environment. With workshops and courses designed to build leadership and character skills, your teenage can build their internal confidence with a choice of programs that embody healthy habits and foster do-gooding skills.
Outward Bound Singapore, locations at East Coast and Pulau Ubin, e. [email protected]; www.nyc.gov.sg
Sail away to surrounding islands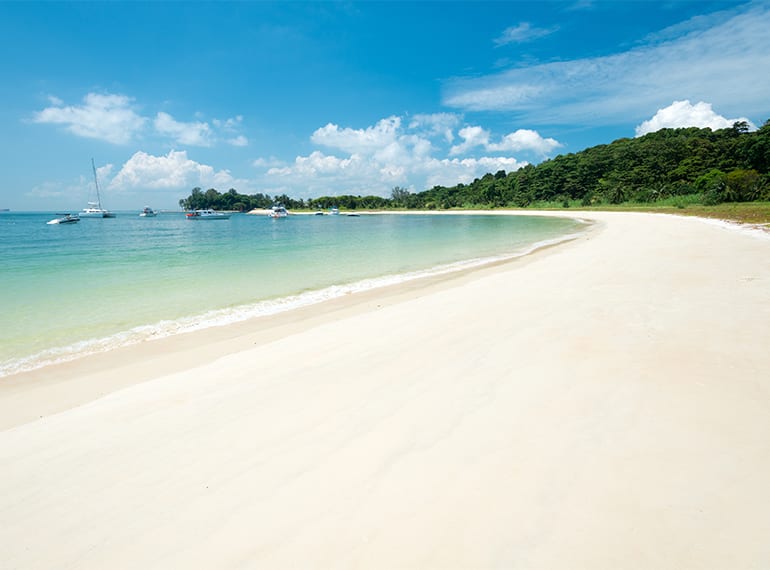 If you're kid is looking for a change of scenery, but school commitments are anchoring the family to stay, send them to explore one of the islands off the coast of Singapore. Cycle around Pulau Ubin and explore the surrounding kampongs, go snorkeling at Sisters' Island or just chill out on the white sandy beaches on Lazarus Island. These island hops are all easily accessible by ferry and no passport is needed.
Learn how to Lion Dance
If rock climbing or trampolining isn't your kid's thing, then why not combine them both in a truly unusual sport: Lion Dance. This unique art form doesn't just teach Chinese culture, the training also instills teamwork, disciplines, and most importantly, promotes healthy living. Internationally recognized Wenyang Sports Association has junior teams in their troupe so your teen won't feel out of place.
Wenyang Sports Association, 48 Toh Guan Road East, #09-139, Singapore 608586, p. 65157984; www.wenyang.com.sg
Get a job!
If after all that, they're still moping about the house, sometimes it's good to give them a bit of tough love and have them earn their keep with a part-time job. Check out our guide for teens to work in Singapore and review the regulations carefully. Then open them a bank account and let them earn their own frappuccino money.
Like this story? Here's more we think you'll enjoy:
Tips to keep your cool when raising a teen
Parenting tips from a former expat brat
How to translate what your teen is saying into actual English
Game on: the video games teens are playing right now
Don't forget to subscribe to our weekly newsletter and follow us for fun moments on HoneyKids Instagram!