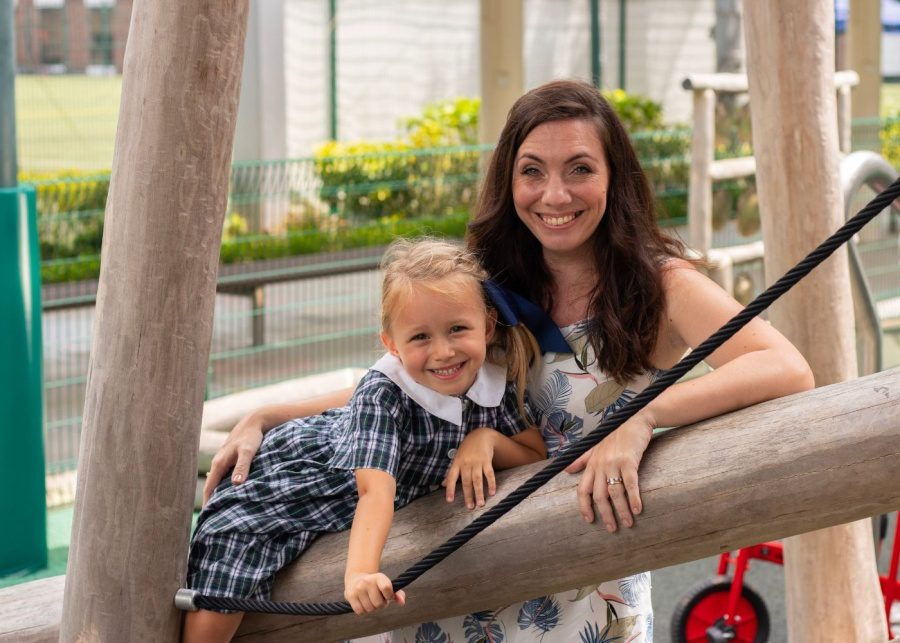 Parent Hannah Richardson shares her top reasons for choosing to enrol her daughter at Tanglin Trust School.
Hannah Richardson recalls feeling really excited for her daughter, Ella, to join Tanglin Trust School after going on the school tour. "A school is more than its facilities, and meeting and seeing the teachers in action and how they were engaging with the children was truly inspiring," she shared with us. We speak to Hannah to find out what else makes Tanglin a great school for Ella…
Hello Hannah! Can you share with us the most important factors for you in choosing a school for Ella?
Firstly, having a sense of community and belonging for Ella is very important to us. Singapore is such a transient place, and after living here for over ten years, we know how friends come and go. We wanted a school that Ella would really feel part of and where she would feel a true sense of belonging and kinship. Tanglin achieved this through their Nursery classes being given names of insects: from Snails to Caterpillars to Bees and more. The children instantly have a sense of identity, belonging and community. This was later reinforced through the allocation of the House system, which will stay with the children throughout their entire school life in Tanglin: from Infant School to Senior School. The school will also ensure Ella's little sister will have the same House allocation, so our family will forever be Team Cameron! We love how this connects the children of all ages, and on House Fridays, she can see her fellow House members walking around the school, whether they be in Nursery or older years. She is part of something important and can find fellowship with other students throughout the school.
We also like that Tanglin follows a British curriculum and provides diverse co-curricular activities in a nurturing environment. We wanted Ella to be exposed to things that can challenge her, help her grow, and discover what her interests are in a supportive, engaging environment that encourages her to explore her curiosity. Tanglin achieves all of these and more. Even though Ella is only in Nursery, she already has the opportunity to attend multiple co-curricular activities to feed her eager mind. This term alone, there are VIVO kids multi-sport on Mondays and Thursdays, Languages (including French and Mandarin) and Music on Thursdays, and Creative Drama and Musical Theatre on Fridays.
Last but not least, we also love the access to extraordinary facilities that Tanglin provides. The superb facilities that Ella will have access to include:
A Design and Technology Suite that has a CAD area for modelling ideas in 2D and 3D; and a CAM 'maker space' with a range of 3D printers, lasers, vinyl cutters, and thermoforming equipment.
A Media Suite that comes with film production hardware and software across two studio classrooms, plus a colour grading room, a sound design room, a photography studio, and a 40-seat cinema. It also has an open area that contains Apple workstations and a film theory library.
A huge range of musical instruments (they even have a harp!) which Ella and her fellow schoolmates can learn – starting as early as Junior School, where each student learns a string, wind or brass instrument as part of their music programme. Beyond the standard curriculum, individual instrumental lessons delivered by specialist tutors are available to children during the school day.
And what was the ultimate deciding factor that led you to choose Tanglin?
After visiting Tanglin for a school tour pre-COVID, it was a no brainer for us. We saw it had everything we could have dreamed of and more. We love that their class areas are open-plan with naturally calming decor. The open-ended play truly allows our little ones to use their imaginations and take themselves on learning experiences in a natural and exciting way. Straight from the start, they are taught that their learning experiences will not be fenced in, simply by not having closed doors on classrooms and instead having open, connected areas so they can see their friends in other classes. As a Mum, I really value the fact that Ella begins her school life knowing that she can experience so many things and can one day become anything she wants to be. It was somewhere we could see that she would blossom. The calibre of teachers is also exceptional, and we knew we would be giving our daughter the best education available in Singapore.
You mentioned having the British curriculum as an important factor in choosing a school for Ella. Can you tell us why the one at Tanglin appeals most to you?
Tanglin follows an enhanced version of the British Curriculum. Being English, this was really important to us so that, should we move back to England, moving our daughter's education would be easier. However, what really adds value is that they are the only school in Singapore to offer both A Level and the IB Diploma in the Sixth Form. We don't know what our future holds or what will be the right choice to make yet, so having that flexibility and the option to choose later reassured us that we would be able to choose the right path for Ella when the time comes. Another appeal is that, despite following a British Curriculum, Tanglin still embraces global aspects throughout the school, creating a truly international and cosmopolitan community and education.
Sounds like you found the perfect school for Ella! What does she like most about Tanglin?
In Ella's words, what she loves most in Nursery are the Water Tray, the Sand Pit, the Mud Kitchen, the Forest School Programme and Pedal Power. Pedal Power is enabling Ella to learn how to ride a balance bike in addition to her normal PE classes. The Forest School Programme, where Tanglin Trust have taken learning outside, immerses children in the outdoor world, learning about plants, insects and connecting with nature.
Ella had never been one who enjoys dirt or mess, and yet at Tanglin, through open play, she has developed such a love and appreciation for hands-on, messy, immersive play. It's wonderful to see her blossom and enjoy more aspects of play.
We also value the calibre of teachers and how much they add to Ella's learning experience. Ella utterly adores her teacher, Mr Pyatt, and her teaching assistants, Ms Farhana and Mrs Lee Lee.
How did the school make her feel welcome?
Each day, Ella is welcomed onto the school bus by our wonderful bus Aunty and a cheerful good morning from the bus driver. Mr Pyatt then greets her when she arrives in school, collects her from the bus, and brings her to class, so she feels welcomed already before it's even 9am.
What about the parents – what does Tanglin do in terms of building a community for parents?
Tanglin has a fantastic class rep system in place to help build a community amongst parents. This encourages parents to connect with one another and build on that wider Tanglin family from the get-go. The class reps organise a WhatsApp group for their class, parent socials, class parties, photo memory books, charitable activities, and arrange class gifts. Ella's Snails class has already organised and donated over 500 books to the charity, Books Beyond Borders, which helps to further educate our little ones about supporting the wider community and giving back.
We Snails parents (the Nursery 8 parents) regularly meet for coffee mornings and have drinks on alternate months, so we get to bond as parents. In addition, Tanglin arranges "Friends of Tanglin" meetups for new families joining Tanglin, regardless of year, where existing Tanglin families welcome new families to the Tanglin community. It has been great making friends with other parents, welcoming new families to Singapore, and getting to know one another.

One last question – what advice would you give other parents trying to choose a school for their kids?
Choose a school where the environment will spark curiosity, where the teachers will nurture inquisitive minds; a school where you see the smiles on the children's faces as they go about their day, where the staff are welcoming, and which has a community you, and not just your child, want to be part of.
Thank you, Hannah!
This post is in partnership with Tanglin Trust School.