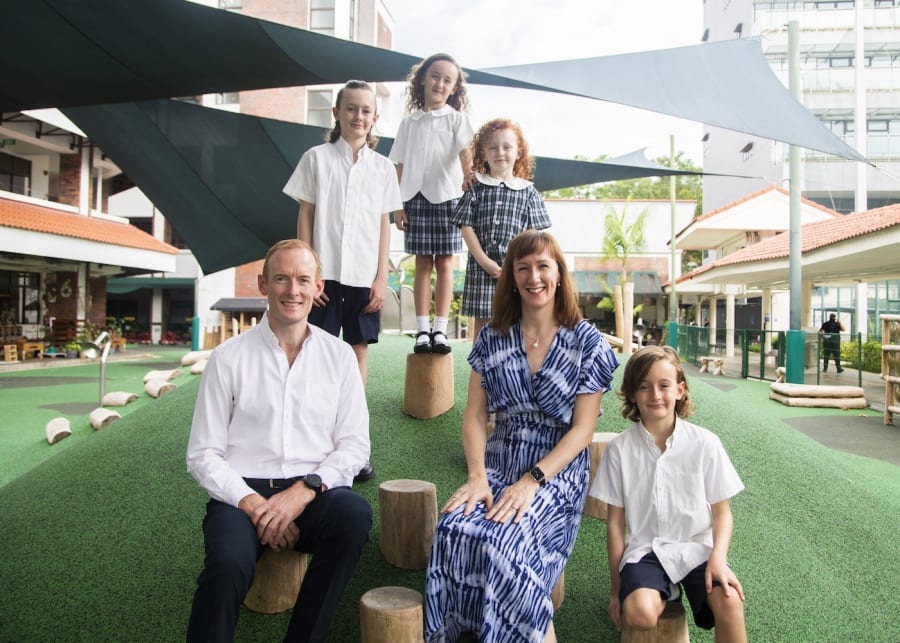 Looking for a school that brings out the best in your kids? Find out why this family thinks Tanglin Trust School is tops!
Finding the perfect school is never easy, which is why Dr Heather King, General Practitioner at the International Medical Clinic, Camden and Dr Gavin O'Neill, Orthopaedic Surgeon at National University Hospital, felt like they struck gold when they found Tanglin Trust School. This family of six love the school, not only for its familiar British curriculum but for the many opportunities it has to offer its students. Find out why else they believe Tanglin Trust School is the perfect fit for their family:
Hi, Dr Heather and Dr Gavin! How did you decide on Tanglin Trust School?
When we arrived in Singapore from Scotland in July 2014, we didn't have much time to decide on a school for our eldest son since I was starting work in September. We toured a number of international schools, and Tanglin had, by far, the most outstanding Infant School we had seen. It not only had excellent facilities, but the Nursery department also taught through creative activities and games to ensure learning was always fun and engaging. The Infant School has a strong focus on teaching independence as well as ensuring children grow up socially and environmentally aware.
We also wanted our kids to join a school that taught the British curriculum and had familiar elements to the education system back home. Equally, I wanted them to be challenged and to send them to a school that gave them an international perspective and helped them embrace the Asian culture around them. Tanglin felt the perfect fit.
What was one thing that really stood out?
The ultimate deciding factor that led us to choose Tanglin Trust School was the impressive Nursery department and Infant School, as well as knowing the children could progress through the Junior and Senior schools seamlessly. We knew that the teaching style, inclusiveness and overall feel of the school were what we were looking for as a family.
Has the school lived up to your expectations?
The school has exceeded our expectations in so many ways. Our experience of Tanglin has been hugely positive, and all of our children enjoy school immensely. The staff, communication, professionalism and resources have been outstanding. The learning experiences and life skills taught are invaluable, with few other international schools having the same overall British school experience. Tanglin values each individual child and enables parents to feel confident that the school aims for each child to succeed in whatever avenue they pursue.
What do your children love most about Tanglin Trust School?
Our children all love going to school, with each of them having different things that they prefer.
Connor, our eldest, loves the fact that his teachers have always been kind and caring. He enjoys group work, in particular, as he loves socialising with all of his friends and being a part of a team. His favourite subject is science, and he loves participating in extra-curricular activities like gymnastics and climbing.
Flynn enjoys socialising with friends and going on the amazing school trips provided by Tanglin. He loves doing anything physical and particularly enjoys PE and being part of the school's competitive sports teams. Tanglin has a great sports department and fantastic sporting facilities that range from balance bikes all the way through to climbing walls and swimming pools. Flynn would happily play sport all day!
Livy loves maths and being challenged through problem-solving activities. She also enjoys getting involved in class discussions and group activities and socialising with her friends. Livy was recently a class representative. She loved the responsibility it entailed; meeting heads of year, helping her peers and brainstorming with representatives to make positive changes.
Grace, our youngest, is learning to read; she enthusiastically brings her new reading book home three times a week and encourages us to read with her. Friendships made at this age are hugely important, and she loves her close group of friends in her class. She recently had swimming lessons in the school pool, which was a huge amount of fun!
What do you value most about the school?
We value the sense of community, professionalism of the teachers, dedication to always make positive changes and receptiveness to new ideas.
We feel that by attending Tanglin we are giving our children the best possible chance in life and that the education they receive will enable our children to grow into well rounded, responsible, sociable adults who will enjoy life to the full.
Tanglin Trust is a great school. Our children have fun every day while learning. They are thriving and making strong friendships while at the same time being extended to the best of their abilities academically, socially and within the arts, sport and music!
Thank you, Dr Heather and Dr Gavin!
This post is in partnership with Tanglin Trust School.