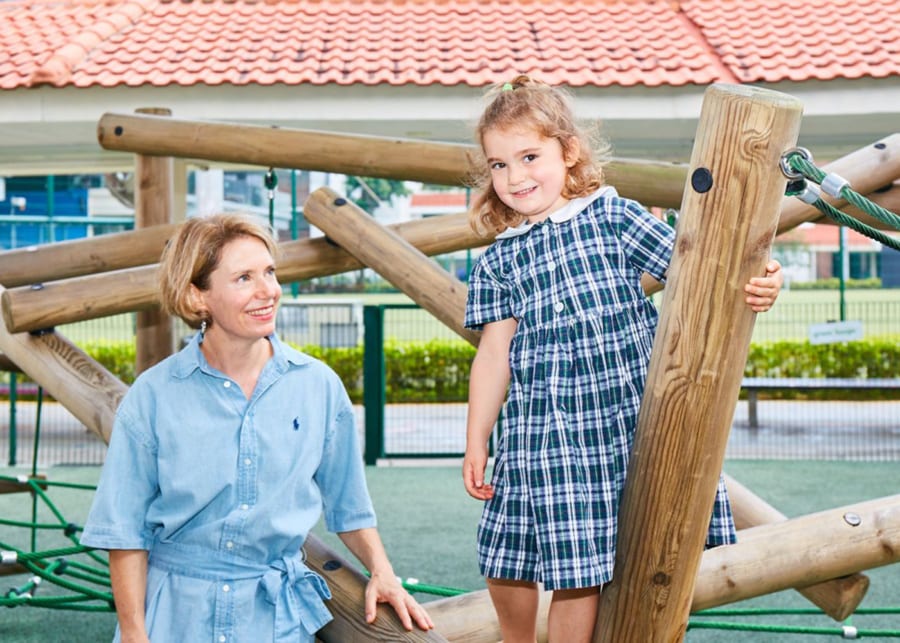 Tanglin Trust School's professionalism, dedication, openness and honesty are what this family values most. Read on to find out what else makes them such big fans of the school...
Moving to another country — with kids in tow — is always difficult. There's always the aspect of leaving family and friends behind, and, most importantly, finding a school that really fits your ethos. For this British family, choosing Tanglin Trust School was a no-brainer. Even after seeing all the wonderful things it had to offer on the school tour, Tanglin Trust still managed to surpass their expectations. And the children love it — they love going to school each day and are really thriving! We spoke to Rachel and Cameron McLean to get the lowdown on their experience at the school and why they're so happy with their choice…
Hi Rachel and Cameron! What were the most important factors for you in selecting a school?
We were looking for a school that offered a British curriculum, as we may return to the UK in the future. For Jessica, who's in Reception this year, we wanted somewhere that would nurture her natural curiosity and creativity, as well as offering plenty of physical play and outdoor access. My son James, who's started Senior School this year, needed a school that had the same standards as the top British schools. We had very high standards about what we hoped for in Singapore, particularly with regard to sports, academics, Design and Technology, learning support and extra-curricular activities.
And what made you decide on Tanglin Trust School?
Tanglin was above and beyond what I had seen offered by any other school. They have incredible facilities and the staff are extremely experienced. The teachers are professional, make learning fun, and are in tune with the children they teach, so you know your child will be happy and inspired to learn. We love the state of the art classroom and playground in the Infant School. Both areas encourage learning and imaginative play. It even has exciting outdoor areas – a mud kitchen, slides, water play areas – where children can get creative!
In the Junior and Senior School, the range of sports is vast and caters for all types of child. Tanglin seemed to be progressive, inclusive and modern. While I had seen other schools focus purely on woodwork in D&T, I saw Tanglin children using Computer Aided Design, 3D printing, and they were even coding prosthetic limbs.
How did the school make your children feel welcome?
In Nursery, we had the opportunity to meet other classmates and their parents in the classroom before school started so the everything felt familiar on the first day. The children (and parents) made friends immediately. The staff are experts at making everyone feel at ease. For the first few weeks the children did alternate days so they didn't feel overwhelmed by the whole class being in at once and the teachers could be on hand to pay close attention to every child.
It can be harder on the parents to let the little ones go! The school recognises the bond between parent and child at this young age and offers parents the chance to go into the classroom during open mornings so the children can show off their work and all the different things they get to do during the day. Once a week, parents can do the reading during library time or help with cooking activities. It is a really fun way to be involved with the school and your child's education.
In the older years, each new child is assigned a buddy in the same class for the first few weeks to help the new student navigate around the school, make friends and have a group to sit with at lunchtime. Within a day or two it's like they've been there for years!
Would you say you're happy with the school?
Yes! My daughter is quickly learning to read without even realising it! The teachers spend a lot of time observing the children, to understand their interests and how they can personalise the learning to appeal to the child. She does rock climbing, has learnt to ride a bike, uses the state-of-the-art gymnasium for gymnastics and has made lots of terrific friends.
Within his first year at Tanglin, my son James went on tour to Bangkok for an interschools football competition and competed in climbing too. His year group also put on a fabulous production called War Child: We'll Meet Again. They wrote it themselves, performed it on stage and created film inserts using their IT skills. James was also part of the orchestra for the production and every child had a speaking part. His confidence has been further enhanced by the English Speaking Board (ESB) Level 1 Award in Debating where he worked as part of a team to explore a motion and build an argument. It was a proud moment for us!
What do you value most about Tanglin Trust School?
We value Tanglin's professionalism, dedication, openness and honesty. We truly feel they are doing the best to provide my children with an incredible life experience that will give them more options in the future so they can choose a fulfilling career and make exciting life choices.
Thank you Rachel and Cameron!
This post is in partnership with Tanglin Trust School