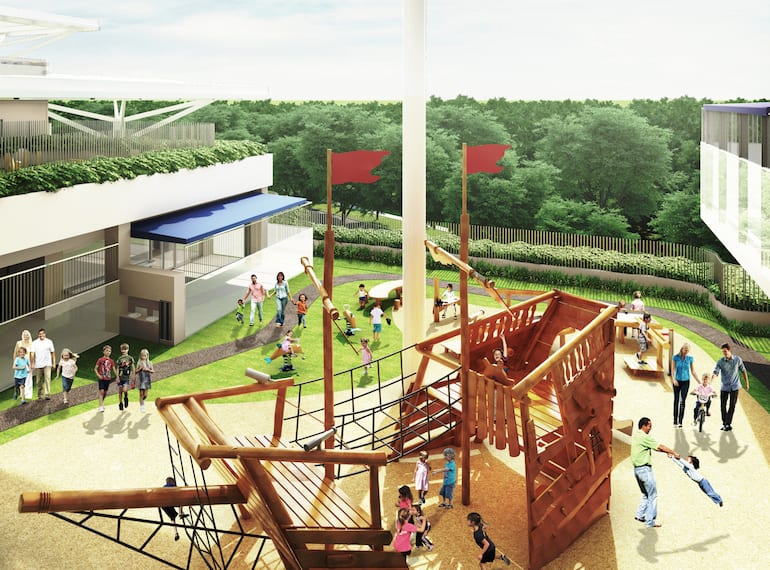 How does your little one's day unfold after you kiss them goodbye in the morning? For the young learners at Stamford International School, every day is a big new adventure…
When your child starts preschool and kindergarten here in Singapore, all dressed up in their spiffy uniform, ready to start a new adventure and learn more about the world, there can be some tears involved. And let's face it, you'll be the emotional one. Will they make friends? Will they be cared for? Will they have a good time at school? To put you at ease instantly, let's take a little peek at how the children at Stamford American International School spend their day after parents kiss them goodbye at the spectacular new Early Learning Village, created for children 18 months to six years old. Believe us, you'll feel comfortable they're in the best hands. And you might be a bit jealous of your kid too! Psst: You're invited to explore the Early Learning Village with your kids at its Village Fair on 29 July – look out for more details on the fun below…
One fine start
From the very beginning of your child's day, Stamford is doing things differently for families: if your little one is riding the school bus, they'll be taking part in a Singapore-first safety program, wearing a Ridesafer child restraint to keep them safe on their journey. And for busy parents who want the convenience, the optional Breakfast Club allows you to bring your kids in at 7.15am to the Early Learning Village. Kids enjoy a healthy breakfast and fun activities with friends before the lovely staff help them begin the school day. See? They're already in good hands…
A sensational space
We've told you before why we're so excited about the Early Learning Village – an exceptional space for young ones to learn and play. This thoughtfully designed preschool facility is a world first: you really have to see to it to believe it – don't worry, your invite is below!
Designed by award winning architects, the Early Learning Village has been built with the youngest learners in mind, encouraging sensorial learning at every turn. Its Reggio-Emilia inspired space is designed to nurture your child, encourage them to explore and engage all senses with its six discovery play zones, which enjoys 75% UV coverage, so there are no worries about the rain or too much sun! Your child will be able to let their imagination go wild in the outdoor storytelling area; or the pirate ship playground and take swimming lessons in a pool specially designed to help new swimmers. They'll be nourished with family-style meals from the dedicated Village Kitchen, spend their days enjoying sensory play in the sand pit or maker spaces attached to their classroom, and burn off energy in The Hive – a multi-purpose gym for sports and events!
Let the learning – and fun – begin!
Stamford American International School is serious about learning through fun, and its holistic curriculum goes above and beyond to keeps kids curious and challenged. Here are just some of the ways your child will be encouraged to grow as an open-minded, well-rounded learner who can connect with others…
Communication skills are boosted through language learning, so two of the world's most widely spoken languages, Mandarin and Spanish, are offered from 18 months, daily. A bilingual English/Mandarin program is also available from age three onwards.
Movement is essential for your child's learning in the early years, so your child will climb, balance and wobble as part of the innovative motor skills development program SMART Steps, and Perceptual Motor Program, which is built into their school week from 18 months.
Music hones your child's senses and self-expression, and is linked to mental development and memory – so don't be surprised if the world-renowned Suzuki Violin lessons available from age three bring out amazing things in your child!
New technology encourages innovative thinking, so STEAMInn-based activities are woven into every child's day. Your child will be introduced to virtual reality and fun, age-appropriate tools such as Bee Bots, which teaches the concepts of coding by moving bugs through a maze. Stamford believes in encouraging young learners to think innovatively from a young age and be the problem solvers of tomorrow. We're amazed too!
More fun after school
Stamford American International School offers over 10 amazing CCAs for little ones to keep the fun going after school. (Hint: there is ballet, soccer, tennis, drama, circus skills and much more. How exciting!) For working parents, the Afternoon Tea Time Club enables you to pick up your child up to 6pm. Your little one will enjoy a snack and activities with the caring Club crew till you arrive, ready to scoop them up and hear all about how awesome their day was! Admit it, you are a bit jealous, right?
Come visit the Early Learning Village at a FREE family fair!
Mark your diaries for Saturday 29 July, and be one of the first families in Singapore to explore the amazing Early Learning Village at the free Village Fair!
There will be guided tours around the campus, a Q&A session with Stamford American International School's Superintendant Eric Sands and Early Learning Village Principal Mr. Michael Day. You'll be free to roam the amazing campus with your kids, and check out the six Discovery Play Zones – expect fun activities, refreshments, and to be completely inspired by this space created for children to thrive.
When: Saturday 29 July 9am-12pm
Where: Early Learning Village,  3 Chuan Lane Singapore 554350
Register for the Village Fair: www.sais.edu.sg/open-day
This post is sponsored by Stamford American International School.