Looking for the best international school in Singapore? Here's an insight into SAIS, and why it may be a great fit for your child
If you've not already heard, Stamford American International School has recently undergone an impressive enhancement and the results are nothing short of spectacular. State of the art facilities deliver an incomparable experience for children, no matter what they're interested in. Of course, an impressive campus like this would be nothing without a robust curriculum and experienced people to teach it – Stamford is able to attract the best educators available. 
Case in point, Stamford's Early Years Principal, Michael Day.  Mr. Day is dedicated to providing your children with an inspirational Early Years program and classrooms and is inviting you to come and discover more about them at one of their regular Open Houses. You will see and hear for yourself how Stamford is able to deliver an unparalleled experience in not only core subjects like English, Math and Science, but also in valuable areas like Music, Languages, Physical Education and Health.
Character First, Ability Second: Music
Music is an integral part of training the brain for other learning and the specialists behind Stamford's music classes adopt the "Suzuki method". With no knowledge of notes required, Nursery students are encouraged to listen, imitate and repeat what they hear in weekly classes and by Pre-Kindergarten and Kindergarten 1 they are already learning the ropes of the violin.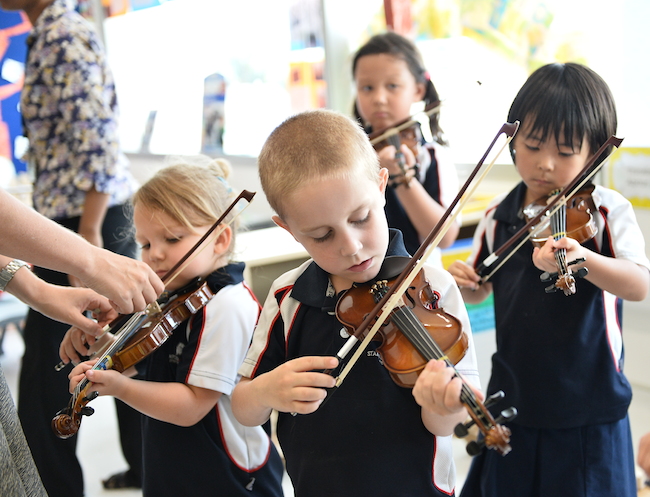 Get a Move On: Physical Education
Physical Education in the Early Years is not focused on the rules of a game or winning. At Stamford, we see it as the perfect opportunity to nurture a combination of physical and cognitive skills like agility, balance and flexibility. Also at play are teamwork, confidence and comprehension. Fine and gross motor skills get the work out they need through the Smart Steps and Perceptual Motor Program (PMP).
A Different Tongue: Foreign Language
From our position within South East Asia, the opportunity to learn multiple languages is not lost at Stamford. The unique difference here is that daily lessons begin early and can be consistently built upon as children transition from Early Years to Primary School. This seamless approach means that songs and games give way to fluid conversations more rapidly.
Food for Thought: Health and Nutrition
In a high flying move, Stamford has shown how seriously it takes health and nutrition by forging a partnership with the Emmanuel Stroobant Group. This well-known chef has tailored a range of healthy eating options for the school and developed literature and courses that teach the importance of staying healthy and maintaining a well-balanced diet, so good habits start from a young age.
Open Houses: Register Now
If you're impressed by the sound of all this, you will be blown away when you see the school in action. Don't miss out on the chance to visit the campus and tour the dedicated Early Years' learning space. Drop by for one of Stamford's Open Houses, which happen regularly. Book your spots today!
Stamford American International School. 1 Woodleigh Lane (off Upper Serangoon Road), Singapore 357684, p. 6602 7247.