Comprehensive Speech Assessment for kids joining the Childhood Speech Impairment Study being conducted by Speech Therapist, Rebecca Waring.
Most kids love the sound of their own voice. Even children tending towards shyness often get a kick out of waffling on to those they feel comfortable with. But observing if you have a little one that can talk under wet cement or the kind that prefers to limit their chat to those they know, is different to determining if speech development is tracking along as it should be. So how do you know what's normal?

Speech Therapist, Rebecca Waring led an amazingly informative talk for us last week and passed on some very helpful tips for what to look out for when it comes to speech acquisition. If you missed it, here are our 5 top take-aways to ensure that your child is talking properly. And if you suspect they're not – help is at hand! Rebecca is conducting a comprehensive study of children with speech errors and is offering assessments (at no charge) for eligible kids.
Here are our top 5 take-aways from the talk.
As a general rule of thumb, expect:
first words (like "mum" or "up") at around 12 months
1-10 words by 18 months
50 words by 2 years – you'll be able to tell when your little one hits 50 words because they'll be speaking in two word combinations
parent to understand 75% of speech at 3 years
stranger to understand minimum 66% of speech at 4.5 years
adult-like speech by 5 years.
Growing up as a bi/tri-lingual kid doesn't mean they'll be delayed or confused. It just means they'll be more employable.
Kids are like sponges and learn by example so it pays to speak the Queen's English.
Follow your gut instinct as a parent. You're the one who spends the most time with your child, so you're best placed to know if something's awry.
An assessment by a qualified speech therapist will either ease your mind or set you on the path to tackling that problem stat.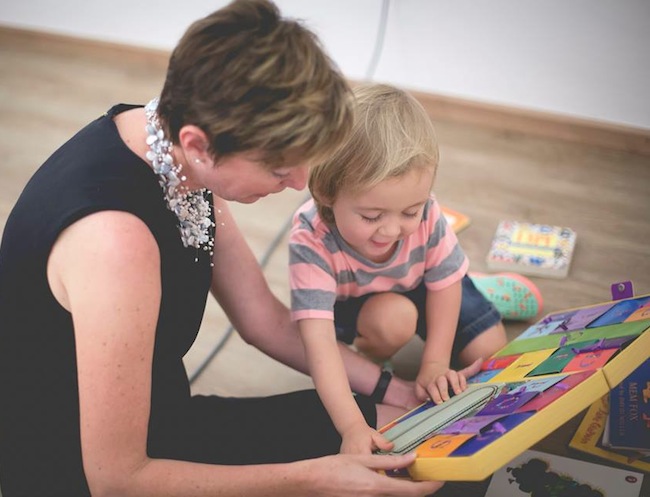 Childhood Speech Impairment Study
Does your child have problems saying words properly? Do you, or other people sometimes pretend to understand when you haven't really? Do you have to rely on clues to figure out what your child has said?
If you answered YES to any of these questions, your child may have speech difficulties. Don't fret, contact Rebecca regarding the Childhood Speech Impairment Study she's undertaking as part of her PhD at The University of Melbourne. She's on the look out for 100 English-only speaking kids with speech errors between the ages of 3.5 and 6 years. It involves a 60 minute speech & language assessment in your own home along with a written report, all at no charge. For suitable candidates a further two 45 minute sessions will be offered (at no charge). Email Rebecca on [email protected] or p. 9169 3780 for more information on being part of this study and to find out if your child's development is on track.
This post is sponsored by Rebecca Waring.
Thank you to Kylie Petts of WonderLight Photography for the beautiful images of this event.