Struggling to get a 'please' or 'thank you' out of your kid? These etiquette classes help your child be their best
Do your kids throw a tantrum at the supermarket when you say no to that unhealthy snack? Do they come to the dinner table with dirty hands? Do you need to drag a 'please' or 'thank you' or 'sorry' out of them? Manners can be taught- if you're struggling, this is where etiquette classes come in.
Kids are learning what is acceptable behaviour from the get-go just by observing us, but making the leap from simple greetings to learning how to politely interrupt adults when they're speaking, and even carry a conversation with grace, requires some attention. To help your child conduct themselves age-appropriately and practise social skills, there are are number of social etiquette classes kids can attend in Singapore. Phew – no need for that finishing school in Switzerland.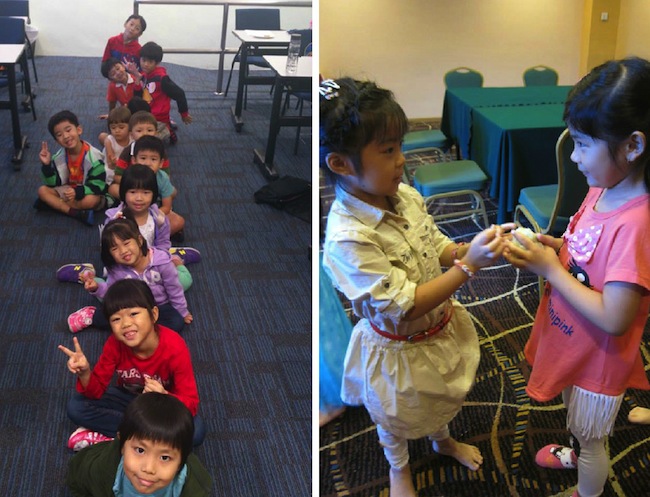 Images from left: Molly Manners and Manners in Mind
Dining etiquette and social grace workshop at Chijmes Led by former Miss Singapore World and President of Association of Image Consultants, Audrey Quek, this hands-on workshop at Chjimes on Sunday June 28 will teach your kids the ABCs of manners in a fun and creative way. Expect engaging quizzes, exciting games, and of course, awesome prizes. Children will become masters of fine dining and social grace including poise and posture at the table, party etiquette, as well as practising polite interaction with their peers – they will be ready for a black-tie event in no time!
Molly Manners offers classes for children, starting at age three right up to 16 years of age, that will groom your kids through interactive and creative lessons. See here for details of their two-day camp during the June school holidays. Soon, you'll be saying hello to polished and well-mannered children.
Manners in Mind teaches kindergarten-level kids confidence with its new course, 'You are a Star!' while teens can get help transitioning into young adulthood with confidence and ease. Courses cover topics from public manners, dining etiquette, conversation and correspondence, poise and grooming, to sportsmanship and multicultural etiquette.
Manners in Mind, p. 8157 3365
Image Flair Academy of Modern Etiquette holds holiday classes for children aged four to 19 years of age, boasting a wide selection of customised workshops targeted at different age groups and needs. Using songs, poems, role-playing and other fun activities, children learn that good manners is the key to being truly cool. We agree!
Image Flair Academy of Modern Etiquette, 391B Orchard Road #13-09, Ngee Ann City Tower B, Singapore, 238874, p. 9431 1895
Etiquette & Image International is a safe haven from rudeness and rage. Their workshop covers tips on poise and posture, dining etiquette, interpersonal skills and social graces. Your child will be moulded and groomed to be gracious and polite. What's more: you'll never have to watch your child wolf down burgers and fries again!
Etiquette & Image International, IMM Building #05-09, 2 Jurong East Street 21, Singapore, 609601, p. 9248 0065
The Etiquette School Singapore takes pride in its 'Oops, where are my manners?' enrichment program, amongst a host of other courses. The first of its kind in Singapore, this program is similar to a finishing school designed to teach your child to have basic decorum, be independent and arm them with the social interaction skills they will need in life. We applaud that.
The Etiquette School Singapore,  p. 8366 5542