These one-of-a-kind experiences bring kids on an immersive educational journey around one of the world's largest aquariums.
Got a kid who loves the ocean and marine animals? They could be the next Junior Ocean Detective and Junior Ocean Protector that S.E.A. Aquarium is looking for! Kids are invited to go on a guided adventure in the iconic aquarium, learn from knowledgeable educators and aquarists, and go behind the scenes to deepen their understanding of some marine species. Read on to find out more about what each programme is about.
Investigate and crack cases as a Junior Ocean Detective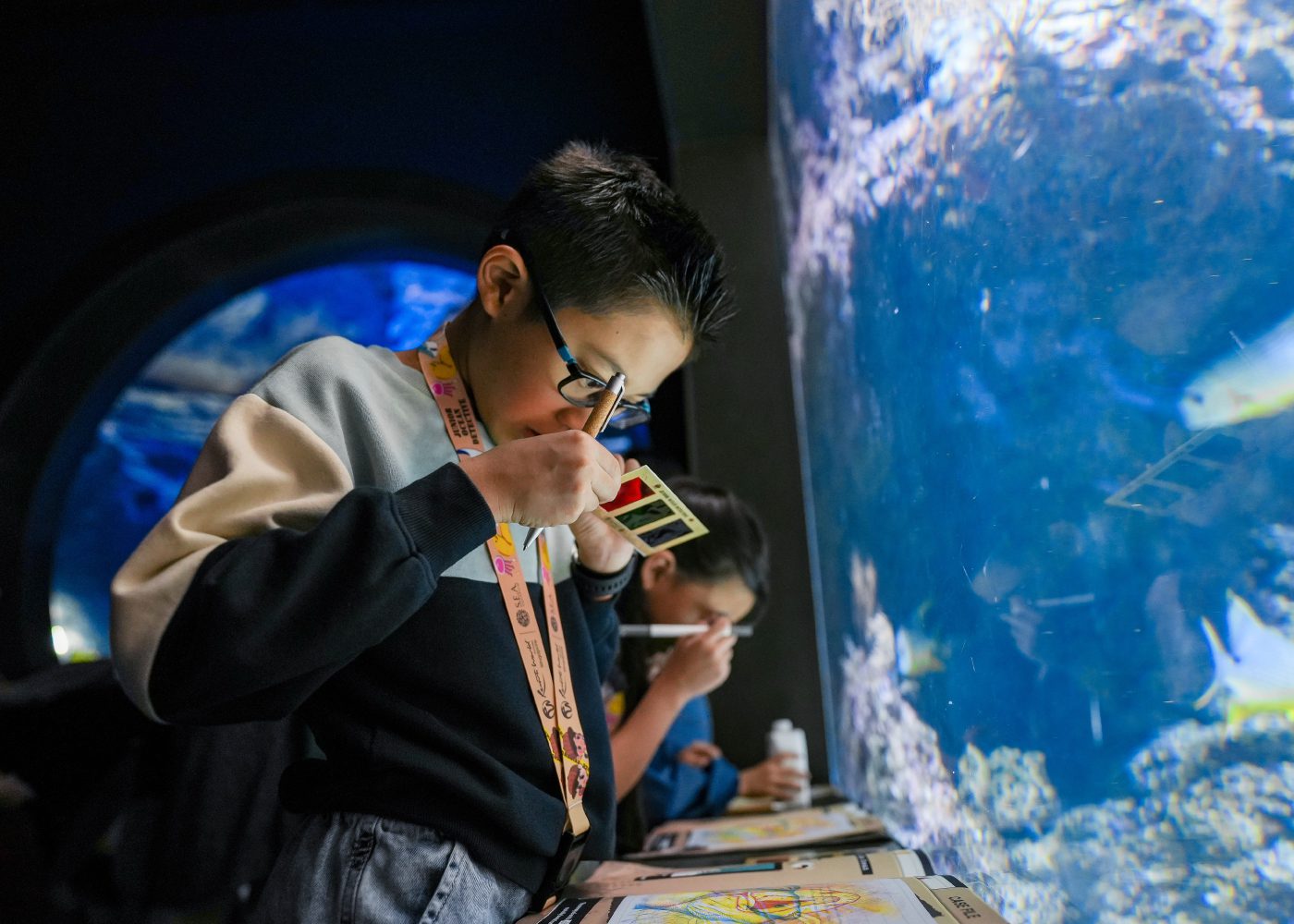 Under the Junior Ocean Detective programme, kids investigate and solve marine animal mysteries in S.E.A. Aquarium. They start the investigative journey as Trainee Ocean Detectives in this two-hour programme. Each of them will be given a detective toolkit, which comes with cool equipment like optical filters and cipher decoder. These will come in handy as they go through their assigned cases in the case file.
Making their way around the aquarium, they will be tasked to solve mysteries like:
Why did the clownfish choose the anemone as its home?
Are fishes and moral eels friends?
Why do most fishes seem to be afraid of the lionfish?
Stuck on a case? Fret not, kids can always count on the Chief Detective to lend a helping hand. They will even be let behind the scenes at the Aquarium! Psst… they may uncover more clues within this area to help them better understand complex relationships between aquatic animals and their habitats.
Get up close and personal with marine animals as a Junior Ocean Protector
Kids can look forward to exploring the Aquarium, identifying four fascinating marine species and spotting them in the flesh while working through the programme's engaging activity book. There's also a fun fishing activity that imparts fresh knowledge about marine conservation and sustainability.
The Junior Ocean Protectors get even closer to the animals as they go behind the scenes to prepare food for the marine animals alongside S.E.A. Aquarium's aquarists. Wanna know how sea jellies get their food? Here is their exclusive opportunity to learn about the 'what' and 'how' of the animals' diets. Last but not least, the programme allows kids to get up close and personal with Indo-Pacific bottlenose dolphins, learning about their anatomy and behaviour.
An educational experience that teaches children about marine conservation
True to S.E.A. Aquarium's mission, kids will also be taught the importance of marine conservation. As they understand some challenges faced by our oceans, kids will be invited to discuss what actions to take to help. Through programmes under the Junior Ocean series, S.E.A. Aquarium aims to inspire more love and action among the future generation to protect our ocean.
Pro-tip: Comfy covered shoes and pants are highly recommended so kids can enjoy all components of the experience.
Book your kid's slot now!
Both programmes, Junior Ocean Detective and Junior Ocean Protector, are designed for kids aged seven 7 to 12. These are drop-off programmes conducted in English. For families who prefer a Mandarin-speaking programme, Junior Ocean Detective has Mandarin sessions on select days. Full details of both programmes below.
Runs every weekend from now till 12 November 2023 with two time slots: 10am-12pm and 2-4pm.
$68 per child, includes admission ticket to S.E.A. Aquarium for the day of programme, case file, lanyard, badge, certificate, and special souvenir.
Limited slots available per session.
Runs every weekend from 18 November till 31 December 2023, 9am-2pm.
$250 per child, includes admission ticket to S.E.A. Aquarium and Dolphin Island for the day of programme, activity book, lanyard, exclusive iron-on patches, certificate, a photo for keepsake, and goodie bag.
Limited slots available per session
Book your eye-opening educational adventure now!
This post is in partnership with S.E.A. Aquarium.