With its wonderful weather, gorgeous beaches and unique gourmet identity, Perth remains one of Australia's most underrated gems. We took a trip down under this Christmas break, and fell in love with the laid-back city. Here's our guide to planning a couple's trip to Perth from Singapore (and just in time for Valentine's Day too!)
It's the start of a fresh new year, and we're still reminiscing about our spectacular Christmas break. Nothing quite suppresses this wanderlust (and post-holiday blues) but here's the good news: 2016 has five heavenly long weekends left for all your travel needs. While you're looking up lush holiday destinations sans kids, don't forget to add Perth to your list – here's why…
WHY GO?
Only five hours away from Singapore, Perth is a warm, easy-going city with all the right ingredients for a quintessential Australian holiday. Despite being one of the world's most isolated capital cities, it's a city of endless sunshine, sand, gourmet food and wine (lots of it!). While it may not be as cosmopolitan as its Melbourne and Sydney counterparts, what it does have is breathtaking natural landscapes, a much-needed slower pace of life and truckloads of charm.
The city first enthralled me five years ago on an evening stroll along Matilda Bay, a scenic grassy parkland surrounding the tranquil Swan River. Bundled in cozy sweaters, my brother and I cradled cups of coffee in our hands, and watched the sun set above the pristine luxury yachts and sparkling waters. It wasn't long before a deep sense of calm took root and the same zen-like feeling greets me like an old friend with each visit. Since then, the city's been one of my fave holiday destinations to unwind.
Last Christmas, my partner and I spent eight days in Perth and he came to see what I love so much about the sunshine city. The next time you're planning a romantic vacay (Valentine's Day perhaps?), keep this in mind: Whether you're dreaming of rooftop sunset cocktails, swimming with dolphins in their natural environment or cruising along the coastline of pristine white beaches, Perth's got it all.
HOW TO GET THERE
Flying to Perth is a breeze; you're only five hours away via direct flight! For the cheapest tickets, make sure to look out for sales for budget airlines like Jetstar and AirAsia, when a two-way ticket can set you back around $300+ while upper-tier airline Singapore Airlines offers tickets as cheap as $500 for non-peak seasons. If you're looking to squeeze in another stop for a mega hol, look for flights with transits in Bali. Our New Year's Day ended spectacularly with a sunset seafood dinner on Jimbaran Bay, accompanied by an acoustic reggae band.
HOW TO GET AROUND
Renting a car from the airport is the best way to get around, as self-drives to locations like Swan Valley and Margaret River are the best way to enjoy Western Australia's enchanting scenery. Book a car beforehand at Drive Now or once you've cleared customs at the international terminal, simply look for the car rental booths with reputable brands like Avis, Hertz and RedSpot.
WHERE TO GO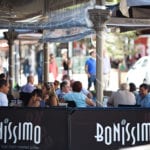 Perth City
Kick off your trip with a leisurely lunch along the city's main shopping and food area in Murray Street and Hay Street. Order up a cuppa and a sammie to go, and drive up to King's Park, one of the world's largest inner-city parks. With views overlooking the city's skyline, it's a wonderful place to lie back on well-manicured lawns, especially at sunset o'clock. The park is also a popular location for outdoor movies. The nights (especially in the earlier summer months) can be cold so do remember to come prepared. Others came decked with pillows, comforters and sweaters. We turned up with nothing but an oversized cardigan. Yup, not one of our wisest decisions.
When dusk falls, have a swift wardrobe change and head to Northbridge, an inner city suburb of Perth. Besides the huge and diverse array of restaurants here, the area also offers plenty of bars and clubs for you to drink, dance the night away and finally flaunt that dress you've been putting off for "another time".
Fremantle
Fondly referred to as Freo by locals, Fremantle is a gorgeous, sunny port city only 30 minutes from Perth city. Expect chill, relaxed vibes, particularly on weekends when the markets, entertainment and crowds go into full swing. The port city always has something happening (festivals, exhibitions, performances) but it's best to visit on weekends, when the Fremantle Markets come alive with fresh, local produce and gourmet goodies. Come with an empty stomach so you can sample everything at the markets, including the delectable Honeycakes and juicy, satisfyingly spicy Buffalo wings from Chimek.
Once you've done enough damage in Freo's main shopping areas (including High Street and Adelaide Street), pop over to Cicerello's for lunch, and snag the best seats right by the harbour to enjoy whopping portions of crispy battered fish, chilli mussels and fat chips. Then, stop for a cuppa along the Cappucino strip (South Terrace), where locals enjoy the sunshine and sea breeze. For café-hopping fans, wander along the narrower streets and you'll find countless gems including the uber hip Bread in Common and The Attic where you'll find great coffee and artisanal menus served up within urban chic (read: hipster) surrounds.
Rottnest Island
Located 25 minutes away from Fremantle via an express ferry ride, Rottnest Island is a fave short holiday destination for Perthians. Its 63 sublime beaches and 20 bays for snorkelling, sunbathing and diving makes it a dream locale for sun and sea worshippers. Top of the list for popular spots are The Basin, Little Salmon Bay and Little Parakeet Bay. The island also hosts a number of cafes and restos offering the freshest seafood, cuppas and frothy beers to cap off a beautiful day by the beach.
Trip tip: You can get around Rotto by bike or the Island Explorer bus service but cycling is undeniably the best mode of transport here. We can't emphasise this enough: Remember to book a bike beforehand as part of a package from Rottnest Express or online at Pedal & Flipper as there's only one bike rental store on the whole island. No bikes were available for hours by the time we arrived, so we made do on foot. While it still turned out to be a wonderful day, it also meant that plenty of other bays were left unexplored.
The beaches
We'll admit it: Living in Southeast Asia has spoiled us. We've gotten fairly used to the many gorgeous tropical islands with azure beaches around us (except good ol' Singers, of course). Western Australian beaches, however, have us utterly besotted. Cottlesloe Beach is where we caught breathtaking Indian ocean sunsets. With its picture-perfect white sand, clear waters and seaside restos, it's the beach you absolutely MUST hit up should you only have time for one. For a less crowded spot, soak up the sunshine on the smaller, albeit quieter City Beach (only 20 minutes away from Perth CBD). If time and money are on your side, fly to Exmouth for the ultimate beach experience at Turquoise Bay, where you can snorkel amongst marine life and reefs. 
Swan Valley
Only 25 minutes away from Perth City is Swan Valley, Western Australia's oldest wine region and the country's first Humane Food Region. With its majestic trees and stunning river views, the region is a gorgeous backdrop for a day of gourmet feasting. Start the day with a well-brewed cuppa from Yahava Koffeeworks, before making a stop at Maalinup, a gallery brimming with local Aboriginal art, hand-painted gifts and traditional bush tucker. Look out for cheese-makers, a chocolate factory, olive farms and even an apiary before trying local-made wine at wineries like Houghtons.
Margaret River 
We love a road trip but you might be fighting over who gets to be designated drivers for this one: Wine lovers will be spoiled for choice at the Margaret River region, located three hours away from Perth City. Renowned for its Chardonnay, Sauvignon Blanc, Semillion and Cabernet Sauvignon, the Margaret River region produces 25% of Australia's best wine. An absolute must-do here is a long winery lunch and a visit to some of the original wineries including Vasse Felix and Moss Wood.
With its bounty of fresh produce, it's no wonder that the region is also known as Western Australia's culinary epicentre. Sink your teeth into freshly farmed marron, trout and venison and enjoy handcrafted cheese and chocolate at the wineries, local cafes and restaurants. Wherever you choose to dine in the Margaret River region, one thing's for sure: Every meal you'll have will be a celebration of the best that the locals have to offer, as chefs and restaurateurs strongly abide by the mantra of honouring the produce. Trip tip: November is the best time to visit as that's when Gourmet Escape, a gourmet extravanganza of celebrity chefs, master classes and dozens of wine tastings, will be held.
Aside from gourmet feasting your way through the region, Margaret River also offers a divine combination of forests, caves and (gorgeous) coastline. Soak up the sunset along the Indian Ocean at the region's best beaches, including Canal Rocks, Prevelly or Gracetown. For thrill-seekers, explore the spectacular limestone and crystal caves, dating back as far as 350,000 years of Ngili, Lake or Jewel Cave and get the perfect Instagram shot along the majestic cliffs of Cape to Cape Track. For adventurous couples, Brides Cave offers a 40-metre abseiling course and purpose-built mountain biking tracks.
WHERE TO SNOOZE

The Richardson Hotel & Spa
For a luxury escape, look to five-star The Richardson Hotel & Spa. Spacious and elegant, the hotel is located within walking distance from Perth's CBD, King's Park & Botanical Garden and the cosmopolitan suburb of Subiaco. After a day of cruising along Perth's scenic streets, check into the The Spa for a mind-melting massage and an indoor heated pool for you to swoosh around in.
The Esplanade Hotel 
Conveniently located in the centre of Freo is The Esplanade Hotel Fremantle by Rydges. Housed in a historic building, the hotel's main area is kept modern and open, with bold sculptures and beautiful local photography dotting its walls. Rooms are plush and equipped with Rydges Dream Beds, to ensure your good night's rest.
Alex Hotel
We've always loved a good hip boutique hotel, and Alex Hotel hits all the right spots with its location in the cultural heart of Perth, thoughtfully crafted rooms, urban surrounds, homely communal spaces and a fabulous roof terrace for a cocktail or two (or five…).
Airbnb
We stayed at Airbnb rentals for an eight day trip, choosing to stay at a swanky, city escape (check out this other snazzy loft) before moving to a cozy Fremantle hideaway minutes away from the beach. We'd highly recommend a rental apartment as a) we spent many memorable days cooking up a storm with gorgeous local produce found at the farmer's markets, b) we had perfect hosts who left us a fully decked-out picnic basket for romantic picnics in King's Park and c) amenities you'd never have in a hotel. Staying in a fully-equipped house gave us an experience like no other; picture watching sunsets on a balcony, priceless naps in a cozy hammock, warm soaks in a jacuzzi on cold nights and brekkies in a gorgeous, lush garden. Psst: Honeykids has a special $28 gift voucher at Airbnb for readers – click here. And if you want to make your next trip abroad with the kids, check out our lineup of family friendly stays.
We may have only listed the highlights of our trip, but Perth has so much more to offer, including adrenaline-pumping activities like sandboarding on the Lancelin Sand Dunes, discount shopping in Watertown, whale-watching and kangaroo haven Caversham Wildlife Park. We hope to be back in this serene city soon, but for now, it's time to get cracking on our next weekend vacay…