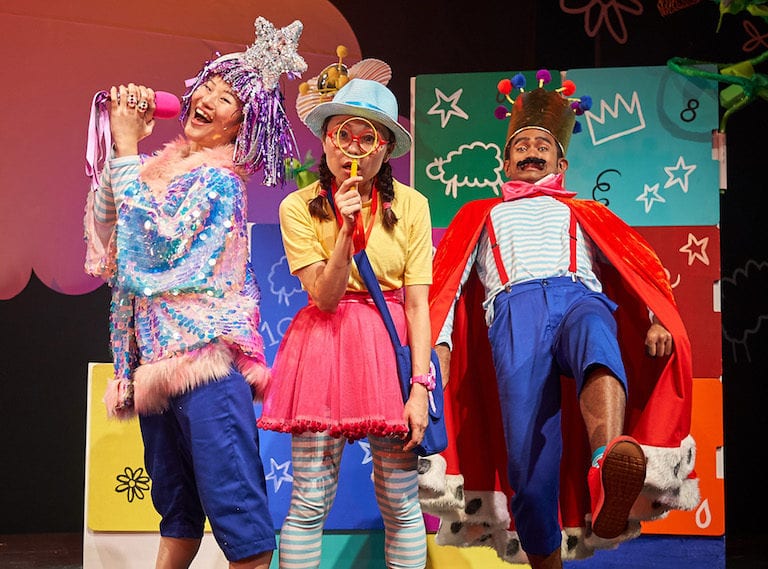 HoneyKids just caught SRT The Little Company's new show, Nursery Crimes! What did we think? Dive in to find out (in a nutshell: we loved it!)...
If your little ones are fans of live action theatre, then SRT The Little Company has an essential theatrical treat for you and the fambam: Nursery Crimes! We just caught a fun and interactive performance with our own small detective, and here's what we thought about the Land of Miny Moe and all of its colourful characters…
The story
It's a rainy day and Polly Piper is stuck in her bedroom boooored (#relatable), and after a bit of a run-in with her dad, she's left wishing she was "anywhere but here." Lo and behold, Polly ends up in the Land of Miny Moe where she meets plenty of classic nursery rhyme characters, including Incy Wincy, Jack and Jill and Hickory Dickory. But things are not what they seem in this strange land… there's a host of crimes happening amongst the nursery rhyme folk, and it's down to newly appointed Chief Detective Polly to solve them all!
The characters
We're not even sure that our six-year-old noticed that the host of characters were played by just three people: a true testimony to how cool the costumes and actors were! We'd be hard pushed to pick a fave, but Incy Wincy in her armbands, Twinkle Star and her outrageously fabulous outfit and the dad-ish dance moves of Old King Cole were especially memorable.
The sets
Simple, bright, fun, imaginative and clever. Everything you need from a show for little ones! Nothing stays the same for long enough to get even remotely bored of the Land of Miny Mo.
The verdict
With plenty of laughs, interactive moments (we especially loved passing the sheep back to Bo Peep) and a big dose of intrigue and mystery, this show was a definite hit with us. Best suited, we say, to kiddos age around three to eight years, this is a theatre-must for anyone who fancies a nursery rhyme mashup full of fun, imagination and adventure. Who pushed Humpty off his wall? Why did Incy nearly come to a soggy end? And will Polly manage to figure it all out? You'll just have to catch a performance to find out!
And don't forget…
…to also attend the pre-show parent-child workshops. Our own kiddo had a blast decorating his own detective badge, pretending mummy was made of play dough and solving the riddle of how Humpty came to be on the floor!
The deets
When: now until 30 November 2018, various performance times
Where: KC Arts Centre – Home of SRT, 20 Merbau Road, Robertson Quay, Singapore 239035
Cost: $25 – $49 per person
www.srt.com.sg/show/nurserycrimes
Like this story? Here's more we think you'll enjoy:
The best kids' movies of all time (as voted by us)
Parent-child workshops in Singapore
Lovely bedtime stories for little ones
Singing lessons for kids of all ages
Don't forget to subscribe to our weekly newsletter and follow us for sneak peeks on HoneyKids Instagram!