Poolside daybed or lounging on the sand? Tough decisions at The Residence Maldives.
Ah, the babymoon/kid-free holiday. You know you've got to maximise this opportunity to indulge in alone time, and we've found just the place in the Maldives…
I think we can all agree we really don't need an excuse to go the Maldives. But, if you really must scramble for a very special occasion to tick this quick escape from Singapore off your to do list, we'll give you two. One: babymoon. Two: the chance to go on holiday, sans kids. Both blissful, both a glorious exercise in me time. Of course you're going to want to go somewhere spectacular, preferably in a luxe villa over that impossibly turquoise water. Want to know where we just did the kid-free stay? The Residence Maldives, and it was beyond beautiful.
Picture yourself right here…
That daybed by the pool you see above has your name written all over it. And that killer scene of blue against turquoise against blue never loses its impact. Yes, this is the kind of spot you'll want to relax in all day, with the breeze, a great book and iced watermelon mocktails on tap. This is why you came all this way. For that elusive peace and quiet. Send the husband off snorkelling for maximum enjoyment. Did we just say that?
A swoonworthy stay
If soft sand between your toes and swinging in a hammock is the ultimate chillout scene, the beach villas that are two-second stroll to the shore are pretty dreamy. But here's why it's all about the overwater bungalow for us: the private pool for impromptu dips, and a bathtub to soak in while glimpsing the sea. We've got to say, waking up to a killer view the sea is one of life's real luxuries, but here's a fun touch the folks at The Residence Maldives have just introduced: floating brunch in your pool. Yes, if you feel like slipping straight in for a morning dip but also feel like grazing over croissants and fruit, you can indulge in both…
Did somebody say spa?
If you're doing the kid-free vacay, a rare sleep-in might be top priority, but here's a good reason to still wake up at the crack of dawn: sunrise yoga on a deck over the impossibly blue sea (prenatal yoga sessions are available too if you're craving safe, deep stretches). Skipping yoga? Get well acquainted with this spot anyway: it's also the Spa by Clarins, where you can indulge in for one of the signature stress-melting treatments, or the super comfortable Mother-to-be- treatment with 100% pure plant oil to help prevent stretch marks.
If you're up for some dolphin spotting or snorkelling…

Can you take a break from all that relaxation? The Residence Maldives is the epicentre of some amazing experiences at sea and on the surrounding islands (which you can explore to get a dose of local life, or visit purely for a private picnic).
If you're game for a boat ride, the best coral gardens and turtle spotting opportunities are a quick trip from the resort, and a guide will join you in the water. But if you do just one adventure at sea while you're here, don't miss out on the sunset dolphin cruise – which is one unforgettable experience. We spotted pods dancing by our boat, and race us so close by I thought I could reach out and touch it. And the trip back? Magical. You have to see it to believe it's unlike any sunset you've seen before.
Dining, island-style
Hit with sudden cravings for something familiar from home? Yes, there's Singaporean chilli crab and even chicken rice on the menu here, but my new discovery and fave during this stay was The Maldivian breakfast. It's an epic start do the day with dhal and masuni – a popular local dish of tuna with shredded coconut – served with chapati. As tuna is readily available in local waters, it also stars in the Maldivian tuna curry and even on pizza: a surprising, but delicious variation. The local fish salad, a zesty, spicy combination of fresh fish, crispy curry leaves and leafy greens, is also amazing.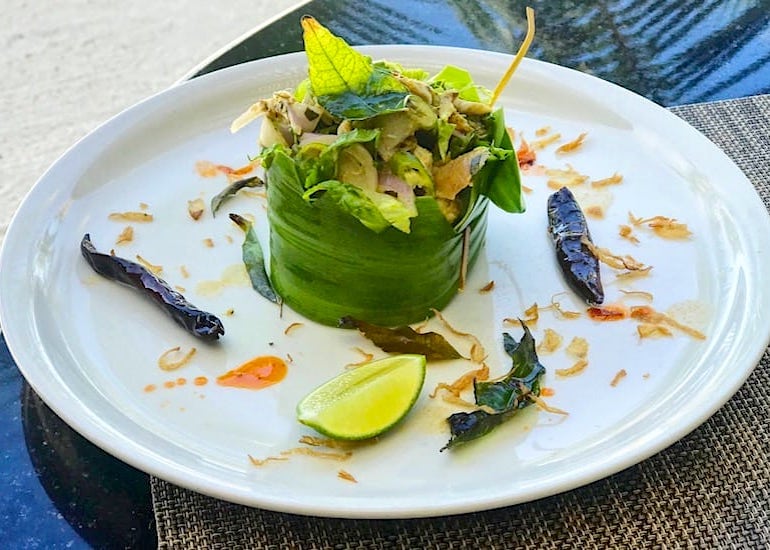 There are serious opportunities to feast at The Residence Maldives: the seafood barbecue on the beach includes lobster and squid fresh off the coals, slathered in garlic butter. Want more seafood? Go for the seafood broil, a spectacular offering of lobster, crab and the catch of the day. And for French-influenced fare, The Falhumaa restaurant serves up a sophisticated dinner menu or high tea  in a stunning setting over the reef. See if you can spot the residence octopus while you're there…
Getting to The Residence Maldives:
First up, if you're expecting, second trimester is widely considered the best time for travel, but discuss your plans with your obgyn first. The flight to Male International Airport from Singapore is four and a half hours, followed by a domestic flight that takes under an hour to get to Kooddoo Airport. From there a short boat ride will take you to this hideaway. If you're undecided about upgrading to business with Silkair, go for it. The lounge access will be a godsend if you have a wait between flights.
Also, plan for at least four nights here to get enough relaxation time. Nobody wants to do the whirlwind tour when pregnant. But here's the kicker: The Residence Maldives is opening a gorgeous sister property complete with kids' club on nearby Dhigurah island in late 2018. It will be connected to the existing resort by a 1km jetty so you can enjoy the facilities at both properties – and come back with the little ones!
The Residence Maldives, Falhumaafushi, Gaafu Alifu Atoll, Republic of Maldives


Like this story? Check these out:
You might need this survival guide to flying with kids too