Magic moments from The Residence Bintan: watching the sunset from your villa. Photography: Selina Altomonte
The Residence Bintan is our new family friendly retreat for a quick vacay from Singapore
If you've been hanging out for a little family holiday that's a quick island escape from Singapore, you've probably been told that Bintan is the business: it's just one hour on the ferry from here, which is about as fuss-free as it gets when travelling with kids. As someone who came to the party pretty late and has just brought the kiddo to Bintan for the first time, I've seen the light. And for family-friendly vibes, we think we hit the jackpot on first try at the lovely new hideaway, The Residence Bintan.

An hour's drive from the ferry terminal to a quiet, green pocket of the island, The Residence Bintan has a jungle-meets-the-sea vibe: think wide open spaces and calm waters in a private bay, where you can splash in the sea or the gorgeous pools, spend an afternoon building sand castles or going for bike rides. There are garden villas where you can watch the kids run around, beach front villas (oh we do love being seconds from the sand) and the luxe estate villas with plunge pools and gorgeous views of the sunset. Most importantly, this is one quiet, calm place to chill out. Until the kids decide to interrupt that quiet and calm, of course. Which is why we need to talk about the kids' club in a moment…
What's in it for the kids?
From the moment you arrive in your villa, there are oohs and aahs over the welcome kit for kids: the sweet gift of crayons and activity book were a major hit at mealtimes. (Nice touch, team!) Speaking of meal times, there are kid-approved faves from burgers to fish and chips, but the supreme hit was the satay. Just saying, the caramelised pork satay here is ridiculously good. So good that the six-year-old stole most of my dinner and we had to order another round. You have been warned.
What will the kids love doing here? Exploring the bay and its 'secret' beaches, digging in the sand, splashing around in that pool and discovering the sand bank at low tide that lets you walk out to the middle of the sea (particularly awesome at sunset). If your kids are older and are game for a 25-minute speed boat ride, go on a snorkelling excursion to Mapu Island, where the waters are shallow and clear, and the coral gardens are populated with colourful little parrot fish and clown fish.
Thank goodness for Kakatu kids' club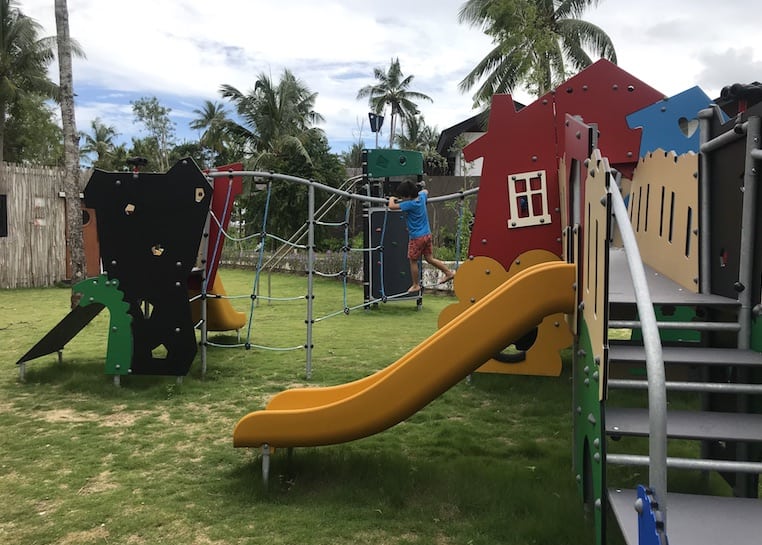 But here's what made The Residence Bintan such an awesome place for the little ones: Kakatu kids' club. There's a fun playground to tire them out, and if you encounter a rainy day there's a lovely library, craft and play space and bean bags and swings indoors. Our kiddo tried his hand at batik painting, and children can make their own tie-dye T-shirts, or paint a wooden birdhouse. The team at Kakatu is infinitely patient, and so great with kids.
The one thing to note is that you'll need to provide snacks, and the kids' club doesn't handle lunch. Keep in mind that you'll have to plan any snorkelling trips, spa visits or anything you'd like to do sans kids around this.
Take yourself off to the spa, of course
We know you're dying for that spa session. The Spa by ila here is just as you'd expect: tucked away in a peaceful corner of the resort, and particularly beautiful and serene at sunset. The sweetest thing about having a lovely kids' club at your disposal is the chance to do a spa session as a couple instead of the old tag team effort. Make sure you seize that opportunity, because the therapists here treated us to one of the most amazing massages we've had. So good in fact, that I may have slipped into such a state of relaxation that I fell asleep for a few moments. Us parents are entitled to a power nap, no?
And the staff here seriously love kids…

We have to give it to the team here for being so incredibly welcoming with the kiddos. Jonatan at Rica Rica restaurant so happily and thoughtfully kept our high-energy kid entertained during our repeat visits for the amazing Indonesian dishes, and Ariyanto graciously hung out with our little interloper during a 'romantic' dinner on the beach. The team here is genuinely sweet and accommodating for families – which makes all the difference.
How to get to The Residence Bintan (and how to ace the ferry ride)
Ferries to Bintan depart from Tanah Merah terminal, which is less modern than Harbourfront, but far less hectic. Book your ferry from Singapore to either Bandar Bentan Telani or Tanjung Pinang terminal.
Three words of advice: snacks, snacks, snacks. Bring enough for the ferry ride there – and back. The ferry terminal in Bintan isn't heaving with options for cafes and shopping, so if you'd rather not deal with hangry little people, make sure you've got food, books and fave toys, as you're likely to have a wait for the ferry home.
Pro tip: You'll see people scramble for seats. Singapore to Bintan is one popular ride, so you might find it hard to get a spot all together. If you're travelling with a pram (and I'd reconsider unless you really can't do without it), this isn't the time to linger and let everyone board first. 
As you glide back to reality, our advice is to just keep thinking of how easy it is to get back for another round at The Residence…
We left to laments of "I'll miss my new room and my kids' club" – which is pretty much the best endorsement from a six-year-old you can get, right?
Like this story? Check these out: