Rainy Singapore days call for a bucketload of ideas and things to do with the kids. This is a boredom-free zone!
The rain keeps catching us out, the kids are getting ratty and we're very close to giving them away (we joke). Sound familiar? Don't fret. We've got 50 rainy day activities to keep your kids busy (and hopefully out of your hair) on wet Singapore days. When you've worked your way through this list, move swiftly on to our mega 100 indoor activities guide! Before you know it, the sun will be back and you can move onto our other whopper: 100 things to do outdoors!
50 RAINY DAY ACTIVITIES FOR KIDS IN SINGAPORE
1. Make your own playdough
Let the kids loose with playdough! Roll it, squash it, mould it, cut it… but definitely don't eat it. Don't have any playdough in the house? Make your own with this easy recipe by checking out our guide to DIY playdough and slime.
2. Bake a sweet treat
Rainy afternoons are perfect for baking! The kids can help mix, measure and pour your mix, then help eat it after. Keep it simple and quick with recipes that have short cooking times, like banana choc chip muffins or crispy and delicious sausage rolls. Mmm!
3. Knock some pins over
Set up an indoor bowling centre with these easy instructions by This Mumma's Life. Blocks can be used as 'pins' and any soft ball becomes a bowling ball! We just hope the kiddos won't break anything in the house when the balls fly everywhere…
4. Make a long train track
Challenge your little one to use every single piece of road or train track they own to make a big mega track. Head over to The Imagination Tree for instructions on how to make your own.
5. Work on some colouring
Sticker and colouring books are tons of fun for kids (and sometimes, even us adults!). Keep a few sticker and colouring books on hand at all times – it's the perfect way for bored kids to keep busy practising their drawing (and sticking) skills. For emergency colouring-in activities, print free sheets out from Super Colouring.
6. Go on a treasure hunt
Treasure hunts are a great way to spur on the kids' imagination, and that's exactly what you need to make this fun! Create a treasure map, hide objects around the house and let the kids search for treasure. Reading Confetti has some cool ideas if you need. Fingers crossed you'll be able to find all your buried treasure!
7. Go nuts at an indoor play centre
Brave the rain and head to your nearest indoor play centre. From Pororo Park in Marina Square to Kidzania in Sentosa, there are tons of indoor play centres we love. Best remember the socks! Psst, there are plenty of soft indoor play centres for the tots, too (just don't forget to read our guide to surviving soft play as a mum…).
8. Work on some arts and crafts
Restock the art and craft kit, grab a big sheet of paper plus a few tubs of paint and dive into some finger painting fun by letting the kids unleash their creativity! Get crafty with your toilet rolls and create a Disney Princess, or a pet snake out of a humble tube of cardboard.
9. Make your own fort
Cushions, a few old sheets and a touch of imagination are all you need to transform your living room into a tented adventure. Let your little Vikings use stray cushions (and other handy household objects) to make their own fort. Dads will most likely want in on this one, too.
10. Fix a puzzle
Now this is an activity that will keep the kids occupied for hours on end! Get the 1000-piece puzzle out and piece them together. Creative and time-consuming (yes!), but we love 'em. Don't have a puzzle of your own? Check out Facebook listings and second-hand shopping sites for piles of puzzle bargains.
11. Visit a pet cafe
There's nothing like snuggling a cuddly dog or cat on a rainy day. Head to a kid-friendly pet cafe for an afternoon of the warm and fuzzy feels! Or better still, head to an animal shelter and adopt a pet if you're up to the task of having "another kid" around the house.
12. Play in the rain
They say "when you can't beat them, join them"! So, grab your wellies and be prepared to get soaked from top to bottom. Use the opportunity of a rainy afternoon to let kids play in the puddles and mud, Peppa Pig style!
13. On that note… Go swimming!
It's already pouring outside, so why not let the children paddle in the pool? (Watch out for lightning, though.)
14. Clear out your wardrobes
Take a page out of Marie Kondo's book and see if your clothes still spark joy. Rummage through your donation piles and dig out some old clothes. Kiddos will love a dress-up sesh to bring out their inner fashionista.
15. Catch a movie in the cinema…
If you're already out of the house, why not head to your nearest cinema instead of going straight home? There are tons of awesome blockbuster movies hitting the silver screen this year… If you ask us, we're most excited to catch Peter Rabbit 2!
16. …or watch a film at home!
Can't be bothered to battle the weather to get to the cinema? Dust off the old movies and create a movie theatre at home. Work your way through our list of the best flicks for families of all time.
17. Cuddle up with a good book
Head to a lovely children's book store – they often have reading corners where you can snuggle up and read a wonderful classic tale or two. Alternatively, grab some pillows and read the littlies' favourite book at home!
18. Play rounds of hide and seek
There is fun to be had in old-school simplicity, like a couple of rounds of hide and seek! Play this retro game that kids of all ages will love. Extra points for kids who can count to 20 without peeking!
19. Skype the grandparents
Got family overseas? Make great use of your time by saying hello to Grandma with a Skype call with family.
20. Make your own ice lollies
It might be raining outside, but chances are the temp is still hot. Cool things down by making these delicious homemade popsicles! Alternatively, you could also learn how to make your own ice-cream in a bag. In The Kids' Kitchen have got it down and it works like a charm.
21. Craft your own DIY guitar
If the kids love to rock out to music, they'll be thrilled to know that it's really easy to make a DIY guitar out of a shoebox and a packet of rubber bands. They can even decorate these boxes before adding the 'strings', too! Follow these instructions by PBS and rock on with a DIY music lesson.
22. Exercise and do some yoga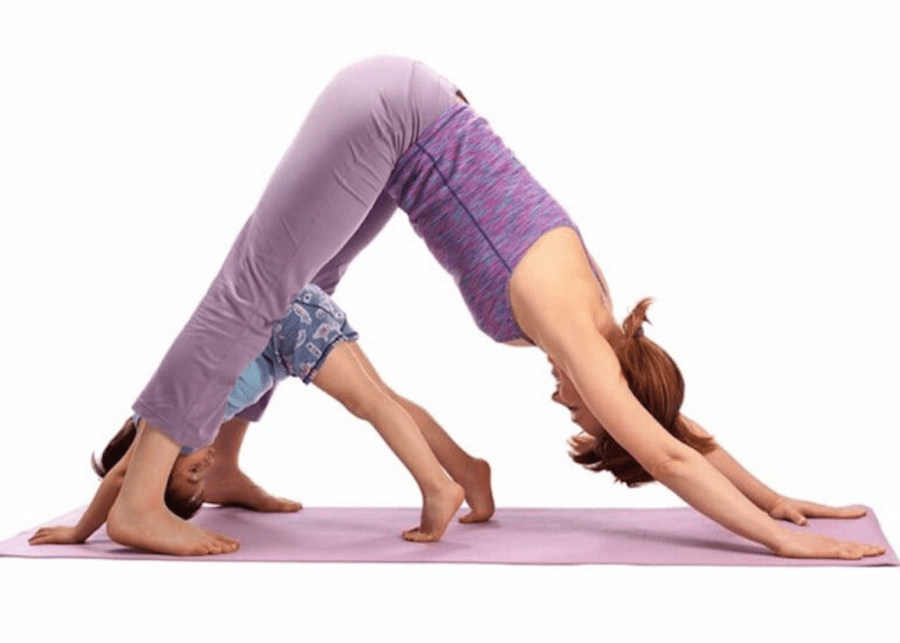 Teach the children yoga – kids are naturals and it'll help them calm down and feel more relaxed. Get the kids into poses like the cobra and downward-facing dog and all find your inner peace!
23. Go to an all-you-can-eat buffet
Are your kids voracious eaters? Find an all-you-can-eat buffet and eat to your heart's content! Looking to save some money too? Check out these places around Singapore where the kids can eat for free.
24. Watch some telly
Desperate times call for desperate measures. Once you've exhausted the craft box and have made mini chefs of the kids in the kitchen, wind down with a bit of screen time: we're loving these educational but fun tv shows! And congrats, parents – you now have free time to do whatever you want while the kids are glued to the TV.
25. Make your own DIY party favours
Hosting a birthday party any time soon? Get on top of the party bag situation by making some of these fun DIY favours. Better to be well-prepared in advance than to wait till the last minute!
26. Craft your own collage
Donate your old magazines to the kiddos and let them cut them up and stick them together to make a collage. There's hours of cutting and pasting fun to be had! Take the craft up a notch by turning newspapers into pom poms: we love this tutorial by Apartment Therapy.
27. Paint those tootsies
Forget heading to the parlour for a pedicure with your kids, when you can just teach them yourself! Turn the kids into mini-manicurists by letting them rummage through your nail polish pile and picking out a colour of their fancy. Hours of fun right there, where you'll get to paint all their tiny toes and fingers.
28. Host a play date
Invite your children's besties around for a play date! The kids won't let a bit of bad weather stop them from creating havoc with their mates in tow.
29. Clean out the toy box
Great for mums, and fabulous for the general cleanliness of the place. Clean out the toy box, just like how you would with your clothes – Marie Kondo style. Create three piles – keep, recycle and donate (and when the rain stops… recycle and donate!).
30. Make your own indoor playhouse
Recently moved house? Save those packing boxes and use them to make a collapsible indoor playhouse! Follow these easy steps from She Knows, or head over to our guide on turning cardboard boxes into toys for more inspo.
31. Paint a masterpiece with trucks
A big sheet of paper + a couple of old trucks + a tub of paint = a top-notch art project for your little ones. It's going to get messy, but painting tracks with trucks is fun for everyone!
32. Make your own stamps out of vegetables
Rescue a few old potatoes and create DIY vegetable stampers. Cut the vegetables in half, create some cool cross-sections, dip in paint and stamp away. Don't forget to download a cool app for mums where you can keep all your little one's masterpieces stored.
33. Play some board games
Dust off the board games and sit down for an afternoon of family game time. Extra wet afternoons call for extra-long games like Monopoly (or Snakes and Ladders for younger ones). We've got a whole guide of awesome board game suggestions, so hop in for the ones you should be stockpiling.
34. Go ice skating
Singapore might be a hot and humid country all year round, but that doesn't mean we can't cool off on an ice rink from time to time. Take advantage of the rainy day, don the skates and head towards your nearest ice skating rink to pick up some new skills.
35. Make your own kites
Keep little chins up by creating kites at home! Follow instructions by The Simple Parent and wait for a non-rainy day to put your creations to the test. East Coast Park or Marina Barrage always has a good breeze for kite flying fun. Check out our video of how to make a hand kite while you're at it!
36. Build your own city out of cardboard
Build a cardboard city using old cereal and shoe boxes. We like this fun tutorial by My Small Potatoes, but we say turn the craft session into a mini-geography lesson: model your city on a destination your little explorer fancies visiting.
37. Star in your own play
Lights, camera, action! Bring out your kid's inner thespian and encourage them to dramatise a classic play. Invite their friends over to create a modern-day version of The Wizard of Oz, and watch with pride as your little munchkin delivers an Oscar-worthy performance.
38. Create your own picture book
Share the joy of literacy with your children by spending time writing, decorating, and binding your own picture book. You never know: you could end up publishing your book in Singapore!
39. Compete and see who can build the tallest tower
Think tall. Collect all the wooden blocks, Lego and Duplo you can find and set up competitions for your children to see who can build the tallest tower. And then create a DIY Lego storage system to stack it all away in at the end of the day.
40. Play with some moulding clay
Hit the local art shops before the rain settles in and look for moulding clay. It's brilliant for small hands to play with, and perfect for the kids to work on those motor skills.
41. Hit the kitchen and make some handmade noodles
Hungry for some noodles? Make the Chinese classic, noodles and soup, and teach the kids how to use chopsticks to eat their noodles. We like these tasty recipes by Mom Junction – delicious.
42. Make your own face paints
Channel your inner Picasso and make your own face paints. Get the details over at Personal Creations and spend the afternoon painting the kids' faces! Psst, it's also great for when Halloween comes around…
43. Go camping indoors
Turn your little ones into Scouts or Brownies, and try some indoor camping! Try Ikea or Decathlon for affordable children's tents, or have a look at the lovely teepees at Cuckoo Little Lifestyle.
44. Play a classic game of Hangman or Tic-Tac-Toe
Invest in some indoor chalkboards, or grab some paper and pencils and play games like Hangman or Tic-Tac-Toe!
45. Teach the kids how to braid their hair
The search for a decent hairdresser in Singapore is real. Spend time playing hair salon in Singapore and teach the kids braiding, beading, backcombing and quiffing skills. Make-up tutorial optional!
46. Make some pasta crafts
Who doesn't have some pasta shapes sitting around the place? Of course you do. Give them to the little ones and teach them how to string pasta bracelets with this fun tutorial by Teaching Tiny Tots. Wear your macaroni masterpiece with pride!
47. Make your own bunting
Future textile designers will enjoy making a no-sew bunting. Use creations as party decorations or to brighten up the little ones' bedrooms. Plus, the kids will definitely want to pick their favourite patterned materials! Whip up these cute buntings by Childhood 101.
48. Sing your hearts out at karaoke
This activity's simple but oh so noisy… but the munchkins will certainly be entertained. Let your kids pick their favourite tunes and belt away – we can already guess which hit they'll want to sing over and over again. They might just fancy some singing lessons!
49. Make a mosaic out of coloured squares
Small squares and glue sticks equal mosaic fun. Tip: the smaller the squares, the longer it will take your little lovelies to finish their mosaic creations. We are loving this easy tutorial for all levels of expertise by The Craft Train!
50. Make shadow shapes
Since it's already dark and gloomy outside, turn off all the lights in the house and make shadow shapes! Prop a flashlight up against some pillows and make shapes with your hands. Or, you could print out some animal shapes, stick them on popsicle sticks and direct your own shadow show!
Need more rainy day activities ideas? Check out our massive list of 100 things to do indoors!