Stay in shape and manage aches and pains throughout your pregnancy with physio-pilates at Parkway East Hospital
Ladies, raise your hands if you're currently experiencing any (or more) of the following: sleepless nights, crazy weight gain, out-of-control hormones, incessant back, abdominal, buttock and leg pains and a weak pelvic floor… if you can relate to any of this then you're probably in your second or third trimester of pregnancy. Don't worry, millions of women are experiencing the same difficulties as you (including this writer). Thankfully for us preggos, Parkway East Hospital has a solution to alleviate all the 'fun' aches and pains that come along with being pregnant: physio-pilates.
So what exactly is physio-pilates?
Staying in shape is tough when you're pregnant, especially when you've got crazy cravings that just won't go away, not to mention the added weight gain and strain on your back and legs. Thus, finding the right exercise regime that works around these issues is a must. Unlike your typical pilates workout, physio-pilates at Parkway East Hospital is a combination of physiotherapy and pilates that caters specifically to expectant mothers who want to maintain their fitness levels and prepare their bodies for the demands of labour and motherhood.
Best of all, it's done on a one-on-one basis after a thorough evaluation with the physiotherapist. Based on this evaluation, the physiotherapist will plan a suitable exercise program just for you!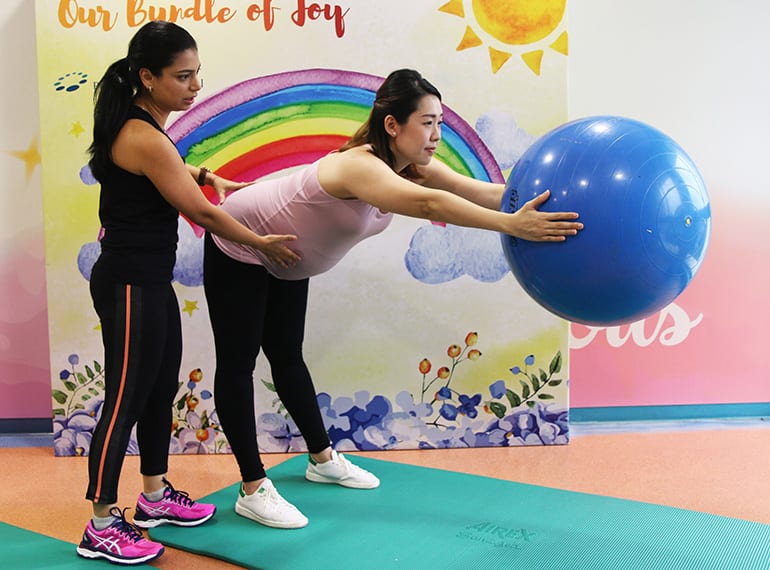 What are the benefits of physio-pilates?
You've probably heard from your doctor that you should avoid any high impact and strenuous exercises during pregnancy. With the physio-pilates programme, you can expect a low impact workout that still improves your strength, flexibility and balance.
The classes at Parkway East Hospital take a physiotherapeutic approach so the workout also helps you to better manage the aches and pains experienced during pregnancy. And because of this, you'll be able to sleep better, improve your balance and posture, strengthen your core muscles and maintain a healthy weight. And here's another bonus: physio-pilates also speeds up post-delivery recovery!
Are you a first time mum?
Pssst! If you're an FTM (first time mum), here's another bonus: they'll teach you breathing techniques to prepare for and assist with labour. These techniques aim to calm you down during labour – helping you cope with pain, discomfort, anxiety and fear. The best part about all this is unlike other prenatal exercise programs, the physio-pilates program at Parkway East Hospital is located in a safe and medically-certified environment. The facilitators of the program will work hard to ensure that you're comfortable, and that you have the full support of everyone involved. There are even antenatal classes on Saturdays to teach you about nutrition, exercises, baby care and massage.  It's like your own mini-mum-to-be-community!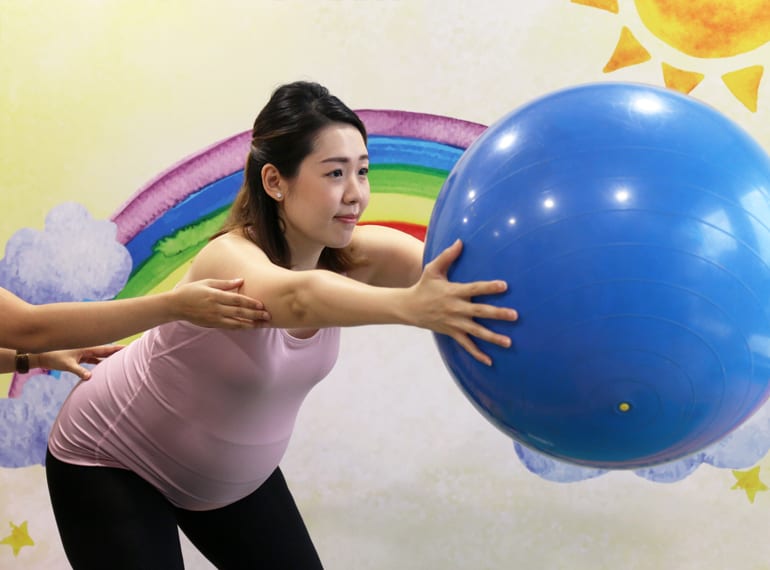 What can you expect during your first session?
Your first session will be 45 minutes long, which includes 15 minutes of evaluation and 30 minutes of exercise.
How often should you take the class to see results?
Depending on the physiotherapist's recommendation, physio-pilates can be done 1-3 times a week. The physiotherapist will also give you a set of exercises to do at home.
So, if you're looking for a place where you feel at home – where you'll want full, find undivided support throughout your journey into motherhood, look no further than Parkway East Hospital Physio-Pilates. You can be assured that you'll have all the assistance you need in this precious time of your life – and stay in great shape too!
For more information, visit www.parkwayeast.com.sg.
This post is sponsored by Parkway East Hospital.