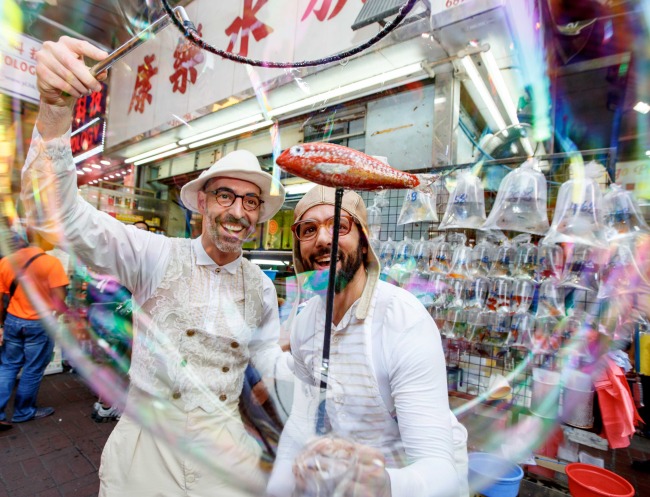 Don't miss these magical productions
Blowing bubbles and casting magic spells are some of the skills that feature in a young kid's repertoire. Very important stuff! In which case, they might be delighted to hear that two fabulously funny theatre shows dealing with these most excellent assets, are coming their way in September.
The good people of Lunchbox Theatrical Productions who recently brought The Sound of Music to our shores, are continuing to charm audiences young and old with two upcoming shows – Bubble Magic and Potted Potter. Here are 5 reasons why you should carve out time to watch both (yes, they really are that good):
1. You'll laugh your head off.
From a real-life game of Quidditch to quirky, animal-shaped bubbles, hilarity will reign throughout each show. In Bubble Magic, be enchanted by a dazzling array of bubbles, complete with ingenious lighting, colourful music and crazy costumes. Potted Potter condenses all seven Harry Potter books into 70 hilarious minutes, and will feature sidesplitting antics. Be warned, you will laugh… a lot!
2. The critics love both shows.
Bubble Magic is the brainchild of Spanish mime artist Pep Bou, who combines his passion for the performing arts with a love for chemistry. This is the first time the show is coming to Singapore, and the award-winning production, which received the Special Jury Prize at the Cannes International Festival of Theatre in 1986, will definitely see sell-out shows during its run.
Muggles (aka humans) may find Potter jargon a little confusing, but even if you're baffled by words like "hippogriff" and "horcrux", you and your tots will be well and truly entertained by this hilarious masterpiece created by double Olivier Award Best Entertainment nominees Daniel Clarkson and Jefferson Turner. The talented duo's show has also received rave reviews from leading UK papers like The Guardian and The Daily Telegraph.
3. Expect nonstop action onstage.
Trains moving through bubbles, and bubbles balancing precariously on a high wire – these are just some of the jaw-dropping tricks the kids will love in Bubble Magic. Potted Potter performers Ben and James' quick-fire delivery and clever comedy in Potted Potter, coupled with their infectious energy and ridiculous props, will also leave anyone from six years old and above spellbound.
4. Let your imagination run wild.
Potted Potter is a parody of J. K. Rowling's bewitching tales, so expect things to get a tad over the top when it comes to fire-breathing dragons and the like – Potter icons are taken to the nth degree through music and song. The beautifully mesmerising illusions in Bubble Magic, (ever seen bubbles doing acrobatics on a high wire?), will also encourage kids to work their creative juices and experiment with materials and objects during playtime.
5. The shows will inspire you.
Bubble Magic's two-man show turns everyday objects like soap, water, and tubes into magical items, to demonstrate how a little imagination can create beautiful illusions. Teamwork turns these whimsical creations into a delicate dance that is a visual feast! Potted Potter had pretty humble beginnings: it started out as a five-minute street sketch for the release of the sixth book, Harry Potter and the Half-Blood Prince, in 2005. Today, it is a celebrated off-Broadway hit and has toured major cities around the world.
Watch these short trailers for Bubble Magic and Potted Potter and get ready for a bubbly good time with the family. Remember to cast the Rictusempra (tickling charm) spell too!
Catch Bubble Magic at Jubilee Hall, Raffles Hotel from 10 to 14 September. Shows on Wed start at 1pm or 3:30pm, while shows on all other days will start at 11am or 1:30pm. Buy tickets ($70/$85) here.
Potted Potter will also be staged at Jubilee Hall, Raffles Hotel from 9 to 14 September at either 5pm or 7:30pm. Buy tickets ($70/$85) here.
This post is sponsored by Lunchbox Theatrical Productions.