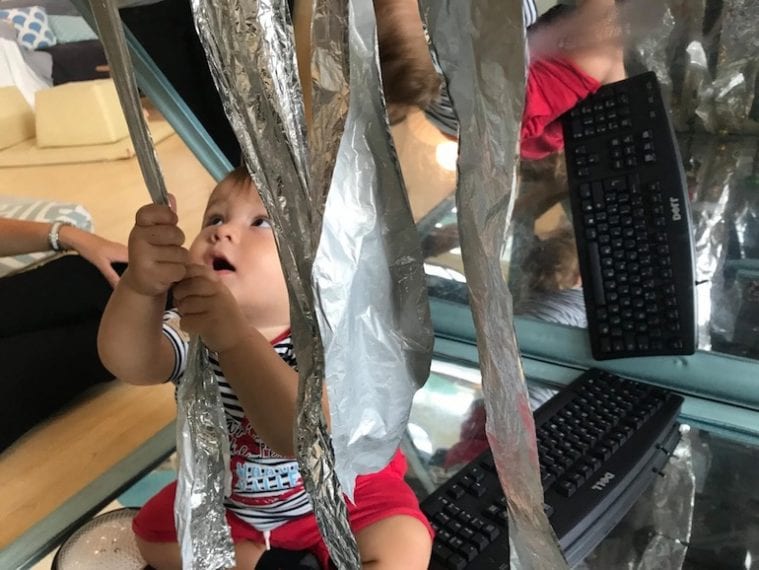 We may have just found the most perfect playgroup series EVER! Find out why we want to be part of the loose parts programme and how kids are learning through tactile play at the Blue House Infant & Toddler Ateliers...
If your small person is not quite ready for the big world of preschool, but you're keen to dive into some fun parent-child accompanied classes, then we've got just the thing for you and your tot. Drumroll please – The Blue House Infant and Toddler Atelier Programme. Read on to find out how Blue House's extraordinary 'loose parts play', and interactive, sensory-driven experiences are revolutionising the playgroup world (and making us all want to be toddlers again)!
Who are Blue House Nursery & International Preschool?
If you have a tot aged six months to six years, then you need this lovely nursery and international preschool on your radar, stat. Not only does it offer an exceptional drop-off nursery programme for kiddos aged 18 months to three years, and a preschool and kindy programme for little learners aged three to six years, but it also has a host of Reggio Emilia-inspired parent-child accompanied classes designed to encourage small people to explore, discover, touch and play. The Infant & Toddler Ateliers are completely unique to Blue House here in Singapore, and are definitely setting the bar high when it comes to inspirational early years education. The 'loose parts' element of the programme offers a whole new ballgame when it comes to tactile, exploratory play for bubs age six months to three years, so you're definitely going to want to know more…
Fill me in! What is 'loose parts' play?

In the words of the lovely Sarah Woon – Head of School – "The beauty of playing and constructing with 'loose parts' is in its ability to ignite imagination and creativity in children, whilst offering experiences that hone spatial awareness, tactile sensitivity, social constructs and lay out neural pathways through self-directed experiences that simply cannot be garnered from a 'one-outcome only' expensive electronic toy."
In other words, items that we may have previously discarded as unwanted objects can be repurposed within a playgroup and preschool setting to create endless imaginative play! Kids will be in seventh heaven constructing with, shaping with, fiddling with, tinkering with and using a heap of bits 'n' bobs to represent your child's imagination and thoughts about the world around them! There are no limitations to play opportunities: those twigs, magnets, metal pots and boxes can become anything from a pirate ship to a skyscraper in the capable, small hands of a child.
The playgroup programme is also designed to help children visualise and relate to what they are representing with their loose parts creations. Small science experiments come about naturally and the scope for problem-solving, lateral thinking and developmentally appropriate play is quite literally endless.
And the coolest news of all? Parents get to join in too! This is not only the place for your bubs to be completely supported in their social and emotional developmental needs, but mums and dads get to meet new friends, join in the fun and even bag a cup of coffee (or two) after the session.
We're sold: how do we sign up?

If you want to join the playgroup series – which includes the loose parts programme – then we've got a fantastic offer for you: purchase a four-week Festive Playgroup package and a 12-week Natural World Playgroup Package and you'll receive two drop-in-sessions and two class sessions for FREE! This promotion ends on 18 November 2018, so sign up quick! Pop over to the Reggio Emilia-inspired learning for full deets and to get in touch with the team.
What if I have older kids age 18 months to six years?
Then Blue House also has awesome preschool programmes which are also packed with Reggio Emilia-inspired learning  so either get in touch via its website to enquire or book a school tour, or mark Saturday 26 January 2019 in your diaries for its Open House and register here to find out more.
This post is sponsored by Blue House Nursery & International Preschool