A top Singapore restaurant, now 100% gluten and dairy free? Crazy talk! Or so we thought. For those of you with pesky allergies and intolerances, there's now a magical place where you can enjoy every dish without being 'that' person at the table (the one with 17 requests per course).
Dining out in Singapore as a gluten and dairy free bod is tough. Of course, there are far worse problems to have in life, but as a foodie whose GP told her two years ago to stop eating gluten and dairy (or continue living a glorious life of chronic headaches, fatigue, and the concentration ability of a puppy), restaurant menus are now approached with less gluttonous excitement and more "do they at least have lettuce?" trepidation. So, when I stumbled across the brand-spanking new 100% gluten free and dairy free menu at Open Door Policy, I sprinted down there, hugged the waiter, and ordered as many dishes as our table could hold.
They may not be shouting from the rooftops about their menu makeover just yet, but the team at ODP is very serious about this gluten and dairy free business. Prior to making the change, they shut down the restaurant and cleaned it from top to bottom, to ensure a contamination-free environment. They then brought in the new ingredients, planted an edible garden along the walls, and quietly started serving tasty and wholesome allergy-friendly dishes.
Under the soft green light of the herb wall, we kicked things off with a celery and almond soup with scallop and cauliflower, which was creamy and delicious. If you didn't know it was dairy free, you'd be none the wiser. The chorizo and octopus salad was another tasty starter that had me almost dancing on the table from the joy of freely eating pita bread.
Our group wasn't particularly adventurous when it came to mains, with two of us ordering the King crab orecchiette with saffron and corn sauce and sugar snap peas (again, just being able to freely order pasta in a restaurant gets three cheers from me). The dish was tasty enough, but not mind-blowing. If I hadn't known it was gluten and dairy free, back in my heady days of pasta-gorging I might have been a little disappointed in the dish's simplicity. Nevertheless, I wiped the plate clean and indulged my food envy by helping myself to a few generous mouthfuls of the vegan maccheroni pasta, which ticked all the right boxes for a comfort food craving (another amazing feat for a gluten and dairy free dish). My husband enjoyed his steak with crispy sweet potatoes and a salad with a deliciously interesting almond based dressing.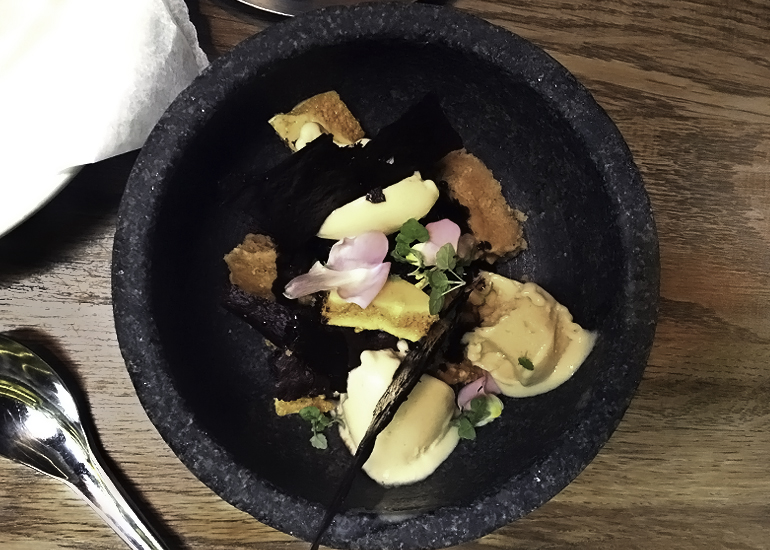 True to my usual form, the thing that got me giddy with excitement was dessert, and it didn't disappoint. The date and walnut cheesecake was the star, with a sweet date base and a creamy 'cheese' filling made from cashews. The debate at our table about whether it had earned the right to bear the title of 'cheesecake' was never resolved, but all agreed that those of us with allergies and intolerances will just be happy we can enjoy it, while those without might feel a little ripped off (for the Aussies out there; "where's the cheese?"). The signature soufflé with double chocolate crème anglaise was also good, with a beautiful fluffy texture. The sauce had a slightly overriding cacao flavour, rather than the creamy, gooey chocolate flavour that I love in a dessert, but overall, it was a pillowy little pot of soufflé loveliness. The Why Sundae? wins the "I Can't Believe There's No Gluten Or Dairy" award, with delicious chunks of chocolate brownie, peanut butter cake, honeycomb, hints of salt, and creamy gelato.
The verdict? Open Door Policy is still a great restaurant with creative, tasty dishes and friendly, attentive staff. If you went there not knowing about the recent change, you might feel a little disconcerted by some of the menu, especially as it's not explained (although, since visiting I've noticed a 'Deliciously #GFDF' sign on the door, so they're probably still working on the re-launch communication), but you'll leave feeling satisfied and probably pleasantly surprised. If, like me, you have intolerances or allergies that you grow weary of managing, this place is a godsend. Knowing you can safely eat every single thing on the menu is not an experience we #GFDFers in Singapore get to have often. Or ever. Go nuts, my friends. Then go back for brunch.
Keep an eye out for our rundown of gluten free options in Singapore, coming soon!
Open Door Policy, 19 Yong Siak St Singapore 168650
www.odpsingapore.com