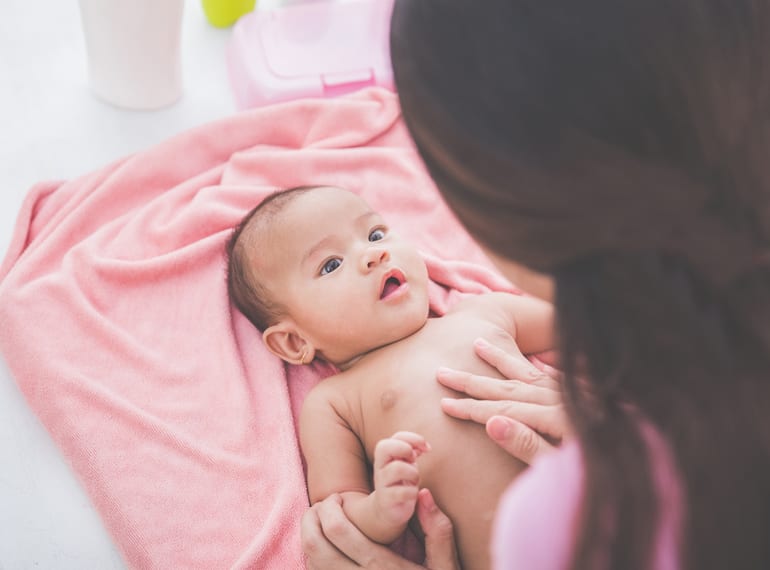 So you've survived labour in Singapore and chosen the perfect name for your little bundle of joy. Now you're wondering if there's anything more heavenly in life than a soft baby bottom? How do we keep it silky smooth? Little people have such tender, sensitive skin that we only want to expose them to natural, organic and chemical-free products. Not sure where to start shopping? Here's our list of tried-and-tested natural skincare brands available in Singapore.

Cherub Rubs
The brainchild of Australian naturopath and mum of three, Keeli Cambourne, Cherub Rubs is a lovely organic and toxic-free body care range for babies, the young and the young at heart! The products use lovely ingredients such as certified organic aloe vera, soothing calendula and lemon and orange essential oils, and the range includes clever products such as the Scatterscreen – a 3-in-1 moisturiser, insect repellent and sunscreen, and Scatterbugs, an essential insect repellent that's safe for babies and pregnant women to use. What we love about the products – aside from the fresh citrus, aloe vera and eucalyptus scents – is the fact that they undergo yearly certification with the relevant Australian government agencies. You really are buying authentic, gentle, organic goodies for the very special little ones in your life. Zero nasties here. www.cherubrubs.com.sg; buy Cherub Rubs here



We're giving away three hampers with the entire range of Cherub Rubs, valued at $180 each! Each pack will include: Baby Safe Hair & Body Wash; Organic Baby Shampoo; Skin Soothe; Skin Balm; Scatterbugs insect repellent for newborns, pregnant women and those with sensitive skin; Skin Guard Plus insect repellent; Scatterscreen 3-in-1 sunscreen, moisturiser and insect repellent. For your chance to win this fab prize, head on over to the HoneyKids Asia Facebook page!
Aveeno
Aveeno's lovely range of oatmeal based baby skincare, Aveeno Baby has been in our bathroom since it launched in Singapore last year. Not only is the baby wash and shampoo soap-free and paraben-free, but pour kids can vouch for the fact that it is tear-free. Hurrah for whinge-free bath time! It doesn't hurt matters that it's the number one U.S. Paediatrician recommended baby skincare brand too.
www.aveeno.com; buy Aveeno Baby here

NAÏF
We've raved about the NAÏF natural skincare for babies before: this range is free from parabens, SLS and harsh chemicals and uses only natural ingredients. We love the subtle scent, and the fact that these multi-purpose products work. The Milky Bath Oil and Nurturing Cream with cottonseed oil are standouts. What we love best? The sunscreen, which uses zinc oxide, a physical (not chemical) blocker to protect baby's skin. We're using it ourselves too.
www.naifcare.com.sg; available at Gallery & Co.
Kate & Paul Organics
For clean, non-toxic products to pamper your little one, look no further than curated online store Kate & Paul Organics. The 100% Pure Extra Gentle Baby Bubble Bath is mild, gentle, and free of harsh chemical detergents and perfumes. And it actually works! Sure we stumbled upon this when snapping up a few items for ourselves from the cult Australian women's skincare range Simplicité, but we won't tell anyone if you don't.
www.katepaul-organics.com
Weleda
Another excellent choice is Weleda, well known in Europe for its holistic natural cosmetics and mother and baby skincare products. Bio-dynamic farming in medicinal gardens results in high-quality products that are also sustainable. Gentle and moisturising too. Weleda ticks all the boxes.
www.weleda.co.uk ; buy online at Pupsik Studio
Four Cow Farm
We were lucky to receive a gorgeous little care package of goodies from Four Cow Farm recently. Made with love on a family farm in rural Queensland to grandma's midwifery recipe, it's about as homemade as it skincare gets. Only the finest 100% natural, chemical free and organic ingredients make it into the mix. Free of artificial additives, you know your little person won't ever have a reaction to any product from this range. Our faves are the calendula remedy and the baby lotion.
www.fourcowfarm.com; buy online at Agape Babies
GAIA Natural Baby
GAIA Natural Baby has a huge range of top-quality organic products perfect to cleanse, care and moisturise sensitive baby skin. While all products are artificial fragrance free, there is an awesome sleeptime bath and body wash with a snooze inducing essential oil blend of lavender and ylang ylang. And they have mini-travel sized bottles of the favourites to slip into your suitcase on your next family holiday.
www.gaia.com.sg
Aleva Naturals
Check out eco-friendly, natural, vegan maternity and baby skincare range Aleva Naturals. We like that it's developed by team including a pharmacist, a herbalist and a naturopath to be therapeutic and pH balanced. And we adore the soft and comforting baby-friendly ingredients like shea butter, sweet almond oil, witch hazel and jojoba oil.
www.alevanaturals.com; buy online at Agape Babies
The Soap Haven
Support local small business by stocking up on organic, natural soaps and salves from The Soap Haven. They are especially good for little ones with itchy skin conditions like eczema and psoriasis. And it carries an essential oil insect repellent that we actually like the smell of – it's a blend of lemongrass, peppermint, geranium, rosemary and cedarwood. Mmmmm.
www.thesoaphaven.com
Mothercare
Mothercare carries a solid range of excellent natural skincare products for babies including Earth Friendly Baby, Babyganics, Mustela, Buds, Human Nature, Aleva Naturals and Four Cow Farm. Buy online or pop in to any one of the seven Mothercare stores dotted around Singapore to check out the products first hand.
www.mothercare.com.sg