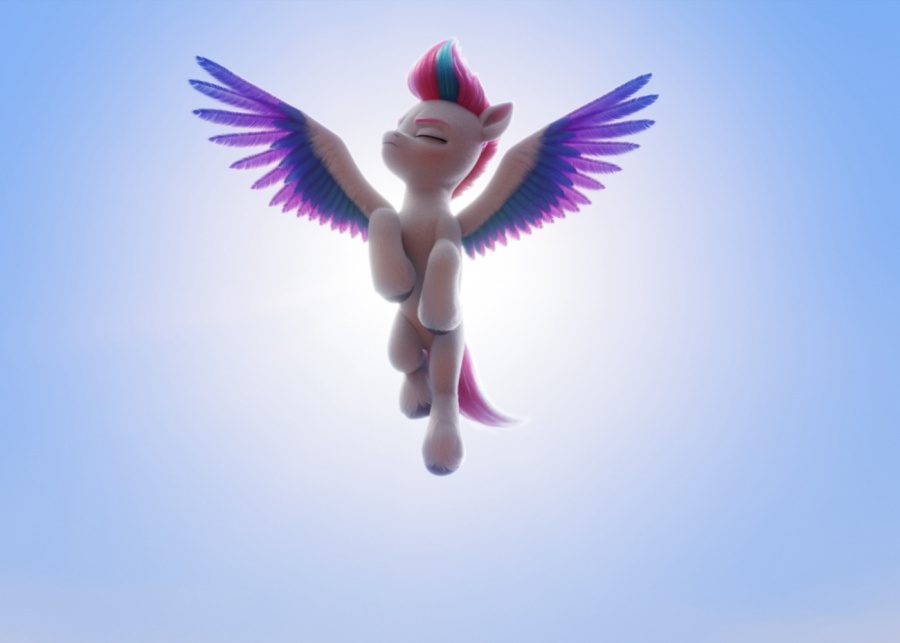 My Little Pony: A New Generation - ZIPP (voiced by Liza Koshy). Cr: © 2021 Hasbro, Inc. All Rights Reserved.
Friendship and magic take on a whole new meaning with My Little Pony's latest flick. We're talking new ponies, awesome adventures and more!
Your young My Little Pony devotee's rainbow dreams just came true! The new My Little Pony movie, My Little Pony: A New Generation is finally out on Netflix and in major cinemas across Singapore. And yes, we've seen it for ourselves and we can tell you that it's worth the wait! If that isn't enough excitement to get your little ones whinnying with delight, there's also uber cute merch so you can bring home a piece of the film. Check out all the action happening 'round this new release…
My Little Pony: A New Generation
Why you need it on your watch list
If there's one thing we've learned from watching My Little Pony shows out of the corner of our eye, it's that friendship is always the mane theme. While that still rings true for My Little Pony: A New Generation, your little My Little Pony fans can expect to kick their heels up in delight as they meet new characters (there are five of them, to be exact) from the ponyverse.
This film follows 2017's blockbuster hit My Little Pony: The Movie and stars Vanessa Hudgens, Kimiko Glenn, James Marsden, Sofia Carson, and Lisa Koshy. Additional voice cast members include Ken Jeong and Jane Krakowski. Their mission is full of misadventures, but these new BFFs have their own special gifts to do good and make a difference in the ponyverse.
We personally love the fact that it's loaded with great takeaways and positive messages. It teaches kids valuable life lessons such as the importance of friendship, kindness and resilience. It's a win for us all! You can catch My Little Pony: A New Generation on Netflix and all major cinemas in Singapore now.
Perk alert!
If a real pony at home is out of the question, here's your chance to make up for it. We're giving away 3 sets of My Little Pony Gifts! You'll get a set of 4 movie tickets, a tattoo sticker sheet, a colouring sheet set, a card game and your very own My Little Pony: A New Generation Sunny Starscout. Fill out the form for your chance to win or follow @MyLittlePony and @HoneyKidsAsia on Instagram and tag a friend in our giveaway!
HoneyKids exclusive: a chat with the My Little Pony team!
We got a chance to hear it straight from the horse's – well, in this case, Pony's – mouth. That's right, co-writers and co-directors José Luis Ucha, Robert Cullen and Mark Fattibene share what to expect in the upcoming film, deets about the star cast and the many Easter eggs to look out for (there are at least 239)!
How is the upcoming movie different from the others? 
JU: The main and obvious note would be the CGI element. But I would add the extra panoramic aspect ratio; the cameras, lenses, and staging; characters and environments design, colour, lighting, and detailed animation; the eclectic production of the songs, and the incredible innovative beautiful score. The medium has allowed us to push and make a pony story more cinematic than ever.
RC: Our movie takes place many generations after the time of the Mane Six, so we're introducing a whole new cast of characters. We also explore how their world has changed in the intervening years. Regarding the tone of the movie, we wanted to broaden the appeal so there's something in there that every family member can enjoy. For example, the songs in our movie cover different genres, from contemporary pop to head-banging rock!
MF: The biggest difference to me is the look of our characters and the worlds they live in. Their hair, soft faces, cupcakes, gold fountains, cell phones, etc. We want viewers to be immersed and feel like they can reach out and touch anything.
You've got a great star cast! How did you pick the actors? 
JU: We wanted new voices for this new generation, voices that could represent the theme of the story and inspire the audience. Vanessa (Hudgens), Kimiko (Glenn), Liza (Koshy), Sofia (Carson), and James (Marsden) bring diverse charisma, charm, and skills to embody these new characters, and they take them to the next level with their fantastic performances – they act, they sing, they dance, they make you laugh and cry… Plus, beyond our Mane 5, we also have Ken (Jeong), Elizabeth (Perkins), Jane (Krakowski), Phil (LaMarr), Michael (McKean)… and many more! Best. Cast. Ever.
RC: From the outset, we knew we wanted a cast that would bring warmth and charm to our ponies. Being a character-driven comedy, it was important that our cast had a flair for comedy but could also bring an emotional depth to the characters. All our wonderful cast had these qualities and so much more! They were super passionate about this movie and brought so many wonderful ideas to the table, happy to try different things and ad-lib. I think their love for the characters shines through in their performances.
MF: Every actor understood what we were after, both for their character and for the film overall. They took our direction and pushed it further, helping us find more depth and nuance to each pony. This made the movie even more heartfelt and real. Honestly, we couldn't have asked for a better cast to bring our ponies to life.
What are the main takeaways you'd want kids to have from watching the film
JU: This movie is a celebration of love and colour. Every pony is unique in its specific special colour and looks, but instead of being afraid of those differences, it's always more fun to look for things in common than for things that separate them.
RC: We hope kids will be inspired by Sunny's sense of compassion and optimism. That a single voice calling for a better world can become a chorus.
MF: We hope kids see how powerful optimism and openness can be. Wouldn't it be great if they took Sunny's message of acceptance and used it to build a better world? That's really the dream.
How will the film connect to the original fans who are now parents?
JU: I believe they will feel the love and respect we have for the 4 generations' legacy but will also embrace with the kids these new characters to root for. The charming spirit of manes, rainbows and glitter is the same… but in CGI and with more detail and cinematic feeling!
RC: Although this movie is a chance to introduce MLP to a whole new generation of viewers, we wanted to make sure we kept the DNA of what came before it. The message of unity still shines bright, and it's still packed with laughs and awesome songs! We hope the themes we explore will resonate with parents and children alike.
MF: Just like what's come before, our story celebrates the relationships between our ponies and keeps up with the original's sense of humour and fun.
Any Easter eggs to look out for?
JU: There're tons of Easter eggs in our little movie! I challenge the audience to find, at least 50 (I have counted 239 in my last review!) My top 3 are: 1) You can see images from the old G1 animated show in the TV screens in display before Sprout takes them over in the "Danger, Danger" song; 2) The big pink tree in the flower field sequence is the Tree of Friendship from G4, which is symbolic at this moment of the story: the gang is starting to get along; 3) Great to see Pinky Pie's rubber chicken as one of Alphabittle's trophies in the Tearoom shelf.
RC: My favourite blink-and-you'll-miss-it easter egg is a fossilised footprint belonging to Spike!!
MF: Too many to mention. We really hope the fans have fun finding all of them. Spend some extra time in the lighthouse – Sunny's bedroom and Argyle's office in particular. They are full of them.
So what are you waiting for? Catch My Little Pony: A New Generation on Netflix or in cinemas – your little foals will thank you for it!
This post is in partnership with Hasbro Singapore