Stand out from the rest at MindChamps Preschool
Children are great natural learners. With just a handful of blocks or a small squeaky toy, imagination and curiosity can take hold and a child will start to prod, grasp, and possibly even taste. These deep-seated instincts to discover, explore, and create is something that MindChamps PreSchool taps into in order to create a cutting-edge approach to early childhood education.

With a strong suite of programmes for the all-round development of a child, MindChamps PreSchool has earned a reputation for being one of the best early childhood education providers in Singapore. So, it's well worth seeing the school in action at one of their Welcome Days, every Saturday from 23 August to 27 September. Here's why you want to be there: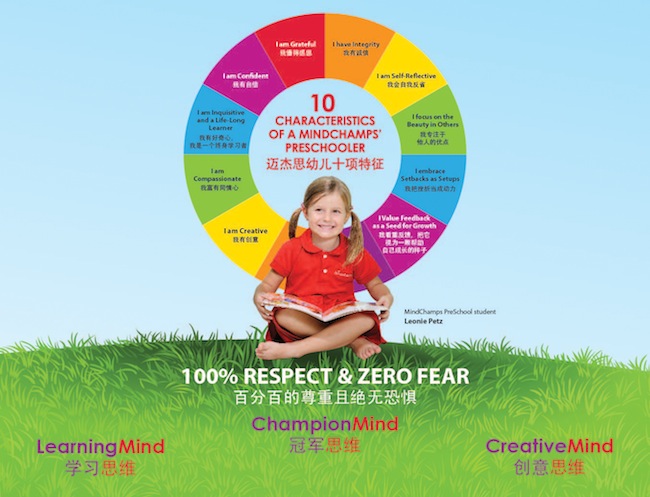 Development of winning attributes
Based on the school's philosophy of "100% Respect, Zero Fear", children are nurtured to develop some lovely attributes like, "I focus on the beauty in others", "I embrace setbacks as setups", and "I value feedback as a seed for growth". With these strong character traits, little ones learn to perceive difficulties and challenges as opportunities for growth.
The 3 critical mindsets for success
MindChamps firmly believes in nurturing three critical mindsets – the champion mind, the learning mind, and the creative mind – to prepare children for the future. Through a diverse array of carefully planned programmes in the curriculum, the neural networks required for higher-level thinking will grow and expand.
A rigorously researched curriculum
MindChamps' World Advisory Board, which pulls together experts from the UK, USA, Australia, and Singapore, have extensive experience in education, psychology, neuroscience, and theatre. Offering a bilingual curriculum catered for 18-month-olds to 6-year-old tots, preschoolers will enjoy and reap the benefits of an all-rounded curriculum.
Interactive lessons for meaningful learning
The Reading & Writing™ lessons make phonics fun, and children will be equipped with skills and strategies for reading here. In The Love for Chinese Language™, communication skills are enhanced through a daily one-hour lesson that incorporates drama, music, song and movement. Adding and subtracting are made easy in the Numeracy Strategies™ class, where kids get first hand experience working with numbers.
Opportunities for enrichment
The school's enrichment programmes ensure that time spent in school is a fulfilling one. In Creativity & Theatrical Strategies™, budding young actors/actresses will work together to create and stage a play. Little chefs can try their hand at making fruit salad, knead dough, and bake biscuits in Gourmet Moments™. Children can increase their appreciation of music which in turn improve their critical thinking skills, in Music for the Mind™.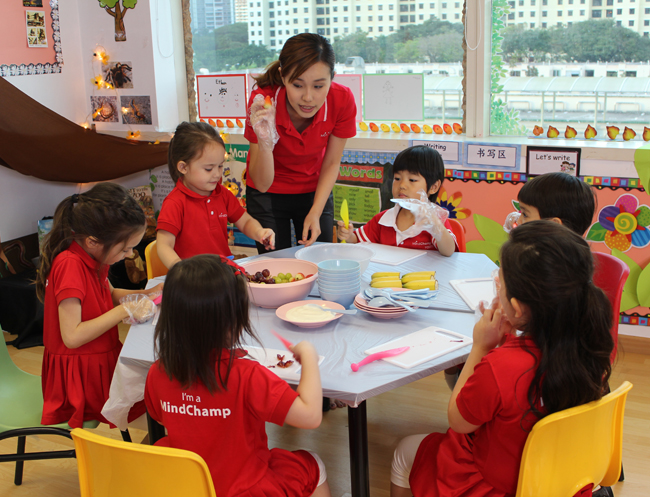 This will be a morning well spent – to consider a great educational option for your little one. Be there!
YOU'RE INVITED!
Need to know: MindChamps PreSchool Welcome Day
When: Saturdays from 10am to 12:30pm, 23 and 30 Aug, and 13, 20, and 27 Sep 2014.
Where: MindChamps PreSchools at the following locations
North       Bishan | Serangoon | Woodlands | Upper Thomson | Yio Chu Kang
South       Bukit Merah | Mapletree Business City | Marina Square
East         Bedok | Changi Business Park | Mountbatten
West        Fusionopolis | JTC Summit | Jurong West
Central     Bukit Timah | Liang Court | Tanglin | Zhongshan Park
RSVP: Click this link to register.
This article was sponsored by MindChamps PreSchool. All images from MindChamps PreSchool.