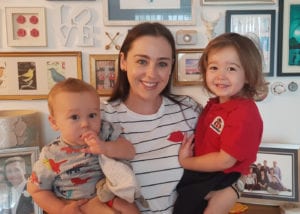 We had a chat with our brand new HoneyKids editor to get the lowdown on what's in store...
We've got a brand new editor in the HoneyKids office who's all bright-eyed and bushy-tailed, and ready to dive headfirst into all things Singapore with kids! We caught up with our new arrival, Amy Potter to have a chat…
Hi, Amy! You're HoneyKids' new editor! Any comments?
Thanks for the warm welcome – I'm super excited to be joining the team and the HoneyKids fam.
Tell us a little about yourself and your family
I've got two tiddlywinks: my son, Teddy, is one and Ruby is my two-and-a-half-year-old daughter. They were both born in Australia, which is where my husband and I called home for eight years after leaving the UK in 2011. We were based in Sydney before moving to Singapore in February this year, so we're total newbies. Working at HoneyKids is the best as I get to find out about all the awesome places to take the kids! Oh, and I'm also mum to two sausage dogs: Coco and Zola.
I grew up in…
A small town in the UK called Kenilworth. It's smack-bang in the middle of England and is a very quaint, picturesque spot – it even has a castle that Queen Elizabeth I visited, back in the day! But no-one's ever heard of it, so I tell people it's just down the road from where William Shakespeare was born, haha.
I've been to…
Lots of places around the world, but there are soooo many more countries I'm itching to visit. My husband and I have a lot of love for Southeast Asia; we got married in Thailand, backpacked around China and Laos, and honeymooned in Vietnam and Cambodia. I'm hoping there'll be a few opportunities for us to tick a few more places off the bucket list while we're in Singapore, as it's the perfect launchpad!
As a child, I was…
…always watching old-school movies and musicals with my sister and nan. To this day, Some Like It Hot and Singin' in the Rain are still in my list of all-time favourite films.
People describe me as…
Creative, funny and a bit mad.
Motherhood to me is…
A challenge – the responsibility to shape these teeny tiny humans into amazing people is overwhelming at times. But it's also a fantastic opportunity to show my silly side (I'm such a big kid) – the sound of my kids laughing is the best noise in the whole world.
My kids are…
The cutest! Ruby is such a gentle little girl and adores her brother and her fur siblings; it's so sweet to watch her interactions with them all. She's definitely in the terrible twos at the moment so she can go from angel to Hulk in about two seconds. It's a lesson in patience, that's for sure! Teddy is a happy little boy who is always smiling and laughing. He's just a big pile of squidge.
I wish I knew…
… when to a) stop talking and b) stop eating. I'm an oversharer who wears my heart on my sleeve, so sometimes it results in some TMI moments! And I always seem to miss the internal "stop eating; I'm full" memo from my belly when I'm tucking into something good, which often means I'm sporting a hefty food-baby bump!
I can't live without …
… my bed. It's officially my favourite place in the world. Oh, and books (reading books IN bed = the best). Just add a hot cuppa and some chocolate and I'm happy as a clam.
Right now I am reading/watching…
I've just finished reading The Corset by Laura Purcell and it was FAB. It was one of my latest library reads; I'm a sucker for libraries even though I have masses of books at home I need to get through. Evenings at the moment are largely spent binge-watching Netflix. We only signed up since arriving in Singapore and I'm not quite sure how I survived two rounds of pregnancy and newborns without it!
What I most look forward to when I wake up is…
Dinner, or when I can get back into bed again.
What I absolutely love about Singapore is…
The food: I love how it's a melting pot of so many cuisines. And there's always something fun to do with the kids (staying in is NOT an option with my two!), so I really enjoy all the exploring we get to do.
One thing I haven't tried yet is…
I'm slowly getting through the list but there are definitely some big holes – I'm playing the 'I've-only-been-here-five-months' card! I'm working up to braving durian.
Finally: What can our readers expect from you?
I'll be carrying on the winning formula of what HoneyKids is all about: honest, friendly, in-the-know pieces about what we're loving right now, inspiring parents and the coolest local haunts. And fun. Lots of fun.
Like this story? Here's more we think you'll enjoy:
HoneyKids interviews life coach and SSEW founder Nici Schueler
The mis-adventures of a stay-at-home dad
Life with six kids in Singapore
The juggle is real: Can mothers really have it all?
Don't forget to subscribe to our weekly newsletter and follow us for fun moments on HoneyKids Instagram!