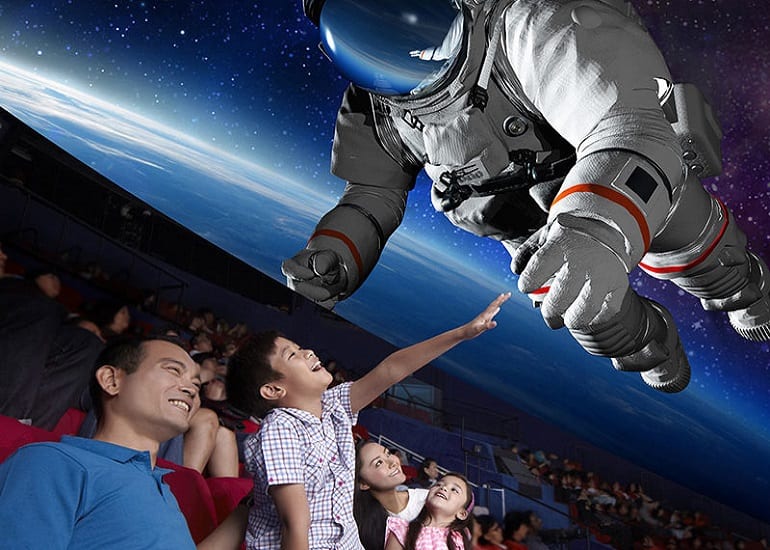 Beat the heat at the Science Centre's cool exhibits this March. Plus, one ticket gives you access to five different attractions!
Like us if you are exploring fun option to engage your kids during the school holidays, look no further as Science Centre Singapore's got us covered once again with its amazing exhibits and unique attractions. This month, test your reflexes at the Laser Maze Challenge and memorise as many Pi digits as possible during the annual Pi Day celebration – ins(Pi)re! And if that's not reason enough to head over, there's more! Throughout March, Science Centre Singapore is offering admission to five attractions with just ONE ticket? Sweet deal? We've got the full lowdown on all the highlights happening in the coming weeks…
Celebrate annual Pi week at ins(Pi)re
Explore the gallery trail and get up close and personal with the magical number Pi. There'll be lots of activities and games that'll make you appreciate this special mathematical constant… and if you don't know what that is, it really doesn't matter: you will do by the time you're done exploring the cool activities in store throughout this one-week event!
Take a trip to Ancient Greece at The Inventions of Ancient Greece: Origins of Our Modern Technology
Follow the Science Centre's friendly guides as they take you back to the times of the Ancient Greeks. You'll learn about the creative thought processes that produced some of the coolest life hacks we know today, and you'll also get to check out their ingenious inventions. This interactive exhibition will keep the kiddos busy for sure as they discover how inventions work and try out hands-on activities for themselves.
Catch The Adventures of Rosetta and Philae at The Omni-Theatre
Get a glimpse into the possibilities of space, research and developments on the big screen through The Adventures of Rosetta and Philae, a movie chronicling a spacecraft's mission to land on an ancient comet. We know the kids are going to be over the moon about this one…
See Butterflies Up-Close
Want to find beautiful butterflies in Singapore? If your kids have made you read 'The Very Hungry Caterpillar' a gazillion times, then this one's for you. There's small army of caterpillars and butterflies inside Singapore'sfirst indoor butterfly sanctuary. . Learn about the life cycle of these pretty insects and look out for other cool creatures living in the space as you go on their daily guided tour at 2.30pm.
Test your reflexes at the Laser Maze Challenge
Are you nimble enough to conquer a laser maze? Find out at the Laser Maze Challenge where you can manoeuvre through a dense field of laser beams to exit the maze in the shortest possible amount of time!. Yes, the kids will probably beat you…
There's no doubt about it, there's so March to look forward to at Science Centre Singapore this month, and this fantastic offer is running all the way until 31 March 2019.  Psst: 'The Inventions of Ancient Greece: Origins of Our Modern Technology' exhibition officially ends on 24 March 2019 so make sure to check it out before it's too late.
When: From now till 31 March
Where: Science Centre Singapore, 15 Science Centre Road, Singapore 609081
Time: Opening hours 10am – 6pm, daily
Cost: From $25, visit the website to buy your tickets
Terms and conditions:
Valid only until 31 March 2019
Not valid with any other discounts and promotions
This post is sponsored by Science Centre Singapore.