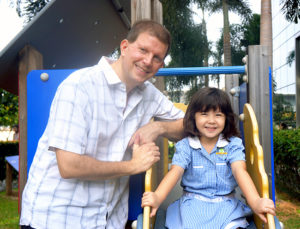 Tell us about the child you have attending the school?
Our daughter, Emily, is 4 years old and she has been attending Learning Vision at Changi Business Park since she was 18 months old.
What were the most important factors for you in selecting a school?
The location and opening times are convenient and I feel the centre provides exactly the kind of warm and caring environment I want for our child. There are also lots of fun and stimulating experiences to nurture her curiosity and about the world around her.
Learning Vision cooks healthy food on-site (rather than sourcing pre-cooked food from elsewhere) and this is important to me too.
How has the school lived up to your expectations?
Emily is happy and the school is clearly supporting and encouraging her love of learning. Every available wall in the school is covered with artwork or other creations and activities the children are involved in, book racks are full of engaging and fun stories for the children, and the staff are all friendly and caring towards both children and parents. We are very happy with Learning Vision.
What does your child like most about attending this school?
Emily is still very young, but she talks enthusiastically about specific things she has learnt and about interactions with her friends. She appears to me most happy about the friends she has made in her class, who have become friends she plays with outside school too.
What sort of curriculum does this school offer?
We receive regular updates from the teachers about what is being taught and these updates provide me with enough pointers to be able to talk to Emily about what she did at school and support my daughter's learning.
What do you value most about the school?
I know that Emily is safe and happy and engaged. That's all I want for my daughter at her age.
Are you satisfied with the level of communication you receive from the school and how they engage parents?
Emily's class teacher is easy to contact by mobile phone and she's always responsive and supportive. I know if there is the slightest problem or concern about Emily, she will call me promptly and as a consequence I have absolute confidence that my daughter is in caring hands.
How much homework is expected of your child/children?
None, except for some (optional) home activities.