Top picks to put a Thai smile on their dial
We love the land of smiles, particularly its' beaches – azure waters, sand beneath our toes, Thai food and kids' clubs! We recently packed our swimmers and set off for a family holiday in Krabi and we've come back with a stack of travel tips – from what to do with kids, a perfect place for families to stay, and super eating treats to try. Here's the lowdown…

Where to stay
It's a special thing when kids and parents can both get what they want at the same time in the same place. The Holiday Inn Resort Krabi Ao Nang Beach recently opened a new family wing and we had high hope.  Lucky for us it did not disappoint. On the accom front, the 75 sqm Kids Suite has a private kids corner with bunk beds so kids can feel grown up while Mum and Dad are not too far away. You won't be in the room for long though, as outside there is a massive swimming pool complex that could rival a waterpark, complete with not only three super slides, but a playground and trampoline as well.
When the kids get water-logged they can hit da bomb of kids clubs. Packed with hourly activities (the older kids can get a primer on Muay Thai boxing), the colourful and spacious Kids Club also features a ball pit, padded climbing apparatus, loads of toys, and movie screenings. All this should give you enough time to slip away for some pampering at the hotel spa. If your little one is a bit of a masterchef, then they can try out a cooking class. Otherwise, dine together at the family friendly restaurant, which offers a free kids menu to keep them satisfied while you sip that cocktail. Location-wise, Holiday Inn Resort Krabi Ao Nang Beach is smack bang in the where you pick up the inter-island longtail boats if you want to venture to a nearby pulau. It's also only a 60 baht/4 minute tuk tuk ride away from the crazy tourist center of Ao Nang.
Holiday Inn Resort Krabi Ao Nang Beach, 123 Moo 3, Ao Nang Beach, A. Muang, Krabi, 81000, Thailand, +66 75 810 888.

What to do in
Speaking of those longtail boats, if it's pristine white sand beaches you've been dreaming of, then cross the road and take a ride over the water to Railay Beach. This picture-perfect spot is the place to dip your toes into powder-soft sand, soak up the sun, and enjoy those stunning limestone cliffs that you see in the postcards. Your kids will love the journey across the waves and have fun playing Robinson Crusoe.
To recreate your version of The Jungle Book, head inland on a full-day family tour. This will take in Krabi Hot Springs, Krabi Emerald Pool, and Tiger Cave Temple.  Start your day soaking in the warm green waters of the springs while you listen to the birds. Suitably warmed up, travel on to the rock pools for a decent swim in the middle of lush rainforest while being serenaded by a chorus of crickets and frogs.  Round out the day with a visit to Vipassana Tiger Cave Temple, located within a network of caves set into limestone cliffs. If your family is up for being a bit intrepid, take the 1237 step hike to the top to see the giant golden Buddha up-close and spy the amazing 360-degree views over Krabi.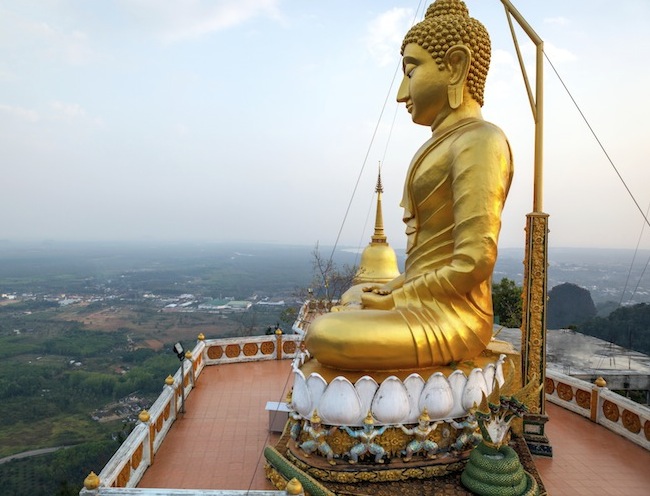 For another day exploring, jump into a speed boat this time and visit Hong Island, Rok Islands, and Ta Lane. Ta Lane's natural paradise of steep cliffs, canyons, lush mangroves and lagoons are ripe for exploring by foot or kayak. If you love to snorkel you will be in heaven at Rok Islands where crystal clear waters provide great opp's for watching pretty marine life.  A trip to Hong Island reveals craggy limestone towers, beautiful blue waters, and immaculate beaches. Wait for the tide to be able to experience Hong Island's open cavern, located in the center of the island.
Where to eat
Casual dining is the norm in Krabi, so you can keep the flip flops on and relax. We like the offering in Seafood Street, a 7-minute walk from the hotel. There's a small walkway of beachfront restaurants along here where you'll find the locally owned Baanlay Thai. Up the road from Seafood Street, Swedish House Restaurant offers a mixed menu of Swedish/Indian/Thai/Italian cuisines to satisfy everybody. For something truly special, dress up a little, maybe get a babysitter and head to The Grotto at Phranang Beach. This amazing restaurant within the five-star luxury resort Rayavadee (voted the best beach resort in Krabi by TripAdvisor), is actually inside a limestone cave. Aaamaazing!
Baanlay Thai, 22/1 Moo 2, Ao Nang, 81000
Swedish House Restaurant, Ao Nang Beach Road, Ao Nang 81000 +66 86 978 7949
The Grotto, Rayavadee, 214 Moo 2, Tambon Ao Nang, Krabi 81000, _66 75 620 740-3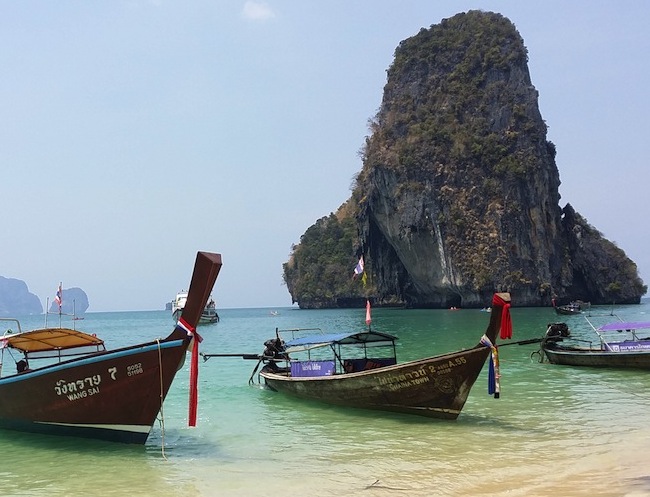 How to get there
Low cost, budget airlines Tiger Air and Air Asia fly directly from Singapore to Krabi. Or, make it two family vacations in one with an extended stopover in Bangkok through Thai Airways.
If you need help
Family vacations are for enjoying, but on the off chance your little one needs a doctor (like ours did), rest assured that Holiday Inn Resort Krabi Ao Nang Beach has 24-hour, on-call doctors available. The beach resort is also a 2-minute tuk-tuk ride or 10 minute walk to the excellent Ao Nang Medical Clinic, a Thailand tourist clinic staffed with English speaking doctors providing sterile care with Western medicine.
Images: Holiday Inn Resort Krabi Ao Nang Beach, Rayavadee Resort Krabi, Thinkstock
Thank you to Holiday Inn Resort Krabi Ao Nang Beach for an awesome holiday!