If there's one thing we miss from our days at school, (which wasn't very long ago), it's the great time we had playing outdoors with our friends. More screens, smaller homes, urban living, and growing academic pressure has eroded the time kids spend playing sports, or just having fun outdoors. And of course, playing sport and getting regular exercise is fantastic for our children's health, fitness and wellbeing.
XCL World Academy (formerly known as GEMS World Academy Singapore) is an international school committed to offering children a holistic education, and expanding learning horizons beyond the classroom. In addition to arts and academics, every student must be involved in the fun XCL World Academy (formerly known as GEMS World Academy Singapore)  Sports Program – and the kids love it.
Students have plenty of ways to participate:
Within the curriculum (PSPE)
Through competitive sports teams
Additional ECA sports participation offerings
We're super impressed to find out that secondary school students take sports theory lessons, and even study sports science topics! The school's state-of-the-art sports facilities have us wishing we were kids again.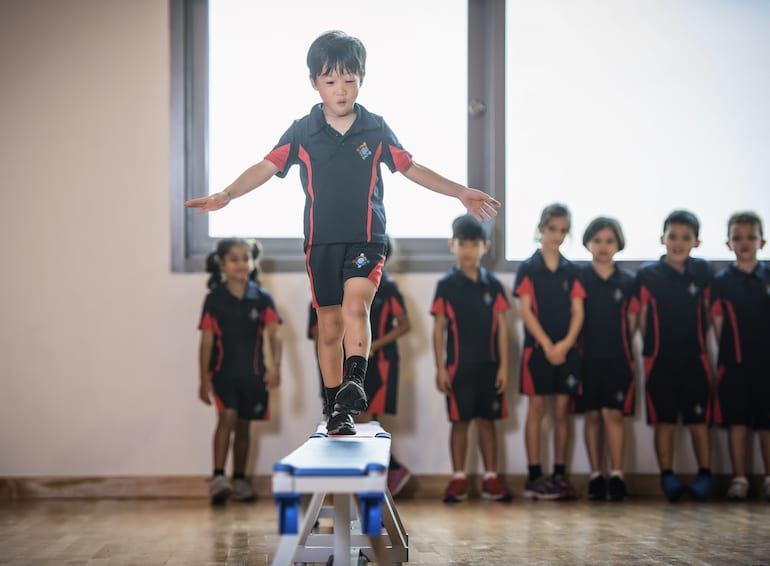 Imagine going to school with all of this to enjoy…
An all-weather playing field, with spectator seating
Indoor sports hall with purpose-built spectator area that includes:
– 4x badminton Courts
– championship basketball/volleyball court
– 15m high climbing wall
50m Olympic size swimming pool
Dedicated indoor learner pool
Again, all this in a school, not a mini Olympic village. It's hardly surprising then, that the school's sports teams (boys and girls) are part of the Athletic Conference of Singapore International Schools (ACSIS) league, and compete in multiple sports across all age groups.
Nurturing these talented young sportspeople is sports educator and ECA coordinator Danny Tauroa, a former rugby player. Mr Tauroa is a Secondary Years PE Educator and the Activities Coordinator at XCL World Academy (formerly known as GEMS World Academy Singapore) . In addition to teaching regular classes, he coaches the school's rugby teams. Mr Tauroa also plays a crucial role in developing the GWA Sports Program, with a focus on swimming, football, basketball, rugby and touch rugby.
Having worked with younger teams even as a full-time rugby player, the transition to teaching sports was natural for Mr Tauroa. He has worked extensively with kids and professional athletes. He coached the Bedok Kings team and the Singapore men's and women's rugby teams for four years each. His passion for sports comes from his experience in how it can transform your personality… fair play, hard work, being a team player, and handling success and failure with equanimity, are just some of the long-term gains of being a sportsperson.
Competing with other international schools at sports events, and practising together as teams has helped to build the 'school spirit' at XCL World Academy (formerly known as GEMS World Academy Singapore) . Making outdoor sports fun, and getting children to ditch screen time for the sports field, is no easy task. Let's give GWA an old-fashioned cheerleader shout for their dedication and effort!
Like this story? Here are more stories about GEMS World Academy (Singapore) that we think you'll like:
Read how GEMS World Academy (Singapore) is preparing students for the real world
GEMS World Academy (Singapore) is teaching life skills through real world experiences
Nurturing the business leaders of tomorrow at GEMS World Academy (Singapore) Entrepreneurship Program
This post is sponsored by XCL World Academy (formerly known as GEMS World Academy Singapore)