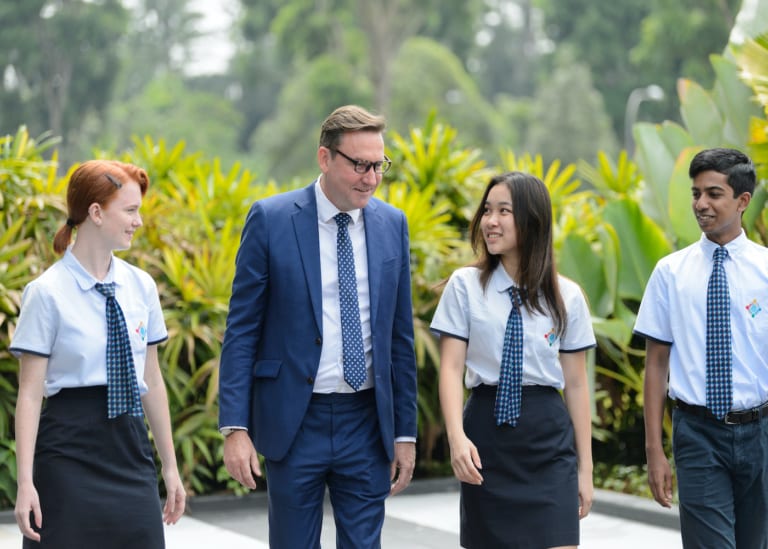 Find out how GEMS World Academy (Singapore) takes a high school diploma to the next level with its awesome programmes (Aeronautical Engineering and Fine Arts, anyone?)
Ah, high school – for many students, it's time to get down to business and decide what you'd like to major in for university. But what if we told you there was a way for students to get their freshman year in university done and dusted before leaving high school? At GEMS World Academy (Singapore), high school students have a wide range of options when it comes to their last two years of school. They can choose to pursue the academically recognised International Baccalaureate Diploma Programme (DP), the IB Career-related Programme (CP) or graduate with a GEMS (Singapore) High School Diploma.
Take a peek at our video to get some insight into the resources and options available to the students at GEMS World Academy (Singapore). We spoke to Shaquille and Cindy, two students enrolled in the IB CP and IB DP programmes, to get the full lowdown on what it's like to be a high school student at GEMS (Singapore).
Multiple pathways to success
High school is tough enough as it is – why not make the most of it by doing what you're truly interested in? GEMS (Singapore) recognises that every student is unique and their aspirations are also different. This is why it offers three graduating pathways: a High School Diploma, the International Baccalaureate Career-related (CP) Programme and the International Baccalaureate Diploma Programme.
The only international school in Singapore to offer both the IB Diploma and the IB Career-related programme
The IB Diploma Programme is an academically challenging two-year pre-university curriculum and highly regarded qualification, recognised by many of the top universities around the world. Combined with the broad, balanced curriculum, the programme prepares students for the demands of further study and employment in the 21st century.
The school also offers unique IB Career-related pathways in partnership with Embry-Riddle Aeronautical University and Savannah College of Arts & Design. The Career-related Programme leads to further/higher education, apprenticeships or employment. CP components and the IBCP certificate are increasingly valued as university entrance credentials. Through this programme, students are able to complete their university freshman year before leaving high school. Not only that, they can also kickstart their career in anything from Fine Arts to User Experience, Aeronautics and Aeronautical Engineering. Pretty cool stuff, we think!
If you'd like to learn more about the graduation pathways at GEMS World Academy (Singapore), why not check out its Open House on Saturday, 14 March? You'll be able to speak to GEMS (Singapore)'s friendly admissions executives and guidance counsellors and get all your burning questions answered!
What: GEMS World Academy (Singapore) Open House
When: Saturday, 14 March, 10.30 am
Where: GEMS World Academy (Singapore) campus, 2 Yishun Street 42, Singapore 768039

Students transferring from other international schools in Singapore will enjoy a special mover's discount. The offer is applicable for all Grade 6-12 registrations from now until 1 April 2020.
This post is in partnership with GEMS World Academy (Singapore).