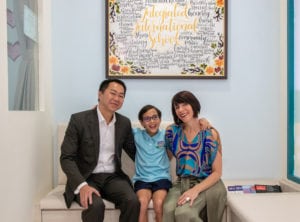 Finding a school for children with learning disabilities is tough but IIS's warm, inclusive environment helps all students succeed. Read on to find out why parents Olga and Edward Lim think IIS is the perfect match for their family.
In a society where success is measured by academic results, it's hard to find a school that prioritises kids' interests and innate talents. At Integrated International School Singapore, kids are encouraged to think outside the box, always believe in themselves, to take risks and enjoy every small achievement – useful life lessons that even us adults need to be reminded of every now and then.
We spoke to parents Olga and Edward Lim about why they chose IIS for their son, Daniel and how they believe its warm, inclusive environment and positive approach has helped him thrive…
Tell us about the child you have attending the school?
Our eldest son Daniel is eight years old and attending Grade 2. He first started at IIS when he was nearly six years old in Kindergarten and has attended IIS now for two years. Daniel is kind and friendly, eager to help and please others too. As his parents, we are very proud of the courage he shows when facing daily challenges. When he faces an obstacle or is overstimulated, he may get slightly upset but he consciously makes the effort to find a positive solution.
What were the most important factors for you in selecting a school?
What we thought was most important for Daniel was how the school was able to help or support him to achieve the most within his own abilities. The school also had to understand his needs and give him the appropriate support such as on-site counselling and as well as structure and repetition in learning. We also thought that a low teacher to student ratio (at IIS it is 1:4) was also important and that the learning environment was warm, uncluttered, friendly and structured.
How has the school lived up to your expectations?  
At IIS, they have always been very open and understanding, the staff and teachers are always available to discuss any concerns or questions you may have. They communicate directly with parents, making it clear that the staff and teachers understand your concerns and the needs of your child. Their teaching approach has had a positive effect which we noticed in his newfound learning abilities and knowledge. As parents, we go to work in the morning with ease knowing that Daniel is in great hands and enjoying school. We see this when we come back home in the evening and he tells us how much fun he had in class and what he's looking forward to the next day.
What does your child enjoy most about attending this school?
Interacting and learning with his friends, building great relationships with his teachers (because of small class sizes) and genuinely feeling comfortable – therefore being able to focus on learning and lessons.
What sort of curriculum does this school offer?
IIS follows the Australian curriculum which we believe suits Daniel very well. We also value the inclusive approach and the experience of the teachers.
What advice would you give other parents trying to choose a school?
We believe it really helps to make a list based on the needs of your child and then researching to find your match. Do not compromise; keep communicating with the school to fully understand what they offer and don't be afraid to ask difficult questions. It is not easy to find an integrated school for our children with learning difficulties, however in IIS we've found a perfect match!
What do you value most about the school?
We love that our son is growing, learning, playing and enjoying in a fantastic environment. This is a difficult balance to find among international schools and IIS has achieved this for Daniel and our family.
What has your experience of the school bus service been like (if used)?
We use the school bus daily – they work with friendly, patient drivers. They understand that Daniel needs time to sit down properly in the bus and wave goodbye and are aware that being on time isn't always easy for us.
Are you satisfied with the level of communication you receive from the school and how they engage parents?
We are very satisfied with the level of communication. The school quickly responds to emails and there is always a friendly response to phone calls. We've seen an increase in efforts to engage with us on social media with newsletters and community events. They've also organised school activities as well as a parent partnership programme. We're looking forward to more school events and activities!
How much homework is expected of your child/children?
Daniel receives weekly homework, that is given on a Friday to be handed in the following Friday. It is a combination of topics (language/mathematics etc.). Daniel is not always focused on homework after school and needs a lot of guidance and motivation. However, homework is given for a good reason and the school is open to discuss and find solutions which works for everyone.
Hop over to the Integrated International School's profile on the HoneyKids School Selector for more details.
And if you like this story, don't forget to check out the other great Integrated International School (Singapore) videos and stories:
A creative new daycare option for your toddler
This post is sponsored by Integrated International School