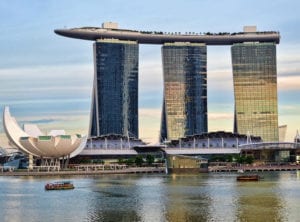 Are you thinking of packing up and moving to the Lion City? We say do it! Here's why...
Moving to another country is exciting but a little scary, no matter how livable your chosen city is. Even if you've got an amazing job lined up, vast cultural differences are to be expected, and it's often the case that the life you picture yourself having is a little (or a lot) different from reality. Nevertheless, moving across the globe can be an amazing life experience, especially if you choose the right country to settle down in. In light of Singapore recently moving up in the rankings of most livable cities in the world (it's bumped up 11 places this year!), we give you four reasons why we believe a move to the Lion City is the right one.
Quality healthcare
It's no secret that quality healthcare is the standard around here. In fact, Singapore is currently sixth in the World Health Organization's ranking of world health systems, and was named fourth healthiest country in Bloomberg's 2017 index! If you're fortunate enough to have good health insurance coverage, health care costs can be reasonable too. There are a substantial number of public and private hospitals to choose from, as well as outpatient clinics and physicians at each housing district. Do check with your insurance provider to find out which of these is covered under your particular plan.
Great homes
No matter which corner of our little island you choose to live in, you're bound to find a family-friendly neighbourhood that will make settling down a whole lot easier. Many privately owned condos and apartments offer superb on-site amenities like swimming pools, playgrounds, gyms, barbeque pits and function rooms. Of course, you'll have to pay  top-dollar to live near the city centre, but homes a bit further away from town can be substantially more affordable.  Do your homework and you're likely to find some good deals away from the hustle and bustle. You can also get started by checking out our guide to buying property in Singapore. Happy hunting!
A world-class education system
A good education is hard to come by, but it's safe to say that Singapore has no shortage of fantastic schools that are big on providing a well-rounded learning experience. When it comes to choosing a school, we advise doing your due diligence prior to moving here, as both public and private schools tend to fill up fast.
As international schools go, one of our top picks is definitely One World International School (OWIS). Not only does the school offer a quality education for primary and secondary school (IB PYP & Cambridge IGCSE), it also offers specialised learning programs that incorporate Art, Mandarin and Music as part of the curriculum. OWIS's holistic focus also ensures your child's social, physical, emotional and cultural development needs are looked after. This means that staff go out of their way to support students through difficult times, and children are taught the value of kindness through school programs and activities.  Best of all, fees are thoughtfully priced, so you don't have to bust the bank to send your kids here.
Plenty to see and do
Yes, Singapore may be just a tiny dot on the world map, but don't be deceived! It's packed to the brim with places to go and things to do. And that's the very reason HoneyKids and our sister site Honeycombers was started – there's so much happening on this tiny island that we just had to share it all! We love the fact that the city is safe, clean, and easy to explore with affordable mass transit too. If you're a parent here, there are tons of online support groups you can hit up for advice or simply to build your social network. Some of these groups also organise meet-ups and playgroups for your little people.
For more info on One World International School, visit www.owis.org.
This post is sponsored by One World International School.
Photography (top image): Choo Yut Shing