In an ideal world we'd all have our kids safely ensconced in a car seat in our SUV as we blissfully glide around the island. For those of us unwilling to sell an organ to enjoy the luxury of car ownership in Singapore, we regularly suffer varying levels of torture at the hands of our little ones as they simultaneously use a taxi as their own personal trampoline park, and wind the windows up and down in an attempt to do a Houdini-esque escape. And now that Uber and Grab are required to refuse passengers with children without booster seats for safety reasons, the whole business is even trickier! (Check out our in-depth story on everything you need to know about car safety and taxi travel in Singapore with kids to beef up on the topic). If only all trips could be made with a lightweight stroller on the bus. But, it's a no-brainer when it comes to your child's safety vs taking a risk for the sake of convenience. To help you out, we've got the lowdown on the Singapore rules and regulations on child restraints, the best options on the market from car seats to the Ride Safer Vest and new mifold portable booster seat that everyone's talking about, and some helpful tips to help you survive your daily commute.
CAR SAFETY LAW IN SINGAPORE
There's good reason why it's the law in Singapore for kids under 1.35m (irrespective of age) to be restrained with car seat, booster seat or adjustable seatbelt. Taxi trips (except Uber or Grab) are exempt from child safety seat obligations for practicality reasons, but the law does quite sensibly provide that kids under 1.35m must ride in the rear seat. If you've ever succumbed to whacking on a baby Bjorn carrier and then wearing a seatbelt thinking it's a good option, then it's time to wise up and commit to your child's safety. This short video from The Car Seat Lady is an unsettling reminder.
HOW TO CHOOSE AN AGE AND SIZE-APPROPRIATE CHILD RESTRAINT
Okay, so we're all on the same page that a car restraint is in order for those inevitable taxi rides. Question is which one, and where to get it? The type of seat you ultimately choose will depend on the age and size of your child.
Elise Mawson, car safety guru at Taxi Baby explains it in a nutshell:
"Kids' skeletons are very different from adults' – their head is proportionately larger and heavier (watch a toddler try to touch the top of his head: very cute, very difficult). Their neck, spine and pelvis are also much weaker and more flexible. Age is a more accurate indication of how strong and mature your child's skeleton is to withstand the impact of an accident than height or weight.
That tricky toddler stage…
"If your child is still under 18kg and 110cm, the safest taxi-friendly option is the Cosco Scenera NEXT," says Elise. The next best option is a forward facing car seat like the Urban Kanga, then the Ride Safer Travel Vest used with the top tether strap (for kids aged 3+). For young kids, I strongly recommend using the crotch strap and the tether strap. After that the mifold is a great option (for kids aged 4+).
"Using a restraint for which your child is too young is better than using nothing at all (or sharing a seat belt with them), but it doesn't provide enough protection to sufficiently reduce their risk of injury."

FROM BIRTH AND FOR TODDLERS
Maxi-Cosi Cabriofix (for infants)
CLIPS ONTO YOUR PRAM ON ARRIVAL
For the tiny tots (0-1yr), the Maxi-Cosi Cabriofix rear-facing car seat can't be beaten. It protects their little necks from side impact and comes with handy accessories that will click directly in to most leading brand pram frames (like Bugaboo and Quinny). Extra handy for not disturbing slumbering babies so you can enjoy that well deserved latte in peace on arrival. It retails at Singapore stockist Baby Hyperstore for $299.
The Cosco Scenera NEXT (from birth and ideal for toddlers up to 18kg)
LIGHTWEIGHT
This is a top pick with mums as you can use it from birth, is rear-facing (proven to be a safer option that forward-facing) and is the lightest option at just 3kg – ticking all the boxes for us for a taxi-friendly toddler seat. It's compatible with several prams including the Snap-N-Go, so you don't have to lug it around (or check out some of the hacks parents are using for the Bee and Yoyo). Our verdict? It's the best solution so far for the tricky stage when your child has outgrown the infant car seat but too small for the Ride Safer Vest or mifold. Get the Cosco Scenera NEXT from Taxi Baby from $239.
Urban Kanga (for children 9 months to 4 years, 9 – 18kg)
QUICK INSTALLATION AND EASY FOLDING
We love the new European offering from Urban Kanga – a super-light 3kg portable seat for kids 9 months to 4 years. Once your little one has the neck strength and weight to go forward facing, strap them into this cosy seat in 60 seconds flat. We love its patented easy folding design, and the fact that you can carry it under one arm. Safety rating is good as it's height adjustable and has a 5-point safety harness. Here's some good news: The Urban Kanga is now available in Singapore through Taxi Baby! Get it for $259.
IMMI Go (recommended from two years)
FOLDS UP AND FITS UNDER PRAM
This folding car seat is a great option for mums on the go and is the seat of choice for UberFAMILY. It's suitable for little ones once they outgrow their infant car seat, is forward facing and has a super-safe five-point harness. Simply fold it up and stash it in the bottom of your pram once you reach your destination – it only weighs 5kg. This nifty seat will last you right up until your junior taxi goer is ready to travel sans car seat. It retails for $440 and is available from Taxi Baby. 
Graco Travel Systems (from birth)
CAR SEAT AND PRAM PACKAGE
Graco carries a good range of travel systems including a sturdy infant capsule and compatible pram. They are on the cheaper end of the market too. The rear-facing capsule can be used with a seatbelt, but comes with a base for those wanting the flexibility of being able to use it in a car. Suitable for use for newborn babe up to 22kg. Check out the range on Lazada, prices start from $399.
Combi Coccoro (for children 10kg-18kg)
COOL MESH FABRIC
The Combi Coccoro is a fabulous portable car seat for your precious cargo. It attaches to many different strollers (such as Mountain Buggy and Graco) and is lined with 3D mesh and cooling fabric, just perfect for the searing Singapore weather. It's the good combo of sturdy and lightweight. Available online for $389 from Portjunior.
Diono Radian RXT (from birth)
PLANE SEAT COMPATIBLE
Another option that comes with free carrying case is the Diono Radian RXT convertible car seat. It has rear facing, front facing, booster seat and plane seat capability so is a one-stop-op for travelling needs from day dot to eight years. The steel frame makes it extra robust but a little on the heavy side. Snap it up online from $560.
PSST: Watch this space: we've heard that there's going to be a new entrant on the car seat market specifically for the tricky toddler stage. We'll keep you posted!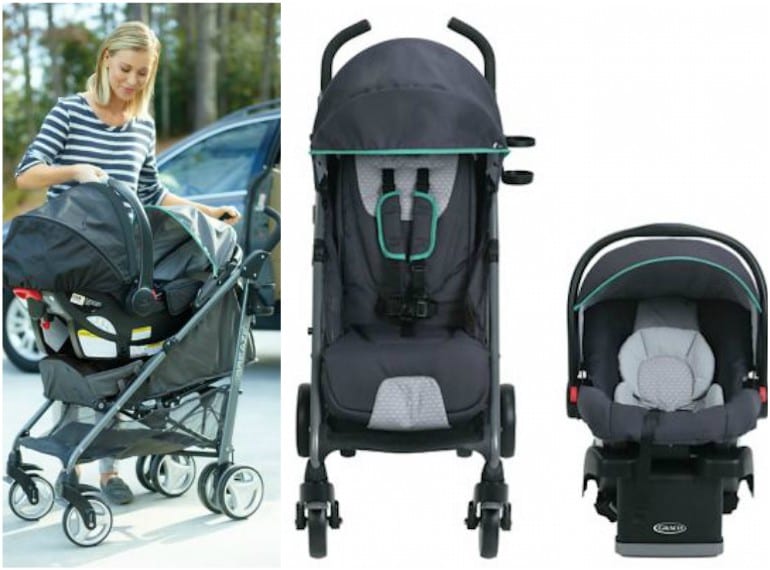 FOR THE BIGGER KIDS
Trunki BoostApak (ages 3+)
FOLDS INTO BACKPACK WITH STORAGE FOR SNACKS
For the child ready to graduate to a booster seat, the Trunki BoostApak is a stellar option for busy families. It will last your child from advanced toddler right through to age 11, has space for their travelling essentials, and also zips up to a backpack. Cool colours too! Buy on Pupsik Studio for $107.
mifold (ages 4+)
SUPER-COMPACT
If you haven't heard about the mifold yet, this brilliant redesign of the booster seat for kids age four and up is small enough to carry in your bag and is super easy to set up (our kids have already figured it out). And for parents with three kids above four who need to fit the whole gang in the back seat, the compact mifold finally solves the 'three across' dilemma. The mifold is approved by Singapore Traffic Police, but is also certified to European crash test standards. It retails for $99 with bag.
Ride Safer Travel Vest (ages 3+)
FITS IN YOUR (LARGE) BAG
The Ride Safer Travel Vest is head and shoulders above the rest in terms of bulk, weighing-in at a featherlite 500g. It's the go-to-restraint for savvy taxi-taking parents in Singapore. For little travellers over 3 yrs (or weighing 13kg+), it can be whipped on while flagging a cab and secured in a jiffy with a seatbelt once you've jumped in. It's obviously not as secure as a car seat, but is still a safe option. Available from Mothercare, Taxi Baby and Kid on the Move for RRP $229.
GrabFamily – BOOK A CAR-SEAT EQUIPPED PRIVATE CAR
Here's a great alternative to investing in a car seat or booster: Grab has launched its kid-friendly, safety first service, GrabFamily! This is the first service to provide on-demand,  booster-seat equipped rides in Southeast Asia. Hurrah! This is a fabulously safe option for you if you have a little traveller aged four to seven years (1-1.35m tall, 15-36 kg). Just book through your Grab app, and for only $2 extra than a regular GrabCar, a chariot with a safety-trained knight in shining armour will arrive fully fitted with one mifold booster seat (as reviewed above as one of the safest, easiest options on the market). This will also give you an opportunity to try out the mifold for potential future purchases.
PSST: Throughout June, the lovely peeps at GrabFamily are offering HoneyKids readers $2 off x 3 GrabFamily rides with promo code: SAFERIDE. www.grab.com/sg
TOP TAXI TIPS FOR KIDS
So you've selected your safety device of choice, now it's all about using it to the best of its ability. First of all, read all the instructions and do a practice run to make sure you know how to install it correctly. Most baby gear seems to be designed to be parent-proof, so take your time.
Once you've ordered the cab and you're waiting the requisite two to five minutes for the cab to arrive (bless this country and its readily available taxis), prepare said instrument of restraint. Don the harness or unzip that backpack so you're all ready to slip through the seatbelt. Leave the taxi door wide open until you're all sorted to avoid taxi uncle zooming off mid-click. Where at all possible, sit next to your little buddy. And if all else fails, consider taking public transport – the kids will love a bus or MRT ride!
Like this story? Here's more we think you'll enjoy!
Is taxi travel in Singapore safe for babies and kids? Here's what you need to know
11 best support groups for new mothers in Singapore
30 tips for flying with kids: Beat boredom on the plane and jetlag
Baby shopping guide: Best cot and nursery items for a sleeping baby in Singapore