The Gruffalo in real life? A skedaddling Hairy Maclary? You can see these and more at KidsFest 2018, and we're giving away tickets! Plus, expert tips to prepare your kids for their first theatre experience...
To the uninitiated, taking the kids to the theatre might seem akin to volunteering for a meltdown (for both the parent and the children). But with tailormade kids' shows that invite participation and even tolerate the odd random outburst, it's actually a fun way to spend an hour (and could even inspire some acting classes, or at least some storytime to better understand their emotions!). We spoke to Matthew Gregory, Executive Producer of ABA Productions and the Founder of KidsFest, to find out what kids' theatre is all about, how to prep your mini theatregoer for their first show, and what to do if things go a little haywire (other than hand the kids to dad and go have a mum-time moment). And you could win one of two family ticket packages to KidsFest 2018!
So Matthew, what do kids get out of going to the theatre?
"The magic of theatre comes from transforming your favourite bedtime stories into something more tangible for the kids to experience. It's a great way to introduce them to the world of creativity and literature, and also a platform for families to spend quality time together outside of the digital world that builds lifetime memories.
My family has been involved in the arts since before my first son, Thomas, was born. Tom was born in Manila while we were touring Peter Pan in 1997, and even when he was just two weeks old, we brought him to rehearsals and even sent him backstage! Since then, all three of our kids have been involved in the arts in one form or another, such as taking part in drama performances, voice acting for radio and even starring in a Jackie Chan film!"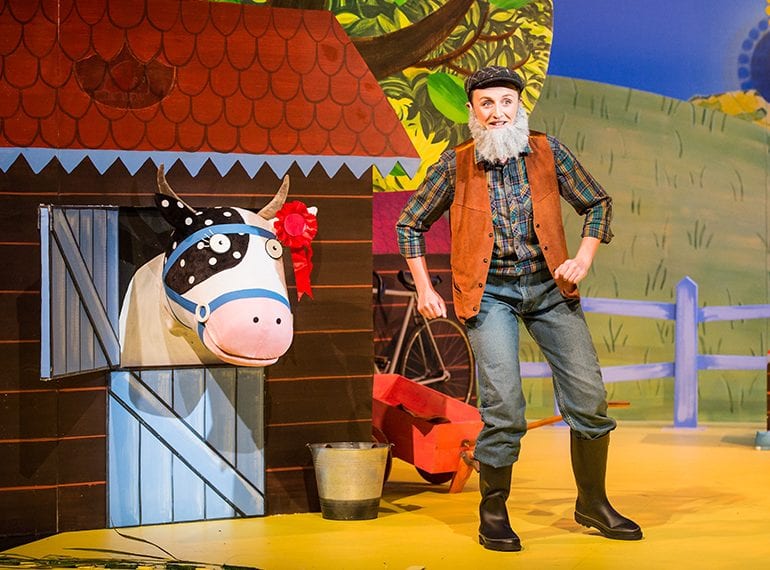 Is there a recommended age to start taking kids to shows?
"Our shows are targeted to children aged two and up – they're selected so there's a whole range for the entire family to enjoy. Parents can start as soon as they think their kids are able to sit through the performance and enjoy the experience of live theatre."
How can parents prepare their child for their first theatre show?
"Read the books and get the children to understand the story, the plot and the characters. When you're done, read the book again. Walk them through a typical theatre performance so they're aware of what to expect and aren't caught off guard. Explain that it might get dark inside the theatre and it may get loud, but they know the characters and the story, so all's good. You can even try quoting a few lines from the book to reassure them. All in all, make it fun for the kids, and encourage them to interact with the performers on stage. Our shows have quite a few opportunities to do so, and getting your child to interact with them can make their first theatre experience even more memorable."
Help! What are your tips for handling restless/confused/afraid/bored little people at theatre shows?
"I think it's important for the family to be very familiar with the story they will be seeing. The more familiar the kids are with the story, the more engaged they will be at the show. Should a toddler get a little out of control, you can always step out of the theatre for a moment and explain the story back to them, and say that their favourite character is waiting on stage. Familiarising your child with live theatre experiences definitely helps in setting their expectations from the get-go."
What usually happens after families see a show?
"It's always great hearing the kids walk out of a show saying how much they've enjoyed it and which characters they love. Even better when the parents email us saying that their kids are still singing the songs even after a week! For us, it really is all about creating family moments that they can take home and cherish.
I remember taking my daughters Isabel (age seven) and Maddie (age two) to see Shark in the Park at Edinburgh Fringe last year, and they kept singing "there's a shark, there's a shark, there's a shark in the park!" for weeks (and it drove us up the wall!) Luckily it passed, and now they've taken a liking to Disney's Moana."
KidsFest runs from 19 January until 11 February 2018, with six amazing shows! We're talking The Gruffalo, Hairy Maclary and Friends, What The Ladybird Heard, and more. Check the KidsFest website for full details and get in quick, as tickets will be snapped up fast.

If you're keen to try out Matthew's tips at a live show, enter your details below! We're giving away 2 x Family of Four Category 1 packages to KidsFest 2018. Each package is valued at $248!
The promotion ends on 20 October 2017.
This promotion has now ended, and the lucky winners are Mabel Ng and Christine Tran. We hope they enjoy the theatre!
Please note that by entering this competition you will be added to the HoneyKids subscriber list to receive our quick weekly updates with invites to our super popular events, great reads and more giveaways! You may also be contacted by our prize partner, KidsFest. Please check out our full competition terms and conditions.
Like this story? Here's more we think you'll enjoy!
Kids' theatre in Singapore: must-see shows happening now until Christmas
Lovely Mandarin bilingual picture books
Your spooky roundup of kid-friendly events this Halloween
Must-see museums and exhibits to check out now!
Hey hey it's Sunday! Things to do that are fun for you too