Is it cheaper to live across the border? And how easy is it to relocate? The founder of Blue House tells all
We've all thought about it. The cost of living in Singapore gets you curious about life north of the border. The idea of lower rent, more space and cheaper groceries makes you wonder if packing your passport and the daily commute is worth the move to Johor Bahru. Is the grass really greener across the causeway? Well, they do have Legoland and Tesco. But before you get your annual pass and clubcard, it's time to get the skinny from an expert – Shona Sanosi, Founder and Director of Blue House Nursery & International School, tells us about her recent move to Johor Bahru and how it's changed life for her and her family. Read on for the lowdown on moving to Malaysia from Singapore.

What prompted your move to Malaysia?
Two main factors prompted our move to Nusajaya Malaysia. Firstly, the desire to own our own property and secondly the opportunity for our children to attend a school such as Marlborough College Malaysia. Children living in Singapore can attend the school but need to commute daily and we felt at the time that this was too much to expect from our children, Alfie and Ella.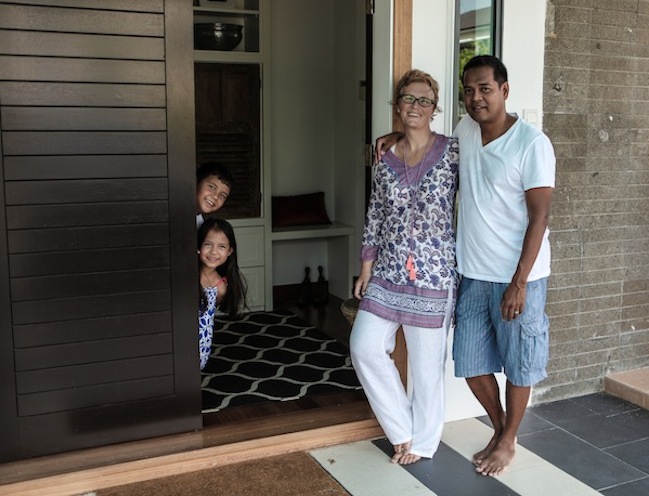 And how does it differ from the set up you had in Singapore?
As a family we lived together in Singapore for eleven years. We stayed in a rented condominium where the children were very dependent on us to 'take them out'. Now we live in a 4 bedroom house with a good size garden and pool. We live on an established gated estate called East Ledang and the children have lots of freedom to explore independently and spend time with their friends and neighbours.
The burning question is: does the move mean savings and a better lifestyle?
Absolutely! Financially we were able to not only buy a landed property but renovate the building and garden extensively- at last after so many years of renting we were able to have the creative freedom to plan our ideal living space. We do save money on a monthly basis on basics such as grocery shopping, petrol and utilities.
Our lifestyle as a family has changed for the better. Our children are so much happier, especially our active and sporty son who is enjoying the extensive sports programme that Marlborough offers. In addition, both children are enjoying the freedom they have to come home, drop their bags, grab their bikes and go and visit the many friends that they have in East Ledang.
Ben and I are far more relaxed and are enjoying the peace and quiet of living in Malaysia. For the first 6 months we would come home every night from work and enjoy drinks and dinner by the pool until one day we gave ourselves a nudge and reminded ourselves that we were not on holiday!
Malaysia feels slightly cooler and less humid than Singapore and on most days we benefit from a breeze blowing through our home and garden. We live outside for the majority of the time and truly appreciate the simple things like hearing the birds sing.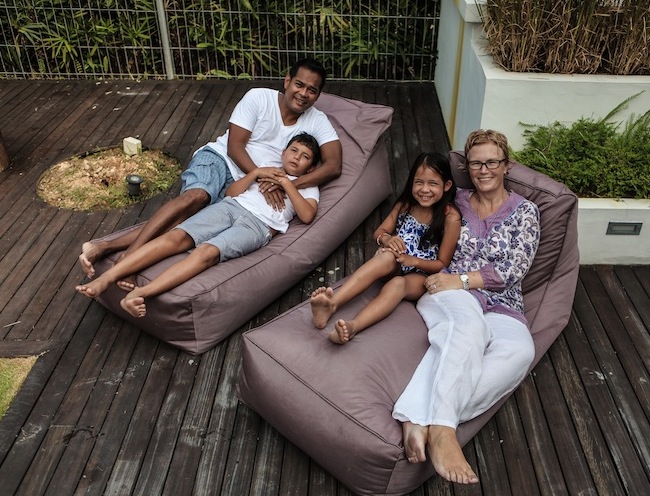 Obviously your business is based in Singapore – how do you find the commute to Singapore each day?
School for the children is just a ten minute drive away from our home. Once they leave home on the school bus at 8.10am my husband and I head across the border to Singapore for work. Generally, by this time the border crossing is clear and we arrive at Blue House Nursery and International School in Bukit Timah within the hour. On a good day we can reach there in 45 minutes.
We try to leave Singapore around 4-4.30pm every day, ensuring that we miss the peak period traffic at the border and are home in time to help with homework and eat a family meal together.
What sorts of things do you get up to in Malaysia on the weekend and during your downtime – do you come into Singapore at all or stay north of the border?
Friday evening generally sees us unwinding by the pool with a few drinks and some of our neighbours whilst the children swim, play on their bikes or enjoy a game of table tennis.
We love being at home so our weekends are fairly chilled. I am still enjoying 'playing house' so you may find me poodling around the house organising bits and pieces, whipping up a Pavlova or cutting fresh flowers from our garden. This is in real contrast to my busy working week and I love the slower weekend pace.
On Sunday mornings Alfie plays rugby for Tanglin Rugby Club in Singapore so my husband will drive him over the border but they are home by 11am.
You mentioned that the kids enjoy a certain amount of freedom within your gated estate but is extra vigilance required elsewhere?
Our twins are nine years old and they do enjoy a lot of freedom living within the estate of East Ledang. As parents we have spoken to them about possible dangers, strangers and road safety for example and how they should respond in certain situations. We feel confident that they are safe in the estate and as such allow them the freedom to call on their friends- they both have watches and have responded well to the responsibility of checking back in at certain times.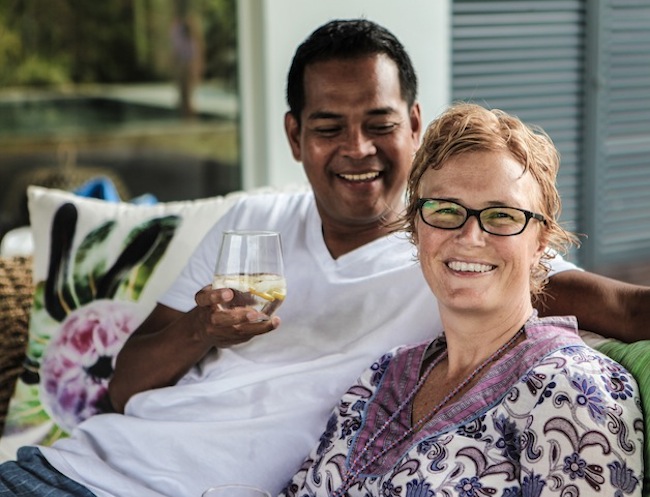 Where do you love to go in Malaysia – any secret hotspots we should know and check out?
As I am working in Singapore all week when I reach home I generally do not go out and about that much – I LOVE being at home!!
There are several large supermarkets close by including Tesco and Giant and Cold Storage is in JB- about 20-30 minutes away. We do buy basic groceries locally but we still need to buy more specialised items in Singapore.
Options for western style dining in this region are growing and nearly every week there is a new restaurant or cafe popping up in Puteri Harbour so it's worth a visit. Of course there are endless places to enjoy local food!
For relaxation I like to treat myself to a massage at the Angsana Spa which is based at the Ledang Club, conveniently located at the entrance of our estate!
Furniture wise there are now two companies who have recently started to ship beautiful pieces in from Bali – Tropical Living Asia and Sora Capital – and for something more bespoke try Hauskandar Contemporary Living.
To supplement the flowers from our garden I do like to pop along to Espresso Garage in Puteri Harbour and pick up some extra orchids or ginger stems. It is not easy to find cut flowers in our area so this is a great addition to the local scene.
The Johor Premium Outlet stores are a 15 minute drive from where we live and are definitely worth a visit, even from Singapore it makes a good day out.
The children of course love Legoland with its theme park and water park.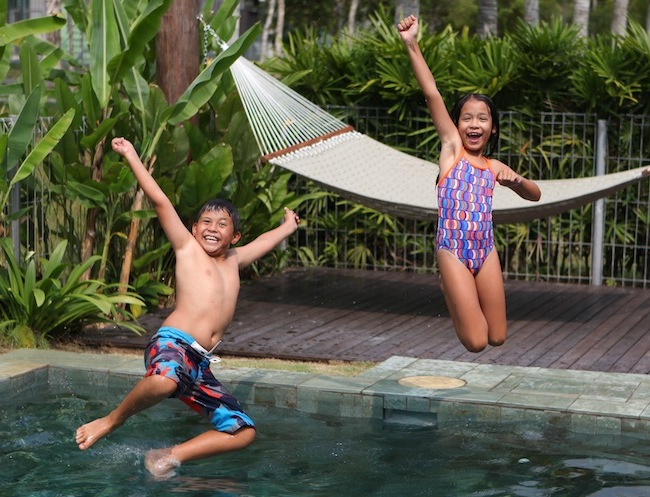 And is there much of a community where you live, people to connect with so as to not feel isolated?
I would say that we have a richer social life and group of friends in Nusajaya than we did in Singapore. As the social scene in terms of restaurants and bars is still developing many people choose to invite friends to their home for dinner or parties.
We have been warmly welcomed into the neighbourhood and school community and have made some lovely friends.
All in all, a good move then?
All in all we have no regrets in choosing to live here. As a family we are so much happier. There are of course days in particular when the border crossing is busy that you might huff and puff and roll your eyes with frustration but once you are home you can relax!
It's so tempting! What sorts of things should we weigh up (pros and cons) if we were considering a move to Malaysia?
Travelling is a careful consideration. Most people who choose to commute for work into Singapore have some flexibility with their time. Travelling can be stressful during peak periods and you need to always allow more time than you need.
If you have a longing to either own a home or own a piece of land and design/ build your own home then you should consider a move to this region.