Advice on designing and making beds, tables, chairs and other pieces in Bali
Ever been on holiday to Bali and spied some gorgeous furniture that you just have to have, but then get stuck on how best to get it back to Singapore? Designing dining tables, chairs, beds and bed-stands in Bali and having them shipped to Singapore is not for the faint-hearted. In addition to ideas getting lost in translation, it can get pretty pricey too. But we've seen the results when we've been to a friend's house and spied a beautiful day-bed or coffee table and just can't give up on the idea that one day we'll get a covetable bit of custom furniture crafted and sent across to the Red Dot.
To set us straight on whether it's possible or not, we contacted Jody Chapman of Seventy-Seven Design. A designer of super yacht interiors by trade, he is fast becoming sought after for his stunning home interiors, thanks to his work being showcased in many installations including Tanderra Club. Here is Jody's advice on having furniture made in Bali and shipped to Singapore…

How did you get started designing and importing furniture from Indonesia?
I'd been designing furniture for yachts for several years in the UK, generally working on very exclusive projects – but typically these items are way out of reach as day-to-day furniture. When I moved to Singapore in 2011 to start Seventy Seven Design I also started working as a consultant for a Singaporean outdoor furniture company. I quickly learned that the gap between bespoke furniture and mass production here was huge and the pressure was to design things that are easy to make rather than nice to look at.
Then on a trip to Bali I saw that there are many artisans and craftsmen making inexpensive imitations of fashionable designs. The craftsmanship was there but it made no sense to me that they were using manual dexterity and skill to try and replicate something made by machine. So I started to come up with ideas and designs that used their craft but was much more authentic to their skill.
I also noticed great piles of reclaimed timber, from old warungs and fishing boats, the wood in most cases was at least 50 years old and beautifully weathered. It was being used almost exclusively to create items of furniture that were crude and uncomfortable. My girlfriend (now my wife) was in the process of moving so I convinced her to let me design and source her new dining and side table, using recycled Balinese timber and real Balinese artisans. The plan worked and the results capture the incredible colours, textures and history of the wood and look great in a modern setting. The proportions and angles are very classic too, so the furniture works well with other furniture.
Tell us about your process from design, to manufacture to shipping and receiving…
The Balinese are great craftsmen. You only need to look at their temples and carvings to see that woodwork is in their blood. However, heritage and skill doesn't mean great innovation or design. The small workshops and factories are brilliant at following tight designs or replicating something else but an open brief can provide mixed results. In the 4 years I have been designing furniture made in Bali the best items have been those with the least possibility of interpretation. So for custom furniture, a thorough design with fully annotated scale drawings, detailed drawings and preferably 3D renderings of the furniture is imperative. For Tanderra, every item of furniture was drawn in AutoCAD and then rendered in Sketchup, even if the only difference was a height or material thickness. The furniture builder was then given a log of all the pieces with corresponding scale drawings and images.
Communication is also critically important, you really need someone who is strong in Bahasa and English otherwise emails can be perplexing, text messages illegible and phone calls stilted. With only a few items there shouldn't be too much issue, but for the 500 pieces of custom items for Tanderra, daily communication was vital.
Sounds like it could be a bit tricky for the everyday person not skilled in design and the various applications that support it…
Yes, it can be a bit difficult if it's custom design furniture you're after, but I'm happy to facilitate. You just need a little patience and an open mind.
What are the results like? Do you think the quality and pricing is better than what can be achieved and sourced in Singapore? What sort of look and materials can you get your hands on?
It is a labour of love to get furniture from Bali. There are cheaper and easier places to source furniture from but I am yet to find anywhere with the same degree of skill and attention. The materials are amazing too – the bar in the Officer's mess at Tanderra is made from the wood of several fishing boats and oozes character. I have always been very happy with the quality from Ayumas and I'm already working on designs with them for the next project.

So Ayumas is a furniture manufacturer you recommend in Bali?
I use Ayumas / Custom Bali to make all my furniture. They are very easy to work with and extremely well connected to the network of makers in Bali – meaning if they don't have the ability to make it, they know someone who does and they are never afraid of a challenge. They also take their reputation and customer service very seriously.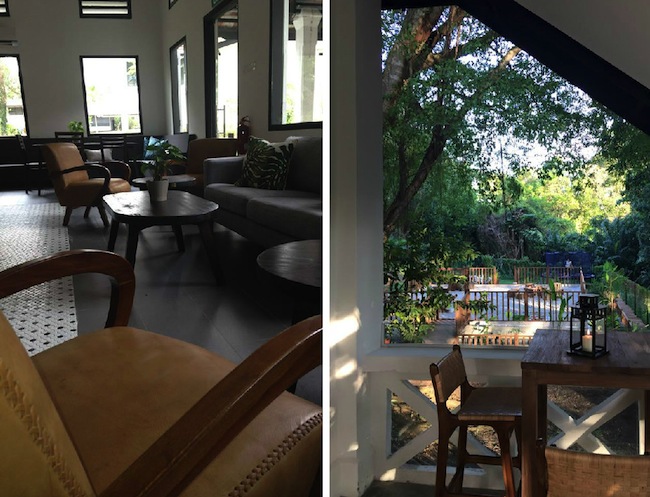 And what about shipping agents. What advice can offer there?
Shipping agents are a different matter. I have worked with a couple but not had an easy time with either. They are used to shipping industrial goods, not furniture. It's heart-breaking to have stuff delivered damaged when you know how much care and attention has been spent in designing and making it. This said, I am working with the agents to provide a service tailored for furniture and fragile items. Typically shipping takes around 1 week, but the goods go from Bali via Surabaya giving plenty of opportunity for hidden costs and levies.
Can you explain the import tax that applies and all the hidden costs?
Typically the intrinsic monetary value of the furniture is minimal so tax (GST) is not so much of an issue. If the value is above $400 then you will be liable for 7% GST. The shipping costs are also quite reasonable – especially if you have a part share of a container load. The very expensive part of the added costs come from the goods handling. The goods are packed and picked in Bali, transported to Surabaya by lorry, repacked into a container, that container is then loaded onto a boat, a few days later it arrives in Singapore. Again the docks here work on an industrial scale and there are very few providers who import single items, meaning whether it's 25 petrol generators or one side table, the picking and loading costs will be the same. This is where a large proportion of costs is incurred.
All in all it sounds like it is much better to work through a designer with contacts and go in as part of a bulk order if you want to procure custom furniture from Bali?
Yes, I'd have to agree! It really is worth the hassle but it is absolutely necessary to engage someone that has experience to get the job done. Otherwise it can be a real nightmare and very expensive.
And if we decided it was all too much and we want to source something from Singapore instead – where would you recommend?
There are guys working in Singapore who make incredible furniture that I would warmly recommend, but if you are looking for furniture with a soul and a story then Balinese furniture won't disappoint.