Ever feel like you're living in a concrete jungle? Want to get the kids back to nature? Looking for a new hobby? Have a go at growing your own plants with our top tips for urban gardening in Singapore
Urban gardening is just a hipster way of saying growing plants in the city. Knowing how to take care of a simple plant is kinda up there with learning to sew on a button and being proficient at playing tennis: things that grownups should know.
We also think that nurturing plants and showing the kids the wonder of mother nature is a beautiful thing, so we're all about urban gardening right now. It ties in beautifully with our efforts to be kind to our planet too – things like reducing waste, only taking what we need and minimising our carbon footprint. Who needs to buy air-flown veggies when we can grow our own? We've got loads of different ideas about how to start your urban gardening adventure, no matter where you live – up high, in a built-up HDB, or in a home with no outside space.
Start at the begininning: where do our veggies come from?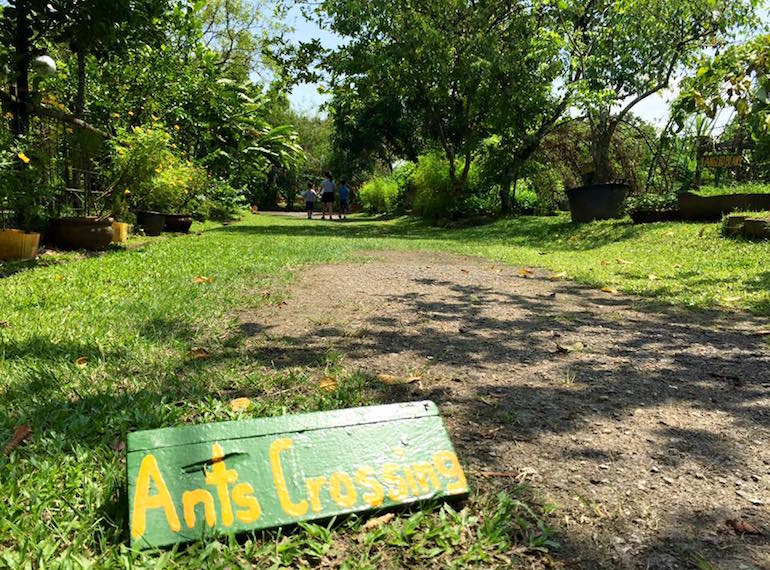 Ask the kids where our veggies came from, there's a high likelihood they'll say, 'the supermarket'. Even worse, they might think that salad comes in a plastic bag. Growing up in a city environment, it's inevitable that our kids don't get much exposure to farming experiences and endless fields of locally produced crops.
A great way to pique their curiosity and start your urban gardening adventure is to take them to one of Singapore's brilliant farms. There they'll get an understanding of what our food looks like before it's processed and what it takes to grow fruit and vegetables. Some farms, like Quan Fa will even take you on guided tours, where you can learn about composting, greenhouses and organic processes.
Keep your eye out for gardening events
HortPark hosts its signature event, Gardeners' Day Out on a regular basis. It's a full day of of activities including Gardeners' Market, free talks and demonstrations, free HortPark garden tours and kids' activities like storytelling and handicrafts. If you're quick, you can even catch the November Gardeners' Day Out, happening this Saturday from 9am until 3pm. They also have events on 15 December, 2018, 19 January, 2019 and 16 February, 2019.
Following on from the success of the biennial Singapore Garden Festival this year, next year SGF Horticulture Show will take centre stage. Running from 27 April to 5 May, 2019 at Jurong Lake Gardens West, it's set to be a garden extravaganza for all, with talks, demonstrations and loads of impressive garden displays.
We also love the work of Edible Garden City, champions of the 'grow your own food' movement here in Singapore. It designs, builds and cultivates food gardens across the island, in places like Open Farm Community and The Summerhouse. Edible Garden City also hosts workshops like how to make planters from recycled material and introduction to hydroponics, as well as urban farmer holiday programmes for the kiddos…the perfect way to introduce children to gardening.
Bookmark www.nparks.gov.sg right now
Head to the gardening section of the National Parks website, where you'll find loads of information on upcoming events. It also has loads of online resources, like NParks Flora & Fauna Web, where you can find information about all the different plants and animals that live in Singapore.
It also has other really handy resources including what type of plants to grow, hands-on videos and instructions on how to care for various plants too.
Get into the community spirit
Did you know that Singapore has over 1,300 community gardens, involving more than 36,000 gardening enthusiasts? Awesome, right? Through NParks' initiative, Community in Bloom, community gardening groups have been established in public housing estates, condos, roadside gardens and schools. Entirely led by volunteers, this is a beautiful way for keen gardeners to share their talents with others and also for people from all walks of life to connect through a common interest.
Community in Bloom also offers an indoor gardening starter kit to help transform indoor rooms into vibrant, lively spaces, with ideas like terrariums, hanging plants and shelves.
There are also gardening programmes for students – from pre-schoolers right through to high school kids, where they'll develop a love and understanding of agriculture. This programme is generally run through schools and free resources are provided for educators.
If you're after something with a bit more autonomy, but still in a community setting, Singapore offers allotment gardens across the island. After the initial success of the pilot scheme at HortPark, new allotment gardening plots will be progressively introduced and by 2019, more than 1,000 allotment garden plots will be available to the community. Each allotment plot consists of a 2.5 m x 1 m raised planter bed, and can be leased for three years at a charge of $57/year (excluding GST).
At home solutions
If you're already a dab hand in the garden, all you need is some supplies and you're set to go. Head to one of Singapore's many garden centres, where you'll find everything to get going. There are loads around – try Thomson Road, Bedok, Queensway or Clementi for starters.
Or when you're short on space, you could try going up! Aerospring is a vertical aeroponics growing system that was developed right here in Singapore. Promising "no soil, no mess, and lots of success!", it works by using water rather than soil to cultivate a garden, which means there's no weeding, kneeling, or digging. The Aerospring grows upwards instead of outwards, making it perfect for the apartment-dwelling lifestyle that many of us enjoy (or tolerate). You can grow a huge range of vegetables and greens, meaning you rely less on imported food, saving yourself money and reducing your carbon footprint on the world. Check out HoneyKids' own gardening adventure, using the Aerospring.
Now there's no excuse to get gardening!
Top image: Kate Dimarco 
Like this story? Here's more we think you'll enjoy:
Urban gardening in Singapore: 5 reasons why we should teach city kids about gardening and growing food
Getting started with urban gardening
Growing greens from seed
Troubleshooting common gardening problems in Singapore – and our first harvest!
Don't forget to subscribe to our weekly newsletter and follow us for fun moments on HoneyKids Instagram!