We've been chatting to local children's book author, David Seow, about his brand new book, his famous friends and his adorable cavoodle bestie...
A fantastic children's picture book can definitely make or break a successful bedtime routine, so we always do a parenting air punch when we discover authors we can rely on to supply a fun tale. One such author is homegrown talent, David Seow: author of no less than a phenomenal 45 kids' books and counting! We recently caught up with him to grill him on his success, his famous friends and why his latest book, 'The Royal Pup Pack' has been written to highlight a very special cause…
Hi David! Tell us a bit about yourself
I'm basically a big kid. I don't feel I've ever really grown up , and nor do I particularly want to, and that's why I write kids' books.
We know that you have written an amazing total of 45 children's books! Where do you get your inspiration from for your stories?
When I first started writing, I got my inspiration from my niece and nephews. I also get inspired by the things I hear or see: a movie, a piece of music, or a funny word or a phrase. Ideas will often pop into my head when I'm taking my dog out for a walk to do his poopsies, including my story 'The Pooping Princess'.
And out of all those books, do you have a favourite, and are there ones that have been particularly special to you?
My book 'Blow a Kiss' is one of my favourites. My mum gave a copy to the Duchess of Cambridge when she was in Singapore in 2012. Mum was interviewed about that by the London Evening Standard and the story was then picked up by Hello Magazine. Meeting the Duchess inspired me to write "A Day with the Duchess' and 'A Royal Adventure' which were subsequently featured in Hello!, OK, Sunday Express and other various online publications around the world.
Besides writing books, what other passions do you have?
I like royal watching and collecting autographs, action figures and books. I told you I'm a big kid! I've given my books to Crown Prince Frederik of Denmark, Prince Albert of Monaco, The Duchess of Cornwall and celebrities including Chris Hemsworth, Charlie Cox, and celebrity chef Donal Skehan.
You've both self published and been published: which process was easier for you?
Both are challenging, however, you have more creative control with self-publishing the book with regards to the edits, the layout and the illustrations, as well as the marketing of the book. It's definitely harder on the wallet when you are self-publishing though!
Your books are always beautifully illustrated! Where and how do you find your illustrators?
Thank you. My illustrators are geniuses! I worked with Enrico Sallustio on the first Sam, Sebbie & Di-Di-Di series, and Soefara Jafney on the new series, so I also turned to them when I decided to self-publish my own books. I discovered my two other illustrators, Keh Choon Wee ('Race to Rio: Joseph Schooling goes for Olympic Gold') and Mark Yong ('Emma's Elephant: Saving the Slow Loris') at the Singapore Comic Con.
For all the budding writers out there, what advice do you have for them to see their ideas brought to life as a book?
You should join the Society of Children's Book Writers and Illustrators (SCBWI). You'll meet both published and unpublished authors there who will be able to give you some invaluable advice. Best-selling author Leila Boukarim is a member of the group.
I would also suggest that you attend the Asian Festival of Children's Content: it's organised by the Singapore Book Council and you'll learn a great deal about the publishing industry as well as make some great contacts. And maybe, just maybe, you'll walk away with an agent or a publishing deal!
We LOVE your latest royal-themed book, and especially the fact that it has been written in a way to highlight the issue of abandoned and stray pets. Is this a personal project for you? Are you a dog lover?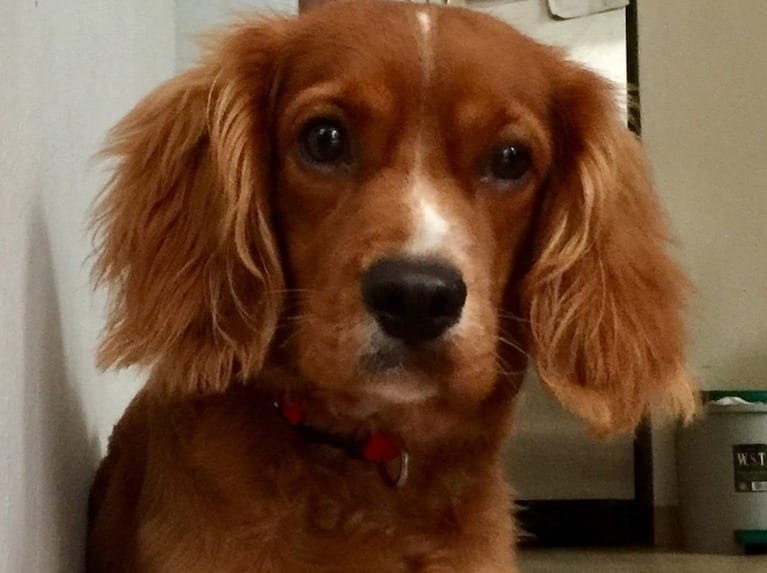 Thank you! My dog, Kobe, saved me during a particularly dark patch in my life. Dogs are angels with fur. They don't have hidden agendas. What you see is what you get. In this cold and sometimes harsh world, they have more love, loyalty and gratitude in their little paws than some people. I hate it when I see dogs being abandoned and abused.  And I am revolted by the dog eating festivals in Yulin China and Korea! Dogs belong in homes filled with love and hugs, NOT abused or abandoned and, most definitely, not on dinner plates. I'm hoping to donate at least part of my proceeds from this book to a dog charity.
Have you ever met any of the royal family, or any other famous people?
I've met Princess Diana, The Duchess of Cambridge, The Duchess of Cornwall, Prince of Wales, Crown Prince Frederik of Denmark, Prince Albert of Monaco, Chris Hemsworth, Chris Evans, Anderson Cooper, and Amanda Seyfried to name a few.  I'd really to meet Jennifer Aniston and Chris Pratt though.
Thanks for talking to us David! And if you want to get your paws on a copy of David's brand new book, The Royal Pup Pack, you can bag your copy either on Kindle now, or get it shortly in good old fashioned print (check David's website for deets).
All photography courtesy of David Seow.