Five favourite movies to watch with your daughter or your BFF
We've already shared 2017's line-up of great movies for the family, but to Celebrate International Women's Day, here's our review of the newly released, award-winning movie, Hidden Figures, plus four more recent favourites to watch with the girls! These films featuring strong female characters (whether they're hilarious or misbehaving) for watching with the gal-pals or your daughters on a most-excellent date night. Feel that sisterhood!
Here are our five favourite picks for your movie night:
Hidden Figures: in cinemas now
A brilliant trio of African-American women in a then-segregated United States cross all gender and race lines by working at NASA. An untold story (yes, untold!) about three women who served as the brains behind one of the greatest operations in history: the launch of astronaut John Glenn into orbit, a phenomenal achievement watched around the world.
The verdict
This is an award-winning and Academy Award nominated film, and we can see why. We loved this feel-good, historically interesting, and superbly acted gem! Rated PG, one to watch with the girls in your life – or better still, grab your BFFs and watch it with wine – Shaw Theatres serve wine with their popcorn – perfect!
Bad Moms
Hilarious satire of the woes of over-worked and unappreciated mothers. Such a fun movie with Mila Kunis, Kathryn Hahn and Kirsten Bell owning it. Full of laugh-out-loud moments including a stressed-out mum revealing her secret fantasy to end up in hospital (with minor injuries) just so she can escape the family.
The verdict
Hilarious dark humour. It won't appeal to those easily offended, so pick your movie buddies for this one carefully. Rated R and one to watch without the kids.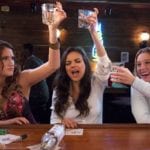 Bridget Jones' Baby
If you're a Bridget Jones fan, then she can do no wrong – even though the movies in this series seem to be getting progressively worse (nothing compared to the Sex in the City train wrecks). The title tells you all you need to know: Bridget is having a baby – and nothing will to go plan.
The verdict
Enjoyable humour for the Bridget Jones fans. It's rated R, yet sadly low on the rauch-o-meter. Hardly Oscar worthy, but definitely enjoyable and light – there's no complex plot – perfect to watch with girlfriends who like to chat during movies (guilty right here!).
Ghostbusters
A ghost invasion of Manhattan – who ya gonna call? Need we say more?

The verdict
We love this one! An all-star lady cast including comedy heavy-weights Melissa McCarthy, Kristen Wiig and Kate McKinnon (aka Trump's campaign manager). Women using heavy duty equipment, fighting ghosts, in New York – perfection! Rated PG, it's exciting, fast paced, high on comedy, low on complex plots – perfect to watch with the whole family or a stay-home mother-daughter date.
Ponyo
An animation movie inspired by Hans Christian Andersen's fairy tale The Little Mermaid. Ponyo is a story about an eager and determined little goldfish Princess named 'Ponyo', who's drive to become human leads to her exciting adventure.
The verdict
This is simply one of the most beautiful, animated movies to ever grace our screens. Written and illustrated by self-proclaimed feminist, environmentalist, and Japanese film maker, Hayao Miyazaki, we love that Ponyo's motivation to become human is driven by friendship and curiosity, not love. Not a cinched waist in sight, our heroin loves to eat ham and explore the world, really breaking free of the typical Disney Princess mould. Rated G, a movie for the young and the old. It's a true classic to watch with the little ladies in your life.
Like this story? Here's more we think you'll enjoy!
Best kids' movies of all time
Family friendly films to watch this summer
Six TV shows we're binge watching right now