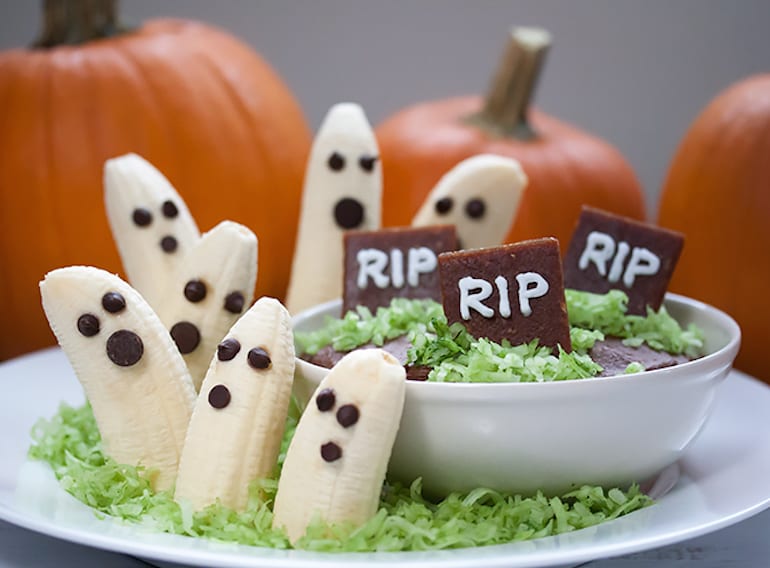 Trick or treat? These ghoulish Halloween party food recipes combine both! Frankenstein marshmallows, anyone?
We're not going to lie to you: Halloween is one of our fave celebrations of the year. Not only because we've been accused of being horrible old witches on more than one occasion (thanks, teenager), but because we get to dress up in outrageous costumes, eat our body weight in candy (because we have to help the kids out, right?) and decorate our homes with some seriously creepy-but-cool DIY crafts. Add a table laden with chocolate pot monsters, edible spiders, mummified toast and severed hot dog fingers, and, voila: one of the best family fun fests of the year! And we're about to make your Halloween party snacks spookily easy…
1. For those without natural Nigella Lawson kitchen skills (ie, us), this healthy but spooky treat (pictured above) is a cinch. The boo-nana instructions by Veggie Quest are so failproof that even the toddler can help out.
1. Minimum effort, maximum effect: monster avocado chocolate pudding pots by Eats Amazing (pictured above) are almost too cute to eat. But we will anyway.
3. Forget the Jack O'Lanterns, and whip up some Rice Krispie Snack O'Lanterns instead. Snap, crackle and pop guaranteed – watch The Motherhood's video tutorial for Krispie backup.
4. She Knows certainly knows how to creep-up a simple hot dog: these severed frankfurter fingers are sure to be the spooky hit of any Halloween party.
5. WARNING: this one contains nuts so move along if you have anyone with allergies coming to your party – a reaction would be far scarier than any Halloween party game you had lined up! Now that's cleared up, these apple and peanut butter monster mouths by Smart Lifebites are pretty darn adorable.
6. Spin up a creepy crawlie cake fest with Mom Foodie's spidery but straightforward recipe.
7. Do the monster mash marshmallow-style with these fun Frankenstein heads on a stick by The Decorated Cookie. We'll be Frank: we love 'em.
8. Up your cool mummy status with the mini ghouls by serving up mummified toast by Spark Recipes.
9. Your bash will be flying high with these pretzel and cheese broomsticks by Foodlets.
10. We dough-tally love this ghostly pizza treat: no Halloween shindig is complete without olive spiders and mozzarella spooks! Follow the easy instructions by Trendhunter for a pizza the action!
Lead image: Veggie Quest
Like this story? Here's more we think you'll enjoy:
Halloween craft for kids
Where to rent or buy Halloween costumes
Our guide to trick or treating in Singapore