The Marina Bay Sands Itinerary
They say that the same 3 day rule used for seafood should be applied to visitors. While we love having family and friends come to town, it can become a full-time job planning an itinerary for house-guests but the alternative of them taking up a permanent position on your sofa can get a bit wearing – not just on your sofa. Throw their kids into the mix and you've got the makings of domestic chaos.
So before your kin and loved-ones go off and you go off on one too, point them to a one-stop, all-consuming destination that will keep your house clear for a day (and a night) so you can catch up and breathe without interruption. Here is our guide to your answer: Marina Bay Sands!
Image courtesy of Choo Yut Shing
Getting There
Take the Downtown or Circle Line to Bayfront MRT station and you will arrive conveniently right under The Shoppes At Marina Bay Sands. But the world's most expensive building really ought to be approached in a way that it can be fully appreciated. So for a more scenic entry, take a River Taxi ride from any Singapore River Cruise or Singapore River Explorer jetty. For just $3 to $4 you can take in the $5.3 billion dollar site in all its 3 pillar glory.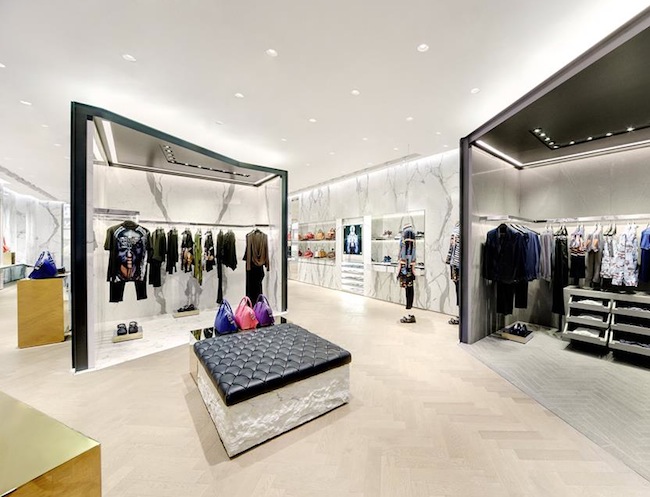 Givenchy
Shop the high end and the high street
Make sure you're wearing flats for this expedition, you've got some ground to cover. If you've got cash to dash or just want to snoop some trends, check in at Givenchy, Tom Ford, 3.1 Phillip Lim, and Balenciaga where you and hubby can browse some threads simultaneously. If the thought of your kids using high end retail as their playground fills you with fear then detour straight to the high street instead: Banana Republic, Gap and Zara all reside here. This is the place to shop for a special outfit for your little one too. We adore the beautifully curated collection at Kids 21, while the range fit for parties and occasions at Nicholas and Bears will transform your child into such a vision of perfection that they'll disguise even the cheekiest of manners.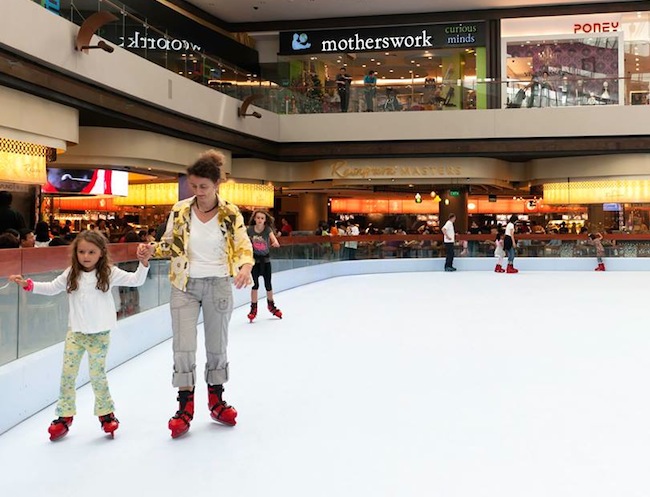 Get your skates on and cruise the canals
Kids can only withstand shopping for so long before craziness sets in so reward them with a spin at the Skating Rink. Get your skates on from $9 per child (including skates hire) and take a turn on a 600 square metre synthetic surface that is as close to real ice as you can get minus the freezing temperatures. If they loved the Water Taxi ride then they might like to take a Sampan through the canals of The Shoppes too. The whole family, including children 2 to 12 years old, can get on board for cruise on the waterways for $10 each, and if you time your voyage well, you'll coincide with a water show when a spectacular cascade occurs each hour, pouring water through a funnel from 2 stories above. Circle around it and throw in your pennies to make a wish.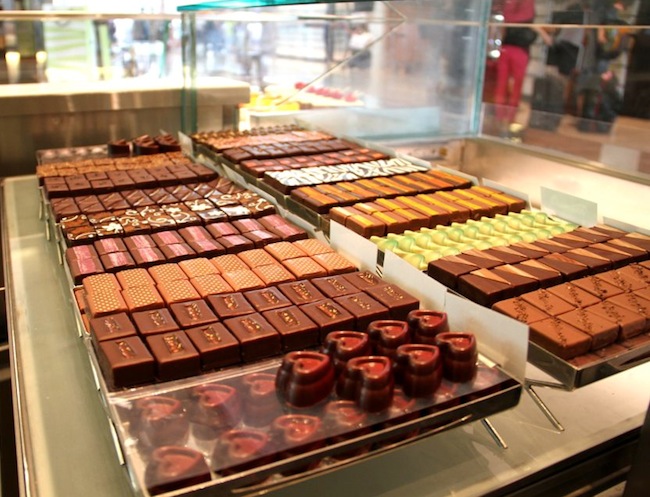 The Sweet Spot
Refuel with food from celebs to locals
When the hordes get hungry and it's time for a break you are in the right spot for one of the widest selections of food in Singapore. Celebrity restaurants, casual bistros, fine dining and local fare are all on the menu. If you've been skating, adjacent to the rink is the Rasapura Masters food court where you'll find good quality hawker style meals to suit all palates. At the other extreme, the steaks at Cut by Wolfgang Puck will have meat lovers salivating. For an experience somewhere in the middle, we like the Aussie-style South Coast bistro that fronts the promenade. While you enjoy oysters and a crisp glass of white by the bay, the kids can devour sliders and have fun with acres of boardwalk to run around on. For a sugar hit, hit The Sweet Spot or make the kids earn it by joining in one of the popular pastry workshops at db Bistro Moderne.

Pastry Workshop at db Bistro Moderne
Take a stroll and see some art
After lunch you can passagata along a gorgeously manicured stretch of Marina Bay and take in the city skyline while the kids use the palm trees, steps and ledges on the way as obstacles for made-up games and hide and seek. End your walk at the ArtScience Museum for a dose of first class, international culture. Currently showing is Dinosaurs Dawn to Extinction (until 28 July 2014) and Annie Leibovitz A Photographers Life (until 19 October 2014) are both impressive. We love that the exhibitions here always include interactive elements and the opportunity to get up close and personal to the subject. And we always come away with the kids wanting to know more – ticks boxes for fun and learning!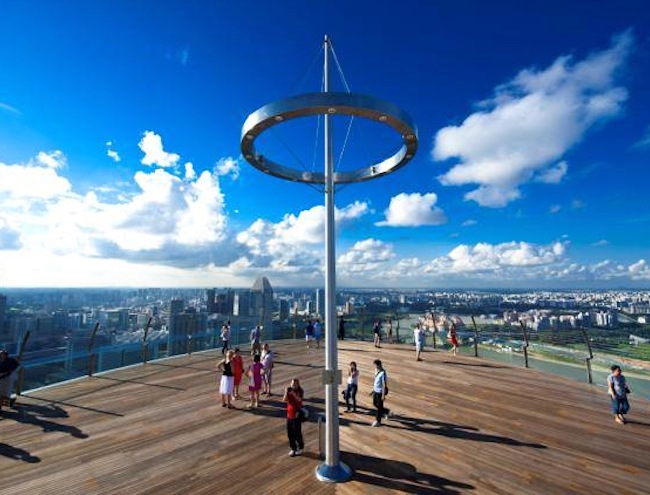 Observe things from great heights
Take your viewing back outside and up to the top floor of the Marina Bay Sands Hotel. On the 57th floor no less, you will step out of an elevator and into the clouds – almost. The Observation Deck at the SkyPark is a breathtaking look at Singapore from almost 360 degrees. On one side you can take in Marina Bay, the CBD including the majestic Fullerton Bay Hotel, the Merlion, out to the further reaches of the islands north, the East Coast, Kallang, Marina Barrage, and last but not least, the impressive Domes and Supertrees of Gardens By The Bay. From up here you will also look out to the open ocean, spot countless ships on the horizon, and be reminded of Singapore's important and historical role as a major international port for trade. A few steps away is the famous infinity pool where Eva Longoria recently Instagrammed while lounging bikini-clad. For a splash in this breathtaking oasis, see below…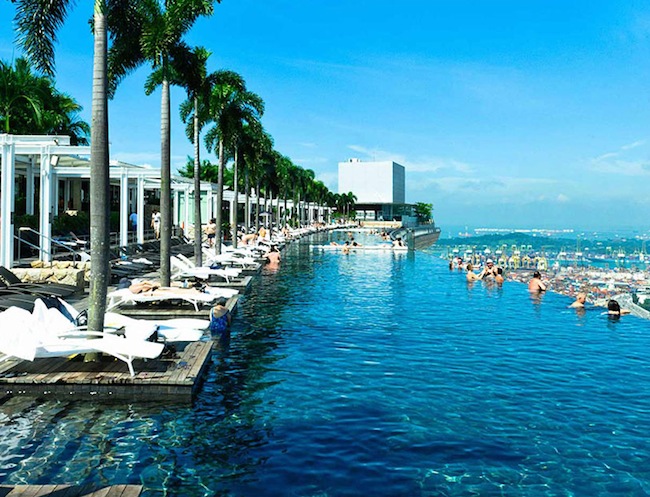 Stay and play
It's getting late and it's hard to leave. If you decide on the spur of the moment to check-in to the Marina Bay Sands Hotel, you wouldn't be the first to be so impulsive and you need not worry that you're not prepared – everything you could want for parents and kids is available at your fingertips. You can even wear your in-room robe straight up to that pool. Only hotel guests get access to this fun and luxurious environment and it's totally worth it! To extend the night, see your concierge to book tickets for the Marina Bay Sands Theatre. Currently showing is Cirque Le Noir (until 29 June 2014), followed by the timeless classic, The Sound Of Music (11-27 July 2014).
Don't forget to tell your host that you won't be home tonight!
Images courtesy of Marina Bay Sands