Photography: Grab
Because sometimes, it's nice to just sit back, relax, and let Grab handle mum life…
They weren't joking when they said parenting was one of the toughest jobs around. Some days, it can get absolutely crazy: waking up every few hours 'cos bub's teething, having to prepare breakfast before your toddler goes to school AND get ready for work at the same time – it's a lot! When you're #sodone with mum life and just want to relax after work, our top tip is to make use of the myriad apps out there to bring you the convenience you need. Our current fave? The Grab app with its range of deals and functions!
Not only can you order food with Grab, you can also get those last minute baby essentials you forgot to add to your shopping list. Heck, you can even book tickets for your weekend family adventures! And the best part? Grab always has great money-saving deals too! Sounds like your cup of tea? Here's the scoop to get the best bang for your buck:
Grab the perfect meals for your picky eaters
Parents, we all know that ordering food for picky bubs can get tricky. And it gets even trickier when you add another picky eater into the mix. Instead of ordering from one place at the expense of another bub's wrath, why not appease them all by ordering from multiple stores using GrabFood's mix and match function? This way, you can order different meals for your little ones AND save on delivery fees (you only need to pay one delivery fee for orders from different establishments, how cool is that?!).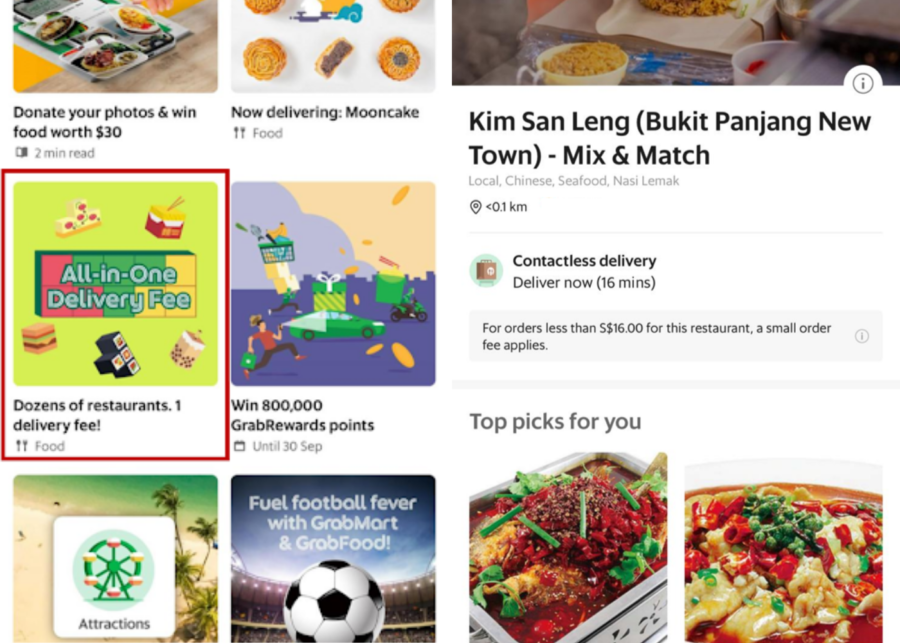 Having trouble finding this function with the many options on the app? Don't worry, we've got your back. Simply hit the 'Home' button of your Grab app and keep scrolling till you see a tab that says 'All-in-one delivery fee'!
We ordered lunch from Kim San Leng Bishan, Yu Kee House of Braised Duck, Ming Kee Chicken Rice, Million Fishball Noodles and Bishan 511 Char Siew Rice. And guess what, it all cost $25.40 (including a $2.70 delivery fee and $0.20 platform fee)!
Another feature to take advantage of is GrabFood's free delivery option – all you need to do is meet the minimum order of your restaurant of choice! We ordered dinner from Aroy Thai, delivered to our doorstep, sans the delivery fee.
Dinner was tom yum soup, belacan fried rice, Thai fried kway two noodles and prawn omelette with rice all for $25.30 (including a $0.20 platform fee). Delivery was free with a minimum $23 order – score!
Grab those last minute groceries and more with GrabMart
When you're running a household, working and you have a bunch of bubs running around, you're bound to forget a few things here and there. We totally get it! Juggling all that isn't easy. Lucky us, we can order all the little last minute things we need on GrabMart – whether it's diapers (we're always running out!), nappy rash cream or even a handy dandy bottle of hand sanitiser. Check out the emergency stash we were able to get for just $49 (including a $0.20 platform fee) from GrabMart. We made use of the limited time promo code "groceries" for free delivery!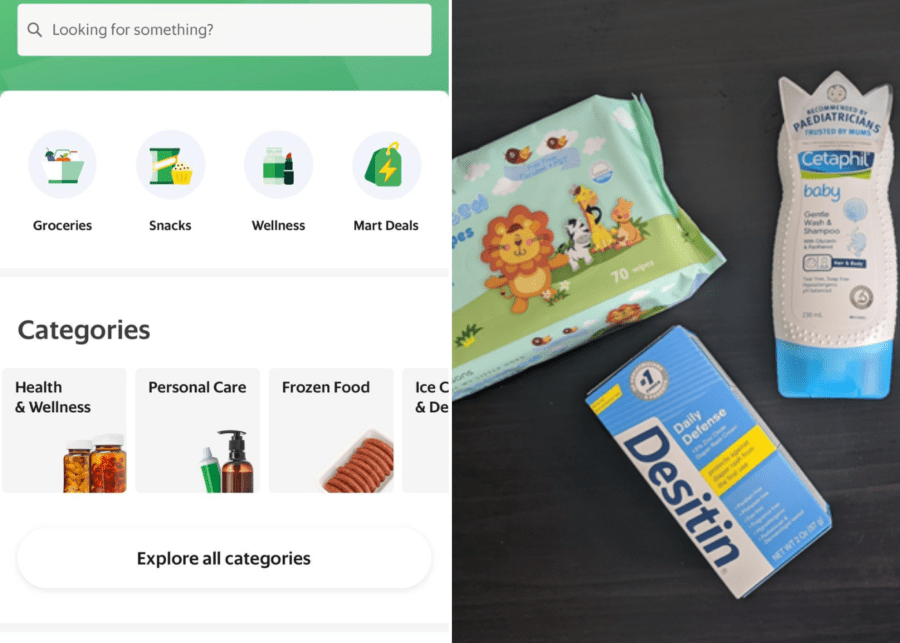 Groceries aren't the only things you can get on Grab: you can get great deals on cool board games, toys and meal kits for easy prep! And psst…check out GrabMart every Thursday at 12pm for the latest deals and special offers!
Grab weekend adventure deals with Klook
Looking for something to do with the fam over the weekend? Through Grab's special partnership with Klook, you can score awesome deals on family-friendly activities. Simply click on the "Attraction" tile on the Grab homepage, and you will find that there's plenty of fun to be had even though we aren't able to travel!
Whether it's an art jam session, trishaw guided tour or even rock climbing, there's something for every junior member of the family. For a special treat, there's also VIP tickets for Universal Studios Singapore and SEA Aquarium – goodbye long queues!
So what are you waiting for? Go check out the Grab app on your phone and see which awesome deal you and the whole family can take advantage of.
This post is in partnership with Grab.