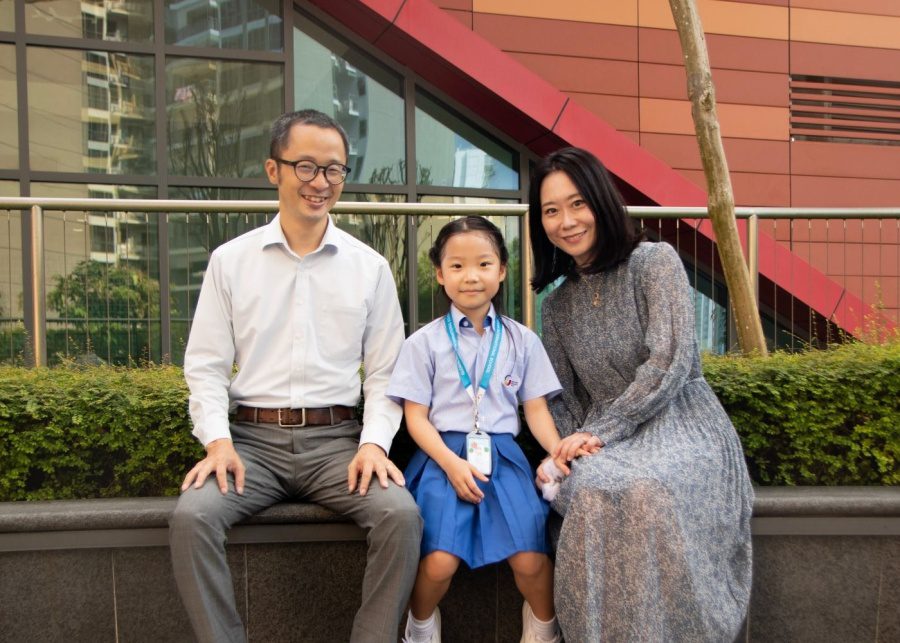 Within a year, the Watanabes saw that school life at the Global Indian International School made a huge positive impact on their daughter. Read on for their testimonial about the school.
Parents Hiroyuki and Yuki Watanabe remember their daughter, Fuuko, being really shy in the beginning of her school term at Global Indian International School (GIIS). Today, Fuuko is a confident student who actively participates in class – but this is just one of the positive developments that they've noticed in their daughter since attending GIIS. We speak to the Watanabes to find out what they love about GIIS…
Hi Hiroyuki and Yuki, can you tell us more about your daughter, Fuuko?
Fuuko is currently in Grade 2 at GIIS' IB Primary Years Programme (IB PYP). She joined the school at the beginning of the school year in April 2021.
What made you decide to enrol Fuuko at GIIS?
Fuuko enjoyed her kindergarten life in GIIS Tokyo where she studied for a year; she was in its preschool programme. As a new student at the Tokyo campus, Fuuko couldn't speak English at all, but the teachers at GIIS were warm and welcoming, and gave her a lot of additional support. We were sure that she would continue to enjoy school life in GIIS' Primary School, that's why we decided to put her in the GIIS Singapore campus. We also wanted her to learn how to think for herself and we believe that the IB PYP – being an inquiry-based programme – could help her to do that.
How has school life at GIIS been for your daughter so far?
Every teacher and staff in the primary school calls Fuuko by her name when they see her. They all know her well and this makes us feel welcome at GIIS. She has good teachers and we're extremely happy with the IB PYP coordinator at GIIS. Ms. Kanika, Fuuko's class teacher in Grade 1, is open-minded and respects our cultural background. This makes Fuuko feel very relaxed in school.
School life has made lots of positive impacts on her. In the beginning, Fuuko was very shy and nervous; but now she actively participates in her classes. She has also started to like reading English books. There is a regular reading session in her class, which was how she got into the habit of reading. Ms Kanika gave her an "I Love Books" medal that made her love reading more and more. Since reading is the basis of every subject, we really appreciate Ms. Kanika's efforts in encouraging Fuuko.
That's lovely! What does she like most about attending school?
Fuuko loves the Visual Arts classes and is always excited to do art and craft work. She likes her Mandarin classes too. She is learning Mandarin while singing, drawing, and playing.
She also enjoys the many celebrations at the school. Since attending GIIS, she has celebrated Chinese and Indian festivals, UN Day, Singapore National Day, and other special occasions at school. She has learnt about diverse cultures through the activities arranged for these festivals and days of celebration, and has lots of fun with her classmates.
And has she tried out the facilities? Any favourites?
GIIS has good facilities – Fuuko especially likes the library. There are separate libraries for Primary and Secondary students. The Primary library has a treehouse theme and is built as such, so it's very cosy for children to sit and read there. They also have a huge TV that the librarian or teacher sometimes uses to read books to students, which they enjoy very much.
Last but not least, any advice you have for parents who are trying to choose a school?
We definitely recommend that they visit the schools they are interested in to observe a class and student interactions in the class if they can. This helped us make a decision.
Thank you for your time, Hiroyuki and Yuki!
If you'd like to know more about the IB PYP at GIIS and how they make a positive impact on students, book a tour or speak to its friendly Admissions Team today!
This post is in partnership with Global Indian International School