We're seriously crushing over the beautiful, colourful range of locally designed Desti Saint Handbags right now. We want them ALL!
When it comes to carting your kids' stuff around for a simple trip to the playground, it's tempting to bring a suitcase on wheels, but we've found something wayyyy classier. If we told you we've discovered a locally designed range of bags that not only look fabulous, but are roomy enough to fit your baby wipes, toy trucks and kitchen sink into, would you be interested to know more? Yep: we thought so! Welcome to our Find of the Week: Desti Saint Handbags. We caught up with Desti herself to get all the dazzling deets on her beautiful range of bags, and to find out what's next in the world of covetable handbags…
Hi Desti! Tell us a little bit about yourself…
I was born in Hong Kong and have lived most of my life in Asia. I was originally in finance, but gave that up after having children, which is when I started creating handbags as a hobby. The rest, as they say, is history. I have been in Singapore for the past 10  years, I'm married and am also the proud owner of three kids and a cat.
What inspired you to create and design bags?
It all started when couldn't find the right coloured gold bag that I so desperately wanted! I gave up trawling the malls, and instead went out and found the leather I wanted, and then the manufacturer. This project sparked my passion to create bags that are not only beautiful, but are affordable too. When it comes to designing my bags now, I start with either the concept, the leather or the adornment, and then bring them to life in the form of a handbag.
What have your favourite/stand-out bags been over your years of designing? 
The Maddie Double Happiness was the first collection I created, and was named after my daughter who is happy (bar a few teenage years!) most of the time. Next came the Finlay bags, after my son. It was a strong and practical collection just like him.
Choosing names for my bags is fun, and even when it comes to the name of the colours I use, I try and attach meaning: buff for my son as he plays a lot of sport, and caramel because the kids are sweet (but not all of the time!).
The Poppy bag was named for my Dad, and has been my most important design. Sadly, I lost him several years back so for this range I used a lot of jade pieces, one of which had the symbol of the dragon on it to represent how strong he was. Another had a love knot featured on it, which was a dedication of how much I adored him.
Next on the planning list: Oliver! After my eldest son. I'm not sure where that one will go yet!
Tell us about your new line of Italian Reversible Shoppers…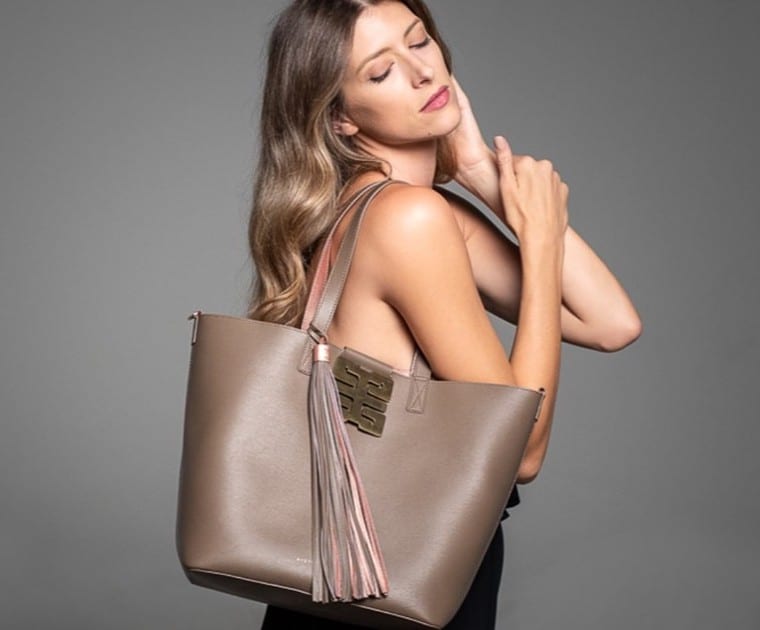 These are serious beauties! The leather is from one of the top tanneries in Italy who also supply some of the big named handbag design houses in Italy (hint one of them begins with G). I wanted to make a bag that was practical but beautiful, three bags in one, if you will. One side for the week, reverse for the weekend and then the clutch (which is inside the bag) to go out on the tiles with. We have also re-introduced the Happiness ingot because everyone needs a bit of that.
Where can we get our hands on a Desti Saint bag?
We will be launching our new website by the end of the month, so keep your eyes peeled. Our Italian leather reversible shoppers are launching on a pre-order platform Kickstarter on the 28th of May 2019, and we can't wait to share them with the world. They really are gorgeous. The Kickstarter pre-order campaign will run for a month, and there will be some big discounts and early bird specials to look out for. For anyone who is keen to know more, and keep up-to-date on when everything is launching, do feel free to email us on [email protected]. We will add you to our database and you'll get all the info you need in our newsletters.
Thanks, Desti. We're off to decide between a pewter or green leather tassel right about… now.
Photography: Desti Saint
Like this Find of the Week? Here's more you might find useful:
Why we're fan-girling over Lunch Lady
Turn your memories into silver jewellery
Dear Zoo comes to life thanks to Little Bean!
Birthday party glamping in your own home
Don't forget to subscribe to our weekly newsletter and follow us for fun moments on HoneyKids Instagram!