Need new books to inspire the kiddos? We've found six!
A lot of things spring to mind when someone mentions scientist: Albert Einstein, Isaac Newton, a lab coat, that one Coldplay song. But to put it simply, a scientist is someone who studies something by making predictions and testing them. Living in Singapore, science is a big part of our lives and new scientific discoveries are being made everyday in research institutions in Singapore. However, their achievements are often confined to institutions of higher learning and kids rarely, if ever, get to hear about them. That's why we're excited to learn about the Asian Scientist Junior book set featuring not one, but six whole books on Asian scientists kids can aspire to become.
The lowdown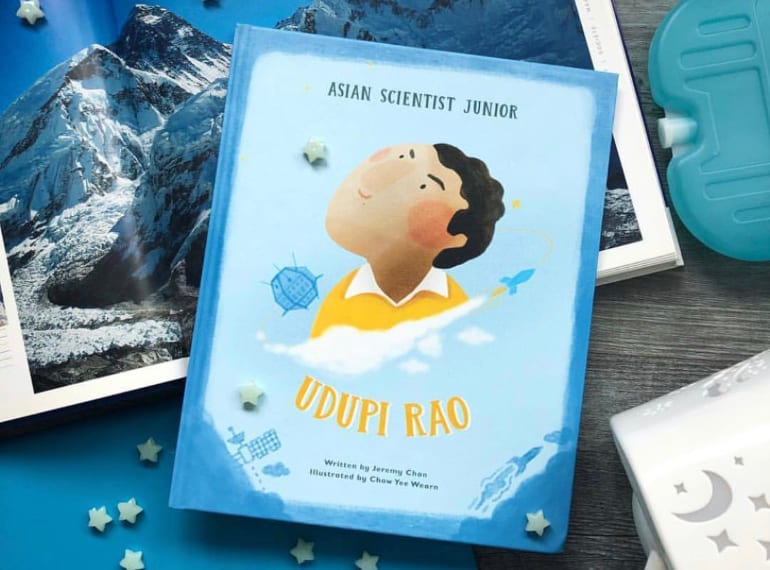 In order to inspire kids to pursue careers in STEM, science, technology, engineering and mathematics, Wildtype Books launched the Asian Scientist Junior book series in 23 September 2018 after a successful kickstarter campaign where it raised close to S$16,000 raised through 128 backers. Written by Rebecca Tan, Sim Shuzhen, Juliana Chan and Jeremy Chan, and illustrated by Chow Yee Wearn, these books depict the colourful lives of six different real-life Asian scientists from all over Asia.
Get inspired
Each book outlines the lives and struggles each scientist had to go through, many of whom took unconventional paths to realise their dreams. You'll be able to read their full history at the back of each book and many of them are still doing science to this day! The books feature Udupi Rao, the father of India's satellite program; Tu Youyou, who discovered a cure for malaria; Kosuke Morita, leader of the first Asian team to discover a new element; Chang Meemann, a paleontologist who discovers and studies fossils; Shinya Yamanaka, who discovered induced pluripotent stem cells; and our very own homegrown Professor Chou Loke Ming, a champion of coral conservation here in Singapore.
The Asian Scientist Junior book series highlights some of the lesser known but no less inspiring or groundbreaking achievements in science."We believe that science is for everyone, not least the 60 percent of the global population that lives in Asia," said Dr. Juliana Chan, CEO of Wildtype Media Group and author of two of the books. We definitely agree.
The Asian Scientist Junior book series is available to purchase online at www.asianscientistjunior.com and at book shops such as Kinokuniya, Books Ahoy, Littered with Books, Huggs-Epigram Coffee Bookshop and MPH.
Like this story? Here's more we think you'll enjoy:
Rainy day activities to occupy the kids
Cool science experiments to try with the kids
Make your child the hero of their own story
Snuggle up with these chapter books
Don't forget to subscribe to our weekly newsletter and follow us for fun moments on HoneyKids Instagram!