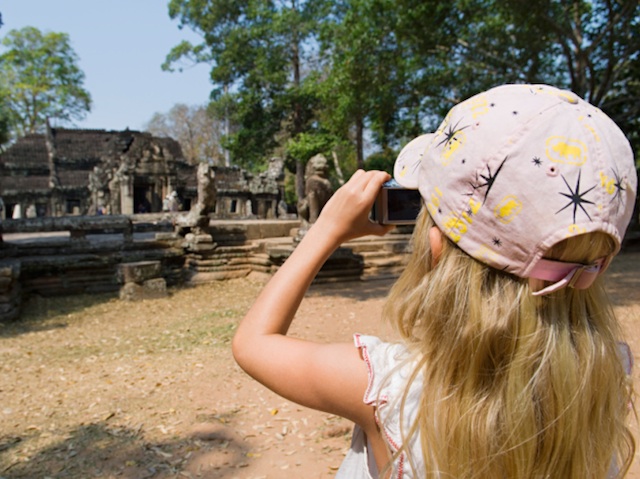 Editor's Picks: Short Haul Hols, Cambodia
There's nothing quite like a quick getaway from the hustle and bustle of Singers to get your groove back. Our HoneyKids Editor shows you how to jet off to Siem Reap with kids in tow for an extended weekend: where to bed down, adore to explore, and eat neat on a 3-day jaunt around the jewel of Cambodia, family friendly Siem Reap with kids.
HOW TO GET THERE
Opt for the 2:35pm Silk Air direct flight from Singapore to Siem Reap, giving you enough time to hit up Changi's indoor playgrounds and some much deserved duty free shopping for mum before boarding the flight! Arrival at Siem Reap is simple; visas on arrival are processed painlessly if you've already prepared the correct forms, including photos, and have $20 USD in hand. Note: Although children under 12 require a visa, save your Greenbacks, because theirs is FREE.
WHERE TO STAY

Victoria Angkor Resort & Spa
Touted as having one of the "Top 10 Kids Clubs in Asia", look no further than Victoria Angkor Resort & Spa for your family stay in Siem Reap. Not only does the Victoria Angkor sport a dedicated playroom packed with toys, babysitters, activities and goodies to keep the little ones out of your hair, the staff at Victoria Angkor is amazing with children. Like, really AMAZING! Aside from the obvious beauty, history, service standards, excellent location, nightly cultural shows, and food quality, we enjoyed waking up each morning to take a visit to the resident crocodiles downstairs. We loved our stay at the Victoria Angkor so much that it was hard to tear away from the hotel for our scheduled sightseeing activities.
Victoria Angkor Resort & Spa, Sivatha Road, Krong Siem Reap, Cambodia, +855 63 760 428.
WHAT TO DO
Anchor what?: Angkor Wat
You simply can't come to Siem Reap without a visit to Angkor Wat. Forget about the pre-dawn trek to watch the sun rise over the ancient spires – ain't no momma got time for that! Be kind to your family and opt for a two-hour morning tour of Angkor Wat instead, starting at 9-ish. Our tip? Enter through the Southern Entrance to avoid the hassle of too many tourists and peddlers, and have your driver meet you outside the main entrance two hours later. You'll thank us later for sparing the little ones from the whole-day tour (and resulting whinge-fest)!
Walk like an Elephant: Angkor Thom
After a rest (and swim) back at the hotel pool, come later in the afternoon to experience Angkor Thom and Bayon. Elephants are the preferred mode of travel, say the kiddies. Start at the south gate of Angkor Thom city, where you and the fam can board your very own elephant to transport you on a 30-minute regal ride to Bayon. Elephant rides approximately $15 USD per person; tips for the mahout are encouraged-check the "tips" pocket on the back of his shirt.
Face-off: Bayon
The smaller and older of the temples, Bayon dates back to the 1100s. Play Tomb Raider with the littlies as they discover faces staring back at them from too many towers to count. Although built with smaller stones than Angkor Wat, families will find Bayon easy to navigate, even for the littlest of feet.
Boat on a Moat: Angkor Thom Sunset Cruise
Opt for a sunset cruise around the moat of Angkor Thom. Families of up to five members can experience a land before time on an hour long gondola ride. Peacefully enjoy the quietude of Angkor Thom's waters, where (for once) the rugrats seem to get along while mum and dad enjoy a welcome respite gin and tonic. Contact Lightfoot Travel for booking.
Equine-amity: Horseback riding
Want to gallop away? Get a real feel for the Khmer country lifestyle while giving the family an experience of a lifetime. The Happy Ranch Horse Farm offers one- to four-hour countryside trail rides through rice paddy fields, villages, and temple ruins. Book early to avoid disappointment.
The Happy Ranch Horse Farm, Group 4, Svay Dangkum, Siem Reap Angkor, Kingdom of Cambodia, [email protected], +855 12 920 002/ 016 920 002 / 0977 920 002.
Responsible Chefs: Village Visit and Khmer Cooking Class
Aspiring little chefs take note: this is where you want to learn how to cook. The staff of luxury boutique village villas, Sojourn, takes you on a visit to Treak Village, where cookies young and old experience village life like a local, giving back to the community. Returning to a unique bamboo pavilion, the hotel chef gets you cooking with a hands-on, three course Khmer cooking lesson. Enjoy the fruits of your labor while dining above the lotus ponds in your private pavilion on stilts.
Treak Village Enrichment Program and Cooking Classes, Sojourn Siem Reap, Treak Village Road, Treak Village Siem Reap, Kingdom of Cambodia, [email protected], +855 12 923 437.
Glamour girls: Traditional Khmer Photo Shoot
Think: awkward family photos, Khmer-style. Known as a traditional wedding photoshoot, we stumbled upon our newest favorite tradition as a matter of accident, and now we're hooked. This kitschy, 90 minute photo session enables vogue aspirants the chance to pick out their glam-wear of choice, get dolled up to the max, and to pose for photographers. Note: all final photos are ridiculously Photoshopped, so those tatts and wrinkles disappear, literally, in the print! Contact Lightfoot Travel for booking.
WHERE TO PAMPER

If you're anything like us, you wouldn't get by without a pampering sesh (or two, or three) while on holiday. Lucky us, there are more than a few offerings. Our picks? We trended toward hygienic, modern, and kid-friendly Khmer wellness. Body and Soul offers a 75-minute Apsara Princess package for young royalty aged 2 to 12, inclusive of foot salt bath, facial, mani/ pedi, and a special surprise, and you can even opt for a reiki healing session. Lemongrass Garden's Kiddie Khmer massage for young'uns aged 2 to 9 is 45 minutes of massage bliss for minis, followed by a 15 minute naptime, so that mum can enjoy her own peace and relaxation. Both Lemongrass Garden and Body and Soul have online booking available, so you can stay ahead of the game.
Body and Soul, Pub Street Alley, Siem Reap, +855 92 22 66 94.
Lemongrass Garden, two central locations, +855 077 369 025.
WHERE TO GRUB
Blue Pumpkin
For simple snacks, teas, lunch, and the best ice cream to be found in Siem Reap, get yourself to a Blue Pumpkin, stat! They use locally sourced products as well as imports overseas specialties to keep it real – real good!
The Blue Pumpkin, locations throughout Siem Reap and Cambodia.
Green Star Restaurant
It may not have the prettiest face, but here's the chance for you to eat among locals for a nice price! This not for profit traditional Khmer-style restaurant's proceeds go toward the Green Gecko outreach program for Cambodian children and their families.
Green Star Restaurant, South end of Wot Bo Road (T-intersection), Wat Dam Nak, Siem Reap, Kingdom of Cambodia, +855 089 411 830.
Pub Street and along alleys
Pub Street's myriad backpackers vibe mixed with casual dining and entertainment are sensory overload for tourists. While we normally would avoid this kind of madness when out with the fam, the energy and eye candy of this bustling area is a great place to feed the family!
The Red Piano
If you have suspicious eaters in your brood, Red Piano is a good bet, featuring splendid Khmer meals as well as Western staples like pizza and pasta. Keep the kids up late for Red Piano's nightly 80's and 90's Party upstairs. It'll get you feeling like you're back at your own wedding reception.
The Red Piano, Old Market, 341 Street 8, Siem Reap, [email protected], +855 (0)63 964 750.
Old Market/Phsar Chas food carts
For the more adventurous bellies in your lot, try the street food varieties (fried tarantulas, anyone?) along the Old Market (Phsar Chas) area.
WHERE TO SHOP
Gardens of Desire
A boutique gallery of silver and 18K gold jewelry can be found at Garden of Desire. Using creative designs and precious gems, finds at Gardens of Desire make for good gifts for those left behind (or for your own graceful fingers)! Take note jewelry lovers – they accept all major credit cards, so you can splurge!
Gardens of Desire, The Passage – Pub Street Alley Old Market Area, Siem Reap, Kingdom of Cambodia.
Kokoon Boutique
Kokoon is where you go for beautiful Cambodian souvenirs. A Senteurs d'Angkor boutique, Kokoon is stocked with lovely items like scented candles, silver spoons, special Cambodian spices, soaps and lip balm, and simple jewelry.
Located next to The Blue Pumpkin on Hospital Street, Old Market area, Siem Reap.
Samatoa
Home to fine women's Khmer silk clothing, you can also get your hands on good quality Khmer style kids clothes at Samatoa, as well as washable nappies (a rarity in Cambodia!)
Samatoa online.
Siem Reap Night Market
Obviously, for an explosion of the senses, shop for your trinkets of whimsy at Siem Reap's Night Market! Don't forget to haggle, as most of the vendors usually sell the same items stall by stall.
Looking to jet away to Siem Reap with your own family? Take it easy and let the experts at HoneyKids' travel partner, Lightfoot Travel, arrange your entire travel package, from air to accommodation, to fuss-free activities.
Thank you to Victoria Angkor Resort & Spa Siem Reap for the incredible stay! We look forward to our next visit!
Images: Victoria Angkor Resort & Spa, Lemongrass Garden, The Blue Pumpkin, Green Star Restaurant, and our Editor's own trusty Samsung Note 3.