Photo
If you're looking for a quick adventure to Myanmar with kids, you're going to need this itinerary of our tried and tested awesome mini-adventure...
While we all love a tried-and-tested quick escape with the kids, and the joy of an all-singing, all-dancing kids' club is real, it's also awesome to get off the beaten track and try out new amazing destinations around Asia. Our hot tip? If Myanmar isn't already included in your year of holiday plans, get it on your radar quick smart. We enjoyed an incredible five-day family adventure with three kids in the Land of Golden Pagodas where our gang rattled up mountains on the back of a truck, bashed a gazillion bells and hung out with monks. Yep, we soaked up the friendly vibes of Yangon, Bago and Golden Rock on a holiday we packed with fabulous memories.
How to get there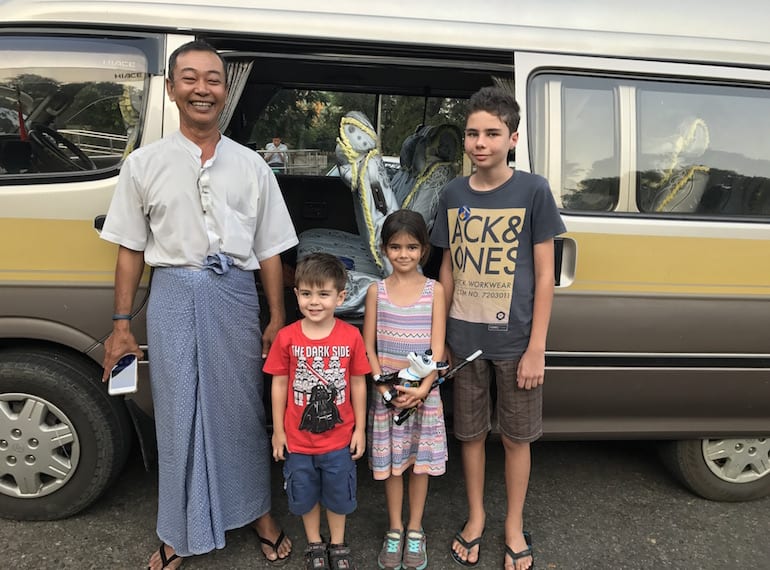 Hop on a direct flight and land in Yangon in just three quick hours. Singapore Airlines and JetStar are among the kid-friendly airlines that cover the route. If you are planning to head out of Yangon straight from the airport, line yourselves up a driver to pick you up and take you on your merry way. We used Uncle Amo – Myanmar's nicest driver.
Short on time? No problem!

Sadly we didn't have time to do the big star players of Myanmar – Inlay Lake, Bagan and Mandalay will have to wait for a longer trip. Instead we turned our minds to where we could feasibly go for a few nights away from the capital to get a taste of Myanmar. Uncle Amo gave us lots of short itinerary ideas for us to take our pick from before we arrived, all within a few hours drive of the capital (so as kids wouldn't spontaneously combust with boredom on long car journeys). Hurrah for Uncle Amo and his seriously funky van (silver and yellow handmade seat covers, people!).
Bago and Kyaiktiyo adventures
Day one involved a 90km drive to Bago (not to be confused with Bagan when making hotel bookings!). En route we stopped off at The Taukkyan War Cemetery, a resting place for Allied soldiers from the British Commonwealth who lost their lives in Myanmar during the Second World War. A humbling experience in a beautiful setting for us all, and the chance for a quick history lesson for the kiddos. 
Gold, gold and more gold

You'll know you've arrived in Bago: the gold is a giveaway! Bago is full of pagodas, including the ginormous Shwemawdaw Pagoda, which holds the record for the tallest (and probably shiniest!) pagoda in Myanmar. It's an impressive 114-metres in height and has many, many bells. Our intrepid mini-explorers loved their quick bell-bashing tutorial from the friendly monks on site and then had a blast trying out their new-found skills and creating some serious noise.
You'll also find the dazzling Kanbawzathadi Golden Palace, built back in 1551 for King Bayinnaung in Bago. This dude clearly had a thing for gold. The place is floor to ceiling covered in the stuff. Not ideal if you happen to have a daughter who now has grand dreams of a bedroom decked out exactly the same, on a smaller scale. Yay.
Kyaik Pun Pagoda was next up where we took a million photos of the impressive four Buddha statues while the kids busied themselves with lots of super cute puppies. 
The Buddha-spotting didn't finish there either. Next up was Shwethalyaung Pagoda, our final Bago stop-off for the day. This giant 55-metre reclining Buddha is, quite simply, jaw-dropping. All the more so when you discover it was stolen in 1757 by what can only have been some seriously strong thieves – who then LOST the thing! How such a gargantuan statue was even made back in 994AD is mind boggling enough, but to lose it? That's plain baffling. Thankfully it was rediscovered in 1880, hiding out in the jungle, and returned to its rightful place.
Back on the van (with suitably worn out kids) Uncle Amo safely navigated the 100km journey to our mountain hotel, Thuwunna Bumi, in Kyaiktiyo. He also thoughtfully broke up the journey with a road-side pomelo purchasing expedition and a snack break (we found chicken rice in the middle of nowhere). The hotel was, thankfully, perfect (in a rustic way). It's run by the friendliest staff and boasts a view that you could never tire from. Don't expect wifi or luxe trappings (and definitely no kids' clubs!), but this charming little find had a great-sized family room, a small pool (perfect for cooling off the kids after all that exploring), tons of adorable puppies, decent food and very cold beer. Heaven.
Trucks and rocks
Day two was an early start to the mountain base camp village of Kinpun, where Uncle Amo delivered us to the truck stop for the rest of our journey to Golden Rock. Not for the fainthearted, we were loaded onto the back of a converted pick-up with tens of other people (all local – we were the only tourists) and then taken on a 40-minute rollercoaster ride up the mountain in a death-defying journey that was certainly, erm, unique. The kids loved it. Kinda. In between the moments of sheer terror. Was it worth it? Absolutely. Golden Rock was one of those places that no travel guide can prepare you for. A spectacular place with breathtaking views that was like no other experience we had had before. It certainly isn't every day you find a giant golden rock balancing 3,000ft up on the side of a mountain held in place by one of Buddha's hairs! 
Glittering Yangon

Another early rise 'n' shine on day three for the 170km trip back to Yangon. Our advice? Bring lots of snacks, charge the iPad with fun apps and prepare for a lot of "Would you rather?" games. (For the record the kids would rather have spaghetti for hair than noodles for eyelashes). We were all pretty happy to reach our city apartment hotel, Clover Suites, where we spent some time chillin' around the pool to recharge for more adventure. An exploration of the local area found us in a great play area, Kandawgyi Park, where the kids hung out with local new friends, and loved meeting the cows and sheep at the small petting farm. This is also the place where you will find a super scenic looking boardwalk… A word of warning: the wooden walkway is seriously tired and in desperate need of repair – you definitely wouldn't get a stroller over it, and toddlers wouldn't fair well either. It's full of holes (pretty big ones) and even our fairly adventurous kids found it daunting (probably less so than mum did, mind).
Thankfully we survived (woohoo) and made it to a gem of a place at the other end for lunch, Monsoon restaurant. If you try one restaurant in Yangon, make it this one – there are local eats for the grown ups and lots of chicken nugget type choices for the kiddos. A big thumbs up from the whole fam. Do also pop next door to Pomelo for Myanmar: a not-for-profit fair trade creative outlet for local artisans to showcase their goods. We bought some cool paper mache dogs for the kids (in lieu of all the real puppies they wanted to bring home), and some other cool souvenirs.
Our final full day in Yangon was spent on a day trip with good ol' Uncle Amo. He took us to every pagoda, shrine and temple the city has to offer, and we also managed to pick up some great bargains at Bogyoke Market. Our final stop of this unforgettable holiday was the unmissable Shwedagon Pagoda – Yangon's most famous, glittering sight. There are escalators that take you to the top! We arrived at around 5pm, which is the perfect time to hang out for sunset so as to catch the pagoda in it's daytime, twilight and nighttime glory. It didn't disappoint, and the kids had another opportunity to make friends with some local kids: trainee monks! 
In fact, nothing in Myanmar disappointed. It really was a remarkable short trip that the kiddos loved as much as the adults did. From genuinely friendly people to a fascinating history, unexpectedly great food to stunning scenery, Myanmar has it all.
Top image: Shwedagon Pagoda, photography: alh via Flickr
Like this story? Here's more we think you'll enjoy:
Family travel to paradise: Fiji with kids
Glamping around Asia with the family in tow
Your guide to skiing around the world with kids
Ethical animal encounters and holidays around Asia
Don't forget to subscribe to our weekly newsletter and follow us for sneak peeks and fun moments on HoneyKids Instagram!