Image courtesy of National Gallery Singapore.
Children's Season: the ultimate school holiday boredom buster!
While there are still plenty of summer camps and tons of activities happening this June all the way to August, it's always good to have extra boredom busters in the back pocket. Hello, Children's Season 2018! We've rounded up all the cool things happening from interactive craft to heritage trails, bouncy castles to sledding with teddies! 
National Gallery Singapore
The National Gallery Singapore (pictured top) has just unveiled its offering for Children's Season with Gallery Children's Festival: Small Big Dreamers 2018. We're talking a bright yellow hallway filled with noise-makers, one epic ribbon maze for all ages (yes even an adult-sized one for you), turning pool noodles and velcro bits into works of art and even a place to sit and consider your hopes and fears. Time to follow the footsteps of The Sun Boy on his journey to find the Yellow Man!
When: 9 June to 9 September
Where: National Gallery
www.nationalgallery.sg
Science Centre
Kids as young as 18 months old can get to learn more about their bodies over at KidsStop at the new healthy living zones. Other awesome things happening at the Science Centre include an exhibit all about fears, a space odyssey in the Omni-Theatre and sledding with TY stuffies at Snow City. Top that off with a gallery hunt, science shows and workshops, and small science fans are guaranteed the best Children's Season ever.
When: until 24 June
Where: Science Centre Singapore, 15 Science Centre Road, Singapore 609081
www.science.edu.sg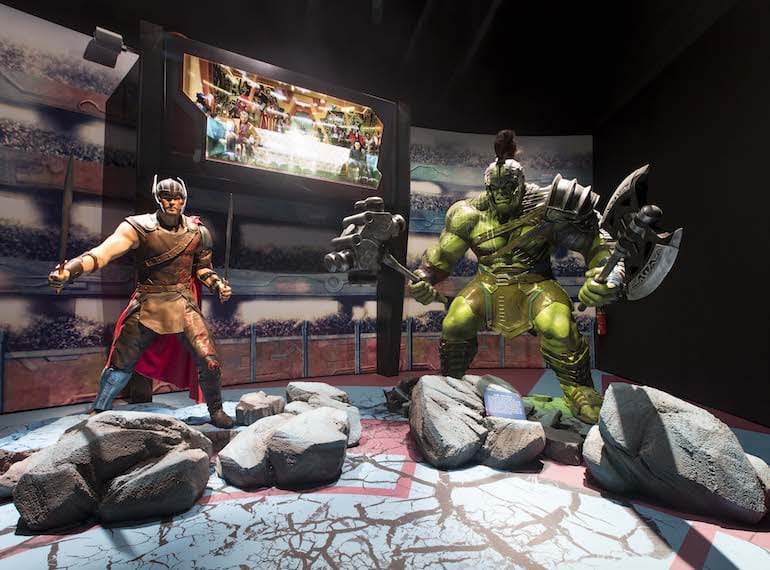 ArtScience Museum
ArtScience Museum has a super plan for this Children's Season. Discover your superpower through workshops and join Superhero Me with some inclusive and fun-packed arts and craft. Next up? Find out the inspirations behind some of your favourite Marvel superheroes or create your very own superheroes at a cartoon and comic drawing workshop. Our favourite part? Posing next to Stan Lee himself in the ultimate Marvel wefie at the end – we're part of the Marvel universe now. Find out how superheroes are taking over ArtScience Museum by diving into our full family guide to the adventures.
When: until 24 June, Marvel Studios: Ten Years of Heroes is on until 30 September
Where: ArtScience Museum, 6 Bayfront Ave, Singapore 018974
www.marinabaysands.com
Singapore Art Museum
Art meets tech in Imaginarium: Into the Space of Time where you'll find some seriously cool interactive art exhibits. Watch flowers bloom and turn into mythical creatures among the works of 10 contemporary artists while you check out their interpretation of time, memories and the future. We especially loved donning crochet helmets while exploring a world be-yarn the norm before shouting into one of the 19 megaphones scattered around the grounds.
When: until 26 August
Where: Singapore Art Museum, 71 Bras Basah Road and SAM at 8Q, 8 Queen Street, Singapore 188535
www.singaporeartmuseum.sg
The Artground
Crawl, slide and, most importantly, roll around The Artground in Rolling @ TAG, designed by Daiya Aida. This art installation is an exciting playground with curves, slopes and tunnels and limitless opportunities to play and explore.
When: until 19 August
Where: The Artground, 90 Goodman Road, Block J, #01-40, Goodman Arts Centre, Singapore 439053
theartground.com.sg
Playeum
You could say every day is Children's Season at Playeum with their fantastic space and changing exhibitions. The current exhibit has us exploring a wander-ful play-ce including a city made of scraps and a man made jungle where we could kick up as much dirt as we liked. Read more about our escapades in our guide to Playeum's new exhibit before heading over to turn old cassette tapes into robot hair.
When: until 28 April 2019, open Tuesday-Sunday, 10am-6pm
Where: Playeum Children's Centre for Creativity, 47 Malan Road, Singapore 109444
www.playeum.com
Mint Museum of Toys
Experience the toys of yesteryear through a curated tour, make your own basic toys out of paper, clay and other everyday materials. Explore the golden age of superheroes, discover how toys were influenced by different cultures, and then design your own robot based on the popular Gigantor robot comic series.
When: until 24 June
Where: Mint Museum of Toys, 26 Seah St, Singapore 188382
emint.com
Peranakan Museum
Take a trip through the history of photography as used in Peranakan culture and then dress up for your very own family shoot.
When: 23 and 24 June 2018
Where: Peranakan Museum, 39 Armenian St, Singapore 179941
www.peranakanmuseum.org.sg.
Singapore Philatelic Museum
We're taking to the stars and uncovering the story behind The Little Prince over at the Singapore Philatelic Museum. Learn about Antoine de Saint-Exupéry and how his travels led to the creation of such a charming and heartfelt tale. Don't forget to pose with your favourite characters recreated through sculptures by French artist Arnaud Nazare-Aga, and enjoy art workshops for all ages.
When: until 20 June
Where: Singapore Philatelic Museum, 23-B Coleman Street, Singapore 179807
www.spm.org.sg
National Museum
On top of an epic playground exhibit we're seriously loving the art installation that doubles as a playpen over at the National Museum. There's also a colourful bouncy castle which is sure to be a kid-please and plenty of storytelling, art workshops and film screenings.
When: until 24 June
Where: National Museum, 93 Stamford Road, Singapore 178897
nationalmuseum.sg
Sun Yat Sen Nanyang Memorial Hall
It's crafts and story-telling all the way happening at Sun Yat Sen Nanyang Memorial Hall this June. Paint your own Chinese fan, go on a heritage hunt and uncover the secrets of Chinese folklore and culture.
When: until 24 June
Where: Sun Yat Sen Nanyang Memorial Hall, 12 Tai Gin Road, Singapore 327874
sysnmh.org.sg
Fort Siloso
Pick up a deck of ChitChatCards at the Surrender Chambers over at Fort Siloso between 10am – 3.30pm and you'll find plenty of talking points for your spin around Singapore's impregnable fortress. Pass the deck to somebody else when you're ready to spread the history.
When: until 24 June, 10am – 3.30pm
Where: Fort Siloso, Surrender Chambers, Siloso Rd, Singapore 099981
www.sentosa.com.sg
Police Heritage Centre
Want to be part of Singapore Police force for a day? Kids aged three to 12 years can dress like the men and women in blue and be taken through a guided tour to learn more about what it takes to keep Singapore safe.
When: until 27 June, every Wednesday to Saturday
Where: Police Heritage Centre, 28 Irrawaddy Rd, Singapore 329560
www.police.gov.sg
MOE Heritage Centre
Kids, you're invited to kick it old school and explore the history of education and schools the way your parents experienced it in Singapore. On 22 June there will be special creative activities that will teach kids how to grow their own food, design their own notebooks and badges and balloon sculpting to round the fun off nicely.
When: until 22 June
Where: MOE Heritage Centre, 402 Commonwealth Dr, Singapore 149599
www.academyofsingaporeteachers.moe.gov.sg
Singapore Maritime Gallery
Learn all about Singapore's naval and martime history through immersive exhibits and awesome finger puppet storytelling sessions. If you're lucky, you might even get to take a set home!
When: until 22 June
Where: Singapore Maritime Gallery, 31 Marina Coastal Drive, Marina South Pier, Level 2, Singapore 018988
www.maritimegallery.sg
URA
Ever wanted to discover the neighbourhoods of Singapore in more depth? Embark on a heritage trail and find out about the exciting history and secrets of this land we call home!
When: until 29 June
Where: various locations
www.eventbrite.sg
Singapore Discovery Centre
The SDC is introducing the power of globalisation through their interactive exhibits and drop-in craft sessions. Prepare for some Funbulous Times, and take the opportunity to stick your hands in a whole lot of rice for sensory play opps.
When: until 24 June
Where: Singapore Discovery Centre, 510 Upper Jurong Road
www.sdc.com.sg
STPI
STPI Creative Workshop & Gallery isn't just showcasing some of Singapore's best artistic works, kids get to take part in creative art workshops too and play around with paper pulp and mixed media too.
When: 16, 20 and 23 June
Where: STPI, 41 Robertson Quay, Singapore 238236
www.stpi.com.sg
Singapore Zoo
The Singapore Zoo is not officially part of Children's Season but we're including them because they are celebrating their own 45th birthday bash with plenty of fun for the family. Party with the animals with a scavenger hunt, earn exclusive animal badges and enjoy a big bubble performance!
When: until 27 June
Where: Singapore Zoo, 80 Mandai Lake Rd, Singapore 729826
www.wrs.com.sg
Indian Heritage Centre
Learn all about Indian culture through hands-on craft activities including paper puppets and block printing, and then set off on an exploration of Little India as part of the heritage hunt. Don't miss the open house on 23 June!
When: until 22 June. Open house on 23 June.
Where: Indian Heritage Centre, 5 Campbell Lane, Singapore 209924
www.indianheritage.org.sg
ACM
Explore Asian civilisations through activities and performances by international artists at the Asian Civilisation Museum this Children's Season. Go on a story telling tour through the ACM's huge collection guided by the Story Whisperers, and then, if you're keen to chart out your own journey, hop into a workshop to create and decorate a travel journal for your own trip through Angkor Wat.
When: until 1 July
Where: Asian Civilisations Museum, 1 Empress Place, Singapore 179555
acm.org.sg
Top image: Hands On by We Make Carpets, courtesy of National Gallery Singapore.
Like this story? Here's more we think you'll enjoy:
10 farm visits to go on with kids
Short island getaways for easy one-stop island destinations
Go on a temple trail with the fam
Guide to Pulau Ubin
Don't forget to subscribe to our weekly newsletter for the latest updates on all things family-friendly and follow us for sneak peeks and fun moments on HoneyKids Instagram!