Tell us about the children you have attending the school?
My two boys Cameron (7) and Ruairidh (4) have both been attending Dover Court International School since they were 3 years old and joined the nursery class.
What were the most important factors for you in selecting a school?
Reputation was most important. Since they would be joining a "big school" at the tender age of three, I required a school that was not too large and located nearby as I walked to school as a child and I wanted that for my children too. Dover Court ticked all the boxes and it came highly recommended from friends. I immediately liked the feeling I got from the school when I visited. Ms Curtis, the Head of Infants took time to engage with our children and find out a little about them. We were not given the hard sell from a financial point of view, it was more about how our children would grow and flourish in the school.
How has the school lived up to your expectations?
I am extremely happy with the school, and it has been a truly fabulous start to school life for my children. Their teachers have been amazing and both have benefitted greatly. The wide curriculum and International exposure has given them the very best start to their education.
What do your children like most about attending this school?
Both my boys love to play outside and are very active. When I asked them this question, my youngest said he enjoys playing in the fabulous new playground with his friends. My eldest really loves going on school trips and learning exciting things about Singapore. He recently attended a trip to the Singapore River where he learned more about Sir Stamford Raffles and had time to sketch the sculptures on the riverside.
What sort of curriculum does this school offer?
They follow the English National curriculum.
Do your children participate in any extra-curricular activities at the school?
My eldest has been doing ECAs since Year 2 and always looks forward to these activities. He has participated in football, Lego, recorder, yoga and brain teasers club.
What advice would you give other parents trying to choose a school?
Visit the school and ask if there are parent testimonials you can read. Take your children with you and see how they feel watching their potential classmates. I also think location is important as you have to be prepared for the impact of time-consuming travel on your children. Dover Court starts at 8:30 am and finishes at 3pm and if my children are involved in ECAs, they finish at 4:10.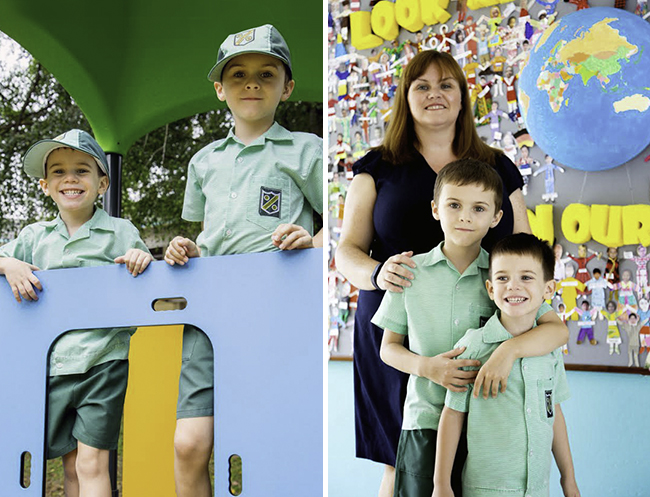 What do you value most about the school?
I love the all-inclusive approach. Everyone is encouraged to reach their own personal potential and every child is treated individually. The teachers are simply fantastic and very supportive of the children. It's most important to me that my children enjoy their learning environment and are safe and happy.
What has your experience of the school bus service been like (if used)?
We recently moved and the walk to school became quite difficult in the heat so we have just started using the school bus, and its been good so far.
Are you satisfied with the level of communication you receive from the school and how they engage parents?
Yes very satisfied. We are receiving letters more and more by email and the new school website is extremely informative and you can download the latest newsletters too.
How much homework is expected of your child/children?
My son in Reception is encouraged to read at home and we receive 2 books a week. Each week we get an email detailing what he has learned during the week. This is superb as it allows me the opportunity to reinforce new sounds and letters learned but their is no formal homework.. For my son in Year 3, we do 20 minutes reading every night and there is about 20-30 minutes of either spelling/sentences/literacy/iMaths/Science each night too. We are encouraged to only do a maximum of 30 minutes and if it takes longer, we can review with the teacher.