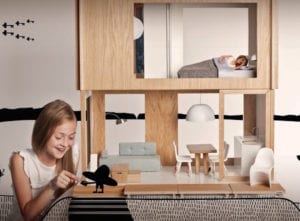 Dolls House by Miniio
If your kiddos has 'dollhouse' on their Xmas list this year, here's where Santa can get his hands on the coolest ones about...
Give your child a place for their dolls to call home (or geckos, it's Singapore, we don't discriminate) with one of these adorable miniature houses, available from quality Singapore toy stores, or online. There's a broad selection of designs to suit every teeny-tiny family and one to suit your own home decor! Dollhouses are great conduits for imaginative play. Acting out scenarios that help them process their surrounding world, children will happily play with a dollhouse on their own, or socially with friends and family.
Dollhouses are suitable for both boys and girls and can house anything from dolls, teddies, cars, pet-rocks and, gulp, even snails! Here are five fab finds that will have everyone playing happy families in no time …
SIRCH Studio Modern Minimalism dollhouse
Is Barbie's miniature home cramping your own stylish designer decor? It's time to dress her in a kaftan and move her into a Sirch mid-century minimalist dollhouse. The Sirch Villa Sibis is a stylish studio made from a lightweight plywood frame, featuring acrylic glass and wood lattice sliding panels, opening it up on both sides for easy play options. A quality miniature home made in Germany and available to us here in Singapore.
Buy: Sirch Studio at Playhao
The Lego Duplo sturdy and changeable dollhouse
What's not to love about Lego (except having it surgically removed from the underside of your foot)?  This cool dollhouse can be added to and remodelled by the young architect in your life, so it will always be fun and new. Available from large toy retailers or many online outlets. Check out our favourite Lego storage hacks while you're at it: you'll need it!
Buy: Duplo on Amazon
Lundby Living, The retro Stockholm House
Meanwhile, this extravagant retro dollhouse is guaranteed to keep your entire Scandinavian doll family happy! Designed in Sweden, the Lundby dollhouses focus on the most minute details like fixtures, interior design and furniture. These houses, built like architectural models, will have the kids mesmerised for hours.
Buy: Lundby
Miniio for the simple, stylish life
Made by two mums of boys. They did what they could to fulfil their longing for girls; they made dollhouses! Made in Poland from non-toxic sustainable timber, they're not cheap, but consider it an education in your child's good taste, and they will ship to Singapore for approximately $60.
Buy: Miniio direct from the warehouse
IKEA
Our friends at IKEA make a sweet little natural timber dollhouse which you can customise any way you like. Deck out your house with the sweetest replica IKEA furniture to match the full-size pieces you have at home, and once the tenants have vacated, the dollhouse gets another lease of life as a cute little bookshelf. So clever, and so affordable at $39 – what's not to love?
Buy: at the IKEA store
Feature image: Miniio dollhouse
Like this story? Here's more we think you'll enjoy!
Where to buy cool toys in Singapore: our favourite toy stores
What to buy for baby showers: best gifts for the Singapore baby
How to talk to our daughters to raise empowered girls
Fun things to make with a cardboard box
Don't forget to subscribe to our weekly newsletter and follow us for fun moments on HoneyKids Instagram!